Dennis Hopper in Taos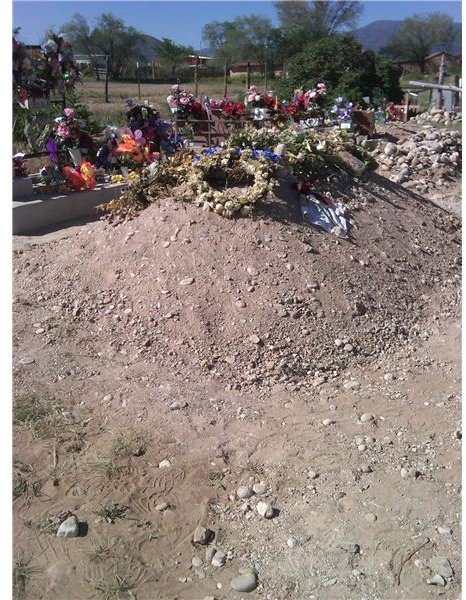 "Dennis Hopper Buried in Taos New Mexico," screamed the news headlines all over the world on June 2, 2010. I moved to Taos in 1996 and Dennis Hopper had been in and out of this town many times before I got here. He worked on a movie in a psychedelic haze and was criticized by Hollywood; as he worked on his art, perhaps he thought he heard the Taos Hum.
Whether the Taos Hum really exists depends upon whom you ask. They say if you hear it, you are meant to be in Taos; if not, well, people travel through; some stay, some leave. I for one have never heard the Taos Hum, but the place has been not only a spiritual place for me, but also a prosperous one.
Often, friends who have lived here longer than I joke about the Hum and wonder if anyone has really heard it and, if it does exist, whether it has any relevance.
As I stood at Dennis Hopper's grave today (see at right), I wondered if he had heard the Hum and if not, what brought him to this place. Would his grave become much like that of the late 1960s rock star, Jim Morrison? Would there be signs on tourist maps that say "Dennis Hopper Buried in Taos"?
My Dennis Hopper Experience
As I said, I first moved to Taos in 1996. I was a car dealer, and one of my first customers was Dennis Hopper's brother, an artist and jeweler, David Hopper. Back in 1996, our computer system was antique and I typed a lot of sales contracts. I had to tear David Hopper's sales contract for a minivan out of the typewriter many, many times as I kept typing "Dennis" instead of "David." Sure enough, David was OK with that, in fact, he seemed proud.
As time wore on, my husband and I would see Dennis Hopper from time to time in a world-class restaurant close to our home. I would be impressed, "He's sitting right next to us!" My husband wasn't, however. One time sticks in my mind when we were in the Trading Post Café and we were getting up to leave. Dennis Hopper, who was obviously intoxicated, leaned back at the precise time my husband walked by spilling alcohol all over him.
My husband called him a drunk out loud and I said, "Honey, that's Dennis Hopper, be nice." My husband's response was, "I don't care who he is, the idiot spilled beer on me!" Needless to say, the conversation after that did not go well.
We all did become friends over the years and I saw his art at the Harwood Museum. How could any artist's work not be fabulously showcased in a place that inspired Georgia O'Keefe? As an older gentleman, Dennis became aware of who he was, I think, and more important, his limitations. Taos kind of does that to everyone who stays. It makes us heal if we are broken, it makes us find ourselves if we are lost.
What I'll Remember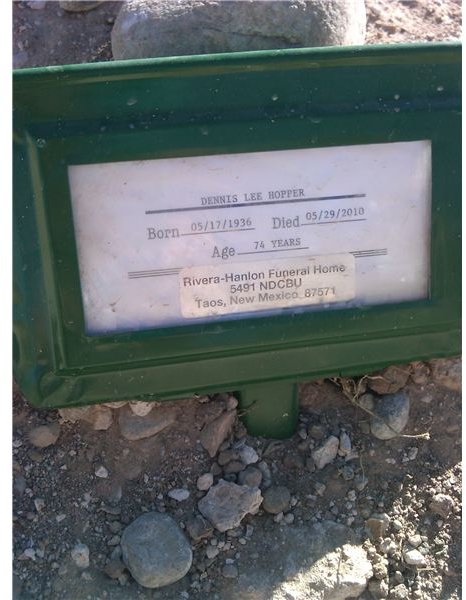 I am too young to be a super fan of the movie Easy Rider, in which Dennis Hopper starred with Jack Nicholson. I also didn't live in Taos when Dennis was here making his psychedelic movie.
What I will remember about him is his character actor ability—in many films. Films like Speed with Keanu Reeves and Sandra Bullock and other films where character was important and Dennis Hopper could pull it off unlike any other actor, whether he had to make us laugh or cry.
What saddens me today is that while Dennis Hopper's funeral was in Taos, at my church on June 2, 2010, I happened to be out of town and missed it. What was worse, when I did visit Dennis Hopper's grave one day later, there were no folks around, no one grieving—all were gone, including Jack Nicholson.
Actually, there was not one soul in the cemetery where Dennis Hopper was laid to rest the day after his funeral. As I entered this dusty, downtrodden, typical Taos cemetery, I couldn't find his grave immediately. I thought I could just search for the one with the most flowers. That wasn't it, nor was the next one, or the one after that.
When I did find his grave, it was a huge pile of stones and dirt, underneath which laid the simple pine box he wanted to be buried in. A small index card from the local funeral home bore his name awaiting a tombstone. I stood there before I laid down the tulips I had purchased, alone, in this world of Taos both he and I loved. I prayed for his family and friends. I wondered how his celebrity would change this cemetery and if the people who rested here and their families would be angry or overjoyed?
As I drove home, just under a mile away from the cemetery, I wondered how long it would take our town to put up a sign that reads, "Dennis Hopper Grave," with arrows pointing out the direction for tourists to find from all over the world.
Is that what he would want? Knowing the man, I think he just wanted to lie in peace and perhaps finally, hear the Taos Hum. I hope that's what it means when people think about Dennis Hopper buried in Taos, New Mexico. Actually, Dennis Hopper is not buried in Taos New Mexico, but Ranchos de Taos New Mexico or the Talpa area–what local residents call the town of witches, so what does that tell us about the man and this mountain? What does it tell us indeed. Goodbye Mr. Hopper–we'll miss you.
Image Credits: Courtesy of Jean Scheid / Hopper Grave at Jesus Nazareno Cemetery, Ranchos de Taos, NM; and Hopper Marker at Jesus Nazareno Cemetery, Ranchos de Taos, NM.
Jean Scheid is also a contributing writer for the Taos News.