History
The Taos Pueblo is built of multi-story adobe buildings and has been inhabited by Native Americans for over 1,000 years. According the to Taos Pueblo website, the Native Americans who inhabit the Pueblo hold their oral history in a fierce way, but do invite visitors.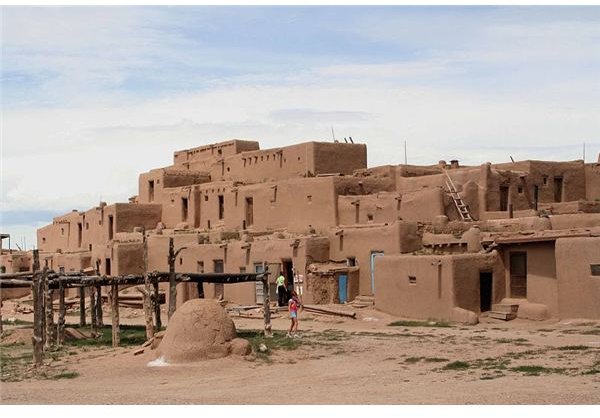 Some archaeologists say Native Americans have lived in the Pueblo before Columbus came to America. Ruins have been dated back over 1,000 years and existing building construction is dated between 1000 and 1450 A.D. Both the north house or Hlauuma and the south house or Hlaukwima are considered to be the oldest most continuously inhabited Native American communities in the United States.
Structures are made of adobe which is earth mixed with straw and water. True adobe structures remain cool in the summer and warm in the winter months. Pine and Aspen trees are made into vigas and latillas that adorn the roof structures making them secure. Atop the vigas and latillas, roofs are further packed with layers of dirt. The adobe structures at the Taos Pueblo must be constantly maintained. Currently, there are approximately 150 residents who reside in homes free of electricity or running water.
Surprising to some, the religion of the Pueblo Indians is Catholic. In 1847 during the war with Mexico the US Army destroyed the church. In 1850, the San Geronimo or St. Jerome church was constructed and no visitors beyond Tiwa or Pueblo Indians are allowed inside the sacred structure.
The Pueblo's tribal council consists of a war chief and 50 male tribal elders. Tribal governors along with staff are elected each year.
Visiting
A visit to the Taos Pueblo is a must if you find yourself in northern New Mexico. Sitting at an elevation of 7,200 feet visitors will find unique Indian art, crafts, and jewelry along with food concessions full of local flavor. The Pueblo boasts mica-flecked pottery, silver and turquoise jewelry, moccasins, boots, and drums. Contemporary artwork is also available for viewing and purchase.
The Pueblo is open daily from 8:00 am to 4:30, however is closed during religious ceremonies and events. From late winter (March) to early spring (May) the Pueblo is closed for approximately 10 weeks. It's best to visit their website for visitor information or call 575-758-1028 if you are planning a visit.
Rules for Visitors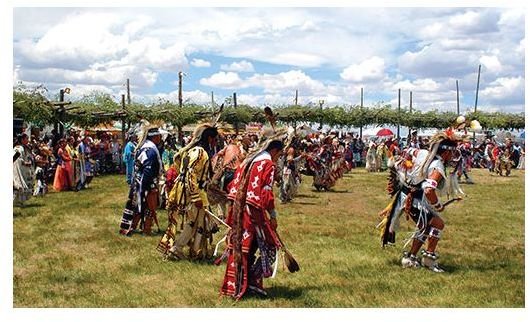 As with any Native American Pueblo, there are some rules visitors should adhere to:
Fees are charged for any cameras brought onsite. If you bring a camera onto the Pueblo, you must report it. Documentary filmmakers must have pre-approval.
Keep away from restricted areas including private homes and the church.
If a structure is marked as a "curio shop" it means it is a private home. You must be invited to enter so consider it an honor.
No photographs of tribal members may be taken without permission.
The cemetery is off limits to visitors.
The Blue River is their source of drinking water and visitors are asked to refrain from cooling off or wading in the river.
Adult fees to visit the Pueblo are $10 per person, children ages 11 and up are $5, and children under 10 are free. Group rates are available.
Visiting the Taos Pueblo is an amazing feat of wonder and you'll leave inspired and mesmerized. Keep their laws at bay and if you're visiting northern New Mexico in July, call the Pueblo for information on the colorful pow wow held annually in July. For more information, visit their website or email the Taos Pueblo Tourism Department at [email protected].