The Life & Work of Beatrix Potter: Author, Illustrator, Natural Scientist & Conservationist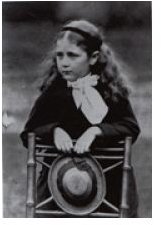 Beatrix was born July 28, 1866, to Rupert William Potter and Helen Leech. Her father was a barrister in London who did quite well in the stock market in the late 1800s. Her mother was the daughter of a wealthy cotton merchant and ship-builder. She grew up comfortably with her younger brother Bertram in South Kensington.
Naturalist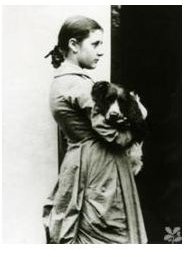 She was privately educated in the home, which was common for girls of her social class. Her last governess, Annie Moore, remained friends with her throughout her life. In her school room Beatrix had numerous pets, including mice, rabbits, bats and hedgehogs. She had preserved butterflies and other insects. All of these creatures she studied and sketched in increasing detail.
Her family spent summer holidays in Perthshire, Scotland, and in the English Lake District. There she developed a love for all things natural and scientific, finding botany and mycology of particular interest. She met Hardwicke Rawnsley while staying at Wray Castle. His love of the countryside was infectious. They would remain friends.
She delighted in painting fungi. Upon meeting Charles McIntosh in Pethshire, her interest deepened. He taught her taxonomy and provided her with specimens to study. She grew curious as to how they reproduced. Using a microscope, she drew their spores and developed theories on reproduction and hybridization. She presented her paper On the Germination of the Spores of the Agaricineae to the Linnaen Society, who did not take seriously the work of an amateur mycologist or a female. Today, her accurately detailed drawings are still used by scientists to identify fungi.
Literary and Artistic Career
Beatrix was a student of classic European fairytales including the Brothers Grimm and Hans Christian Andersen. She also read the Old Testament, Scottish mythology, Uncle Tom's Cabin, Lewis Carroll and Edward Lear. She studied the illustrative styles of Walter Crane, Kate Greenaway and Randolph Caldecott. She began illustrating her favorite stories, including "Cinderella", "Red Riding Hood" and the work of Joel Chandler Harris.
In the 1890s Beatrix and her brother began printing and selling their own cards for Christmas and other occasions. Beatrix's drawings and paintings, chiefly of mice and rabbits, caught the eye of booksellers. Hildesheimer and Faulkner bought several drawings of her pet rabbit, Benjamin, to accompany the verses of Frederic Weatherly in A Happy Pair. She would sell more drawings for others' books and felt sure she could create her own.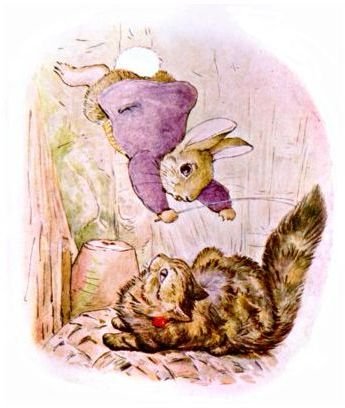 While on holiday, Beatrix would send letters with drawings or paintings to her friends. Many of these went to the children of her former teacher, Annie Moore. One to her son Noel featured a story about "four little rabbits whose names were Flopsy, Mopsy, Cottontail and Peter". Annie encouraged Beatrix to publish these pictures and words.
In 1900 Beatrix wrote and illustrated her tale of the four bunnies. She was unable to find a buyer so she printed it herself for friends and family. Hardwicke Rawnsley took interest in the book, rewrote it in verse and shopped it to publishers himself. Frederick Warne and Company reconsidered their earlier rejection. They purchased the book but chose to print it in Beatrix's original prose.
The Tale of Peter Rabbit was an immediate success. Beatrix would continue to work with Warne and Company, with Norman Warne as her editor, publishing a total of 23 books over two decades.
Beatrix seized the popularity of her bunny by patenting a Peter Rabbit doll. She followed it with other merchandise, including tea sets, wall paper and baby blankets. These products were quite profitable for her and her publisher.
Country Life
In 1905, Beatrix accepted Norman Warne's proposal of marriage. Her parents did not approve of the match because Warne was a tradesman and thus not socially suitable. Warne died of leukemia a month later and the marriage never occurred. The couple had planned to purchase Hill Top Farm in Lancashire. After Warne's death, she went ahead with the purchase.
She became quite involved with farming and raising livestock. She did much of her drawing and writing at Hill Top and became more involved with village life. The Tale of Ginger and Pickles is about the local shop. The Tale of Tom Kitten indicates the joy she felt with her pastoral life.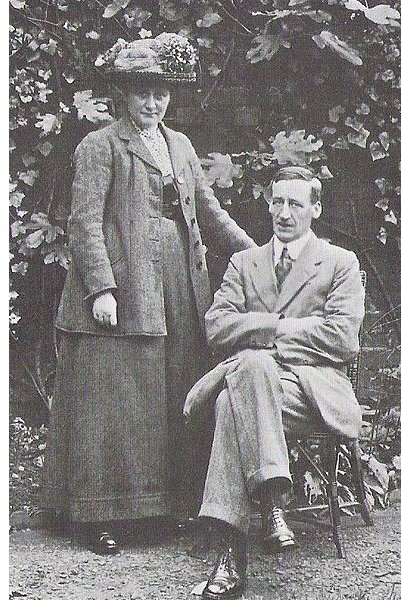 Beatrix, with the help of William Heelis, purchased another farm and additional acreage. Managing all the farmland took collaboration with Heelis and their relationship grew. He proposed marriage in 1912 and she accepted, although her parents once again did not approve.
When her father died in 1914, Beatrix founded a nursing home to care for her mother, who would live there until her death in 1931. She also funded a Nursing Trust for local villages and served on various community councils.
She became keenly interested in the indigenous Herdwick sheep. She purchased more land and focused on breeding and advanced medical care. By the late 1920s she was an award-winning sheep breeder. Just before her death in 1943, she became the first female elected President of the Herdwick Sheepbreeders' Association.
The National Trust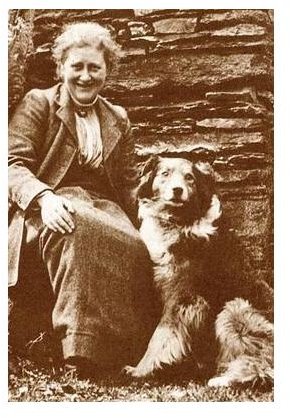 Long time friend and mentor Hardwicke Rawnsley had become founder and secretary of the National Trust for Places of Historic Interest or Natural Beauty. Beatrix worked with him on these goals, but added an agricultural emphasis. She stressed the preservation of the heads of valleys and low grazing lands that would have disastrous effects on farming if developed. She also strove to maintain local crafts and architecture. All of her farms retained historic farmhouses and included antique furniture.
She was active with the Trust. She and her husband assisted Rawnsley in purchasing numerous farms and assuring the way of life persisted. They had a happy marriage of thirty years. They were childless, but Beatrix had close relationships with the children of Heelis' large family.
When she died December 22, 1943, Beatrix left almost all of her wealth and property to the National Trust, providing for the maintenance of vast stretches of English countryside.
References
Photos in the Public Domain via Wikimedia Commons