Korea – Land of Festivals
Koreans love sports, music, arts, agriculture, movies and martial arts and they have a unique way of celebrating. Koreans pay tribute to their history and culture by celebrating festivals related to the different walks of their social life. Families and family culture is the lifeline of Koreans and to help it flourish, they celebrate the Filial Piety Festival in the Daejeon region. Koreans love pottery, they invented some of the finest stone tools in the Paleolithic age and to pay tribute to their ancestors, they celebrate the Yeoncheon Jeongok-ri festival. Kimchi is the global synonym of Korean food and Koreans celebrate an exclusive festival showcasing different flavors and types of kimchi known as the Gwangju World Kimchi Culture festival. For almost every activity and every event of Korean life, they celebrate by organizing festivals. Let us talk in detail about the culturally important festivals of Korea.
Festivals of Korea
Chuseok, the full moon harvest holiday, connects Koreans to their roots. It is one of the most important festive holidays of the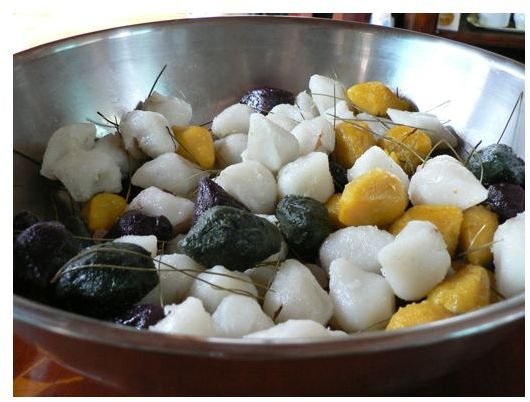 state, celebrated in the eighth Lunar Month on 15th day. The fragrance of rice and pine needles infuse the atmosphere and songpyeon, a form of rice cake, is served as the festival dish. The festival falls on the busiest tourist month and usually every Korean is found heading back home to celebrate this festival. It is believed that ancestors come back to earth to bless their kids on this day. Koreans prepare traditional food and visit graves of their ancestors to pay tribute to them. Women and girls wear hanboks, whereas menfolk wear baji-po and the atmosphere looks colorful and immersed in traditional style. People drink alcohol made from fresh rice and name it as "The Hundred Year" drink. Koreans celebrate their glorious past because they believe remembering past is one way to make your future and present blessed.
Seollal is the second most popular festival in Korea after Chuseok. It is celebrated on the third of February according to the Lunar calendar and it is a three-day national holiday in Korea. Seollal means to Koreans what Christmas means to Americans and other westerners. Gifts, traditional dresses, food and alcohol are prepared in advance because Koreans like to wine, dine and share happiness by giving away gifts. Ancestral rites are performed on the day of the festival and tteokguk is prepared as special dish, which is offered to the ancestors. After the food and prayers have been offered to the ancestors, people eat tteokguk, which is mandatory as it supposedly adds one year to your age. Young members of the family bow to the elder members and seek their blessings, along with the "new year money." People spend quality time and share their stories with each other on this day.
Chilseok is another important cultural festival in Korea. Celebrated in the memory of two lovers, Gyeonu and Jiknyeo, who angered father of the heavens and he ordered them to meet only once in a year. On the seventh day of the seventh lunar month, they could meet, and since times immemorial, this festival has been celebrated in Korea. People take baths on this day, prepare wheat dishes and eat them with the family. It is believed that eating wheat dishes on this day will bring health and happiness in the family.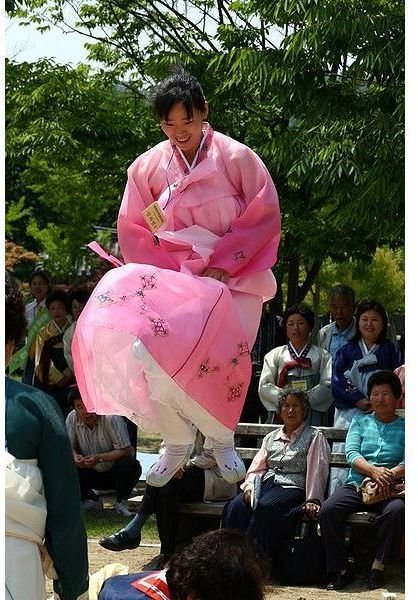 Dano, celebrated as a traditional festival in South Korea and a national holiday in North Korea, falls on the fifth day of the fifth month according to the Korean lunar calendar. The Gangneung Dano Festival of South Korea has been declared as a "Masterpiece of the Oral and Intangible Heritage of Humanity" by UNESCO. Literal meaning of Dano is "Day of God;" women wash their hair with boiled water on this day and men participate in traditional wrestling games known as ssireum and women participate in swing jump games.
Hansik marks the beginning of the farming season and it is celebrated 105 days after Dongji, which is known as the "little new year" festival. Hansik is also known as Cold Food Festival because farmers start sowing new seeds in their fields and irrigate their fields with cold water. This festival is celebrated in China, Vietnam and some parts of Japan as well. People visit ancestral tombs to pay tribute, visitors plant trees around the tombs of their ancestors and after that, various traditional rites are performed like tug-of-war, cock-fighting and beating out blankets. At the time of dinner, people eat cold food as it is believed to bring good harvest in the coming months.
Yudu – offering the first harvest of the season to the Gods, Samjinnal – the arrival of spring and Sawolchopail – celebrating Budhha's birthday are some of the other important cultural Korean festivals.
The Korean Cinema – A New Tradition in Making
Of late, Koreans have started organizing and celebrating film festivals as cinema has become an integral part of their society. The global audience has started accepting their movies heartily, and stories from their past depicting their culture and war stories have already become popular across the globe. The Puchon International Film Festival and Busan International Rock Festival are two of the most popular Korean film festivals that are gradually becoming a part of Korean culture and tradition.
References
Korea's Festivals, https://asiaenglish.visitkorea.or.kr/festival/ena/korea_festival.html?festival=0
Cultural Spotlight: Korean Festivals, https://www.lifeinkorea.com/culture/festivals/festivals.cfm
Festivals of Gangneung, https://eng.gangneung.go.kr/eng/main/view.php?go=festivals
Images
Songpyeon by Linlilian under CC by 2.0
Swing Jump_Dano by Robert under CC by 3.0