Preschool Lesson Plan: Cuddle up with Hot Cocoa - Book Suggestions, Recipes & Activities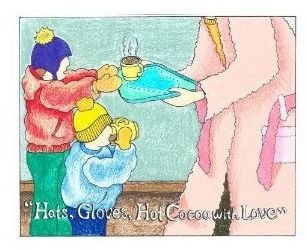 A mug of hot cocoa is something that can make a cold winter day seem fun and festive! Share that feeling with little ones using this lesson.
Cuddle Up with a Story
You can begin the preschool lesson plan ideas for hot cocoa activities by cuddling up together with a good book! Here are several ideas which incorporate the theme of hot cocoa:
Hats, Gloves, Hot Cocoa With Love, written by Gretchen Archambault. This story, written to be shared with children from birth through lower elementary school, is intended to vividly share images which would be associated with inters in New England. When you are finished with the reading, spend some time comparing and contrasting the images in the story with winter weather and activities where you live.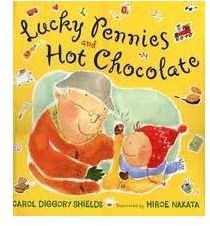 Lucky Pennies and Hot Chocolate, written by Carol Shields for Puffin Publishing. A grandfather and his grandson share a love of many things, including hot chocolate! After reading the book aloud, ask the students to share who their favorite visitors are. For older children, take the learning a step further by asking them to write a story about a visit with their favorite person - either real or fictional.
Make Your Own Fun
When you are finished with the readings, enjoy some hot cocoa of your own. Here are two recipes you can try. The first is a more traditional method of making hot cocoa. Simply mix the ingredients together, and enjoy! The second recipe has more of an international flare, and is the perfect accompaniment for classrooms studying Christmas around the world.
Traditional Hot Cocoa Mix
8 ounces of powdered non-dairy creamer
2 1/4 cups of powered sugar
16 ounces of powdered chocolate drink mix
10 cups of dry milk
mini marshmallows
1 cup of warm water per child
In a large bowl, use a wooden spoon to combine all of the dry ingredients together, except for the mini marshmallows. When you are ready to drink the hot cocoa, provide each child with 1 cup of warm water. (Do not use hot water and risk the children burning their tongues or throats.) Add 4 tablespoons of the dry mix to the warm water, and stir with a spoon. Once completely mixed, add the mini marshmallows for a delicious treat!
With leftover mix, store in a dry, tightly sealed container. This mix also makes a wonderful holiday gift! Fill a small Ziplock bag with the dry mix and top-off with a handful of mini marshmallows.
Mexican Hot Chocolate
3/4 cup granulated sugar
1 teaspoon ground cinnamon
dash of salt
1 quart of milk
2 cups of heavy cream
3 teaspoons of vanilla extract
4 ounces of unsweetened chocolate
In a small saucepan, combine all of the ingredients except for the chocolate. Heat until bubbling. Stir in the unsweetened chocolate and whisk until smooth. Serve in mugs or insulated cups that will absorb the heat. REMEMBER: Cocoa can be HOT. Be certain the chocolate drink is cool enough to drink, so that little ones do not burn their tongues or throats.
Story Problems
While you drink your hot cocoa, let students have fun solving these simple story problems. Fill in the blanks with numbers that are age- or developmentally-appropriate for the students you teach.
You have ______ marshmallows in your hot cocoa. You add ______ more. Now how many marshmallows are in your hot cocoa?
Sam had ______marshmallows in his hot cocoa. ______ melted away. Now how many marshmallows are left in Sam's hot cocoa?
You have ______ cups of hot cocoa in a teapot. If you share the cocoa with ______ friends, how many cups will each person get?
Craft Time
Here is a simple craft that you can add to your preschool lesson plan ideas for hot cocoa activities.
Materials
One copy per child of an empty mug drawing. A sample mug drawing may be found online at TimTim.com.
Colored construction paper (one piece per child)
Scissors
Elmer's Glue
Crayons or markers
Chocolate pudding
Mini marshmallows
Give each child one copy of the empty mug drawing. Ask the students to cut the mug out by using their scissors to follow the provided lines. Use the glue to secure the mug to the center of a piece of colored construction paper. Use the crayons or markers to decorate the mug in any desired fashion. Next, give each child a small amount of chocolate pudding, which they may use to finger paint the "cocoa" into the mug. When dried, the pudding will look like cocoa in the mug. Finally, glue the mini marshmallows on top of the chocolate pudding cocoa for a sugary treat. Display your cocoa mugs outside of the classroom, or use the page as a cover to the story older children may have written earlier about visiting with a favorite friend.
Do you have more hot cocoa activity ideas to add? Be sure to visit the comments section below!
Resources