Teaching Preschool: Snowflake Lesson Plans for the Classroom With 2 Books and 2 Activities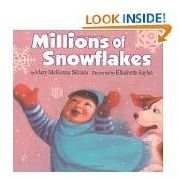 What Do Students Already Know?
Begin this preschool snowflake lesson by discussing what children already know about snow. Using large chart paper or a whiteboard, make a list of all of the things students contribute on the topic. Ask children if they know that snow is actually made of very tiny small snowflakes. Have they ever examined a snowflake carefully? What do snowflakes look like close up?
Introduce the book Millions of Snowflakes, by Mary McKenna Siddals and illustrated by Elizabeth Sayles. Tell students about the author, illustrator, and title of the book. Read the book aloud to the children, asking questions throughout. While reading the text, be sure to mention the words that rhyme in the story. In addition, draw students' attention to the illustrations of the snowflakes. How would they describe the snowflakes? Take note of the adjectives the children use. Lacy, pretty, and unique are all good adjectives for snowflakes. Once the book is finished, practice counting snowflakes. Use five snowflake cutouts on a flannelboard or pocket chart to provide visual reinforcement.
Snowflake Science Connection
Talk to children about the weather. What kind of weather is needed for snow to fall? What is the temperature like? When it is warm, do we see snow? What happens instead? Explain that snow and ice are different forms of water. If possible, bring a bit of snow or ice to show the students. The formation of snowflakes is dependent upon the temperature and other weather conditions outside.
Show children what snowflakes look like close-up by sharing some of the illustrations and story in the 1999 Caldecott award-winning book, Snowflake Bentley by Jacqueline Briggs Martin and illustrated by Mary Azarian. This book gives children a good idea of what real snowflakes look like up close. Be sure to explain that no two snowflakes look alike–each one is unique!
Snowflake Crafts
Finish the lesson with one of two different snowflake crafts. Whenever you work with young children on crafts, be mindful of safety. The first craft is a simple snowflake made from craft sticks. The second reinforces the letter "s."
Supplies for craft stick snowflake:
4 craft sticks for each student
Non-toxic glue
Sequins
Ribbon for hanging if desired
Have children glue 4 craft sticks together to form a simple snowflake. Add sequins to the sticks. Finish by gluing on a ribbon for hanging if desired. This craft allows each child to create a unique, one-of-a-kind snowflake while reinforcing following directions and fine motor skills.
Supplies for letter "s" snowflake:
One large letter "s" made from cardstock for each student
Cotton balls
Foam snowflake stickers
Non-toxic glue
Have the children glue cotton balls to the bottom of their letter "s." The cotton balls represent the snow that has already fallen. Allow them to add foam snowflake stickers to the top part of the "s." These stickers are the snowflakes falling down from the sky. This craft provides a visual reminder for students that the words "snow" and "snowflakes" begin with the letter "s."
More Lessons
Children will learn a great deal while participating in this preschool snowflake lesson–and they'll have fun, too! For additional snowflake ideas, check out these preschool snow crafts and these ideas for teaching preschoolers about the water cycle.