Great Reads
There are many different picture books on the topic of scarecrows. Books provide a great way to show kids examples of what scarecrows look like as well as what they are used for in the context of farmers' fields and crops.
The Lazy Scarecrow by Jillian Powell and illustrated by Jayne Coughlin
This book is designed as a beginning reader, but would be good as a preschool read-aloud. The book is the humorous tale of a scarecrow that does not do his job.
Shoo, Crow! Shoo! by Dana Meachen Rau and illustrated by Mary Galan Rojas
Another beginning reader, this book has very simple text (one sentence per page) and fun, colorful illustrations.
The Little Scarecrow Boy by Margaret Wise Brown and illustrated by David Diaz
This picture book by the author of Goodnight Moon is the story of a young scarecrow boy who can't wait to go out on his own to scare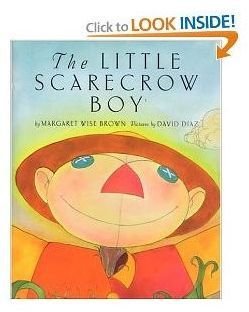 the crows. Make sure children understand the concept of scarecrows before reading this book as some of the faces the scarecrows make in the book might be scary to younger preschoolers.
Scarecrow by Cynthia Rylant
This lovely, lyrical picture book talks about scarecrows, but does a wonderful job of explaining how gardens, the harvest, and seasons work as well.
Fingerplays and Songs
Help students practice counting with a scarecrow song. Using clip art, a coloring page, or other pattern, print ten scarecrow pictures. If desired, print numbers one through ten as well. Then, use the pictures and numbers on a flannelboard or magnet board to help children learn one to one correspondence as they sing the following song:
"Ten Little Scarecrows" – To the tune of "Ten Little Indians"
One little, two little, three little scarecrows,
Four little, five little, six little scarecrows,
Seven little, eight little, nine little scarecrows,
Ten little scarecrows in a row!
To extend the activity, provide children with their own scarecrows to count and write the song on chart paper or in a pocket chart for them to sing during centers or play time in the classroom.
For a variety of other scarecrow songs and fingerplays, visit: The Virtual Vine: Scarecrows.
Related Crafts
A theme incorporating scarecrow preschool ideas and activities wouldn't be complete without making a scarecrow! There are many ways to do this. A shape scarecrow is a great way to work on math concepts like shapes and counting. Prepare supplies ahead of time to help the scarecrow craft go smoothly during class time. For each scarecrow, the following supplies are needed:
One oval from light colored (yellow, pink, peach) paper (for face)
Two small triangles (for eyes)
One small square (for nose)
One crescent shape (for mouth)
One hat
One shirt
One pair of pants
Shredded paper for straw to be used as the hair, hands, and feet
Glue
Crayons
Provide an example of a finished scarecrow and guide students through each step of creating their scarecrows by gluing the pieces together. They can use crayons to add patches on the pants, buttons on the shirt, and rosy circles on the cheeks. Display the scarecrows in the classroom for a perfect fall display.