Picnic Theme Preschool Ideas: Stories, Art, Music and More!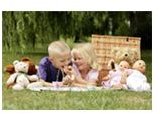 Creating Picnic Classroom Centers or Interest Areas
Planning a picnic unit is a fun way to teach preschool age children about nutrition and enhance learning. Include fun games, reading picnic stories and learning about eating healthy foods. For a picnic theme, preschool classrooms can be transformed with different materials that you can add to the learning centers in your classroom.
Reading Area
picnic related & healthy foods books

blanket on the floor

pictures of people at a picnic

picnic word wall and pictures of picnic items
Art Area
add red paint in a ketchup bottle and yellow paint in a mustard bottle
encourage the children to paint with a checkered table cloth on the art table
grocery store ads (for making picnic food collages)
Science Area
add toy ants
provide a watermelon for the children to touch, feel and smell
Room Decor
create a sign that reads," Let's go for a picnic"
Invite families to send photos of a family picnics and hang in your room
Dramatic Play or Home Living
add a small barbecue grill
apron
small table
toy food
sunglasses
empty insect repellent bottles
Group Time Fun
Group time is the only time of the day where you will have all of the children in the same place at one time and a great time to have a picnic discussion. As your class comes together, bring a picnic basket to group time to keep their attention. In the basket include: picnic foods and items that will be needed at a picnic, such as: grill utensils, fruit, insect repellent, matches,etc. Asking picnic related questions is another way to enhance this theme unit and to teach the children about the importance of health/safety at picnics.
Pull the matches from the basket and ask the children this question, What are matches used for? Should we touch matches?
Before we eat, what should we do?
What foods should be in the cooler? What food go on the grill?
Who should handle bug spray?
What type of fruits & vegetables would you see at a picnic?
This is just a small list of questions to get the children to thinking about picnic safety and eating healthy at picnics. Be sure to post their comments where parents are able to read them.
Movement & Outdoor activities
The children will love to get moving with some indoor/outdoor picnic fun. At most family picnics, you will see a game of volley ball, horse shoes and/or softball. During your Let's go for a picnic theme, this will be the perfect time to introduce your preschool class to the following indoor/outdoor games:
Indoor Games
Toss the plastic picnic food into the picnic basket
Get their bodies moving with "The Ants Go Marching" song
Outdoor Fun
Play volley ball
Practice hitting the ball with the bat
Potato sack race
Great Picnic Stories for Preschoolers
Here is a list of books to enhance your Let's go for a picnic theme!
Teddy Bears' Picnic by Jimmy Kennedy, Alexandra Day
A favorite childhood song is brought to life in this story. The backdrop includes country landscapes, lovable teddies of all shapes and descriptions of a picnic and play.
Picnic Buddies by Marjorie Hakala, Elliot Kreloff (Illustrator), William B. Winburn
Picnic buddies is an oversized board book that has foam-layered very sturdy pages that relate the story of an upcoming picnic as each of the increasingly larger pages is turned. The creatures appear to be toys that were either photographed on grass or have been digitally manipulated.
Dora's Picnic by Christin Ricci
Dora is going on a picnic and she talks about what her friends are bringing. They have the picnic at Play Park where they all play together and then they all share the picnic food.
With your picnic theme, preschool children will have a fun time and learn something, too.