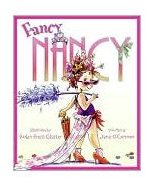 Over just a few short years, Fancy Nancy has become an amazingly popular book series. Nancy, who likes to be fancy, is a favorite of young preschool children. She loves to decorate herself and her room in a fancy way and she loves to use fancy words. Even though the rest of her family is plain, they love and support each other. Using the lesson plans for Fancy Nancy, your class will hear two of her books. And guess what? The books aren't just for girls! In the first book, Nancy turns her dad into a fancy guy for an evening out. In the second book, she teams up with a boy in her class to perform in a talent show.
Lesson Objectives
1. To learn to accept differences in others
2. To learn more about each other and maybe find an unexpected friend
3. To experience joyful dramatic play
First Book on Day One
In the book Fancy Nancy by Jane O' Connor, we are introduced to Nancy. She explains the art of being fancy. The best part is that her family doesn't try to change Nancy; in fact, they even make an attempt to join in her lifestyle. It is evident that they all love each other.
Follow-up questions:
1. What were some things that Nancy did to make herself and surroundings fancy?
2. Do you like her family? (Why or why not)
3. How do you think Nancy felt when she fell in the restaurant?
4. How did her family make her feel better?
Discuss the fact that Nancy's family loved her no matter how different she is compared to them. Being different is not bad. It is just different.
Activity:
Materials:
Provide an assortment of colorful ties, scarves, crazy hats, bangles, ribbons, bows, play crowns or whatever dress-up clothes you may have
Mirror
Allow the students to try on things and help each other become fancy. You may have students who are reluctant. Give them time. They may take pleasure in watching for a while. The one rule is that there should be no put-downs or teasing.
Second Book on Day Two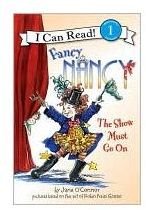 Read Fancy Nancy: The Show Must Go On to continue with the lesson plans for Fancy Nancy. In this book Nancy is paired up with a boy she barely knows to perform in a talent show. At first it seems that they have nothing in common but once they get to know each other, they come up with a great act for the show. The lesson here is that you should take time to know someone before you decide whether you can be friends. First impressions are not always correct.
Discuss the ways that Nancy and Lionel became friends. Do you think that they will continue to be friends? What would have happened if Nancy refused to go to Lionel's house to work with him?
Activity:
Sit in a circle and ask each person to share something about themselves that people may not know: something they like to do, a favorite food, favorite thing to do at home, a talent, favorite TV show. This may inspire friendships when they learn that they have things in common with their classmates.
It's Fancy Nancy Party Time!
Choose a time when you need to liven the spirits of your students and their teacher! This might be during gloomy weather when they can't go out to play. Then it's time for a Fancy Nancy Party!
Compose a parent letter giving them the party information. Use this time to ask for volunteers or help with the food. Make sure that you explain that the party is meant to be fancy: colorful, frivolous, carefree and fun.
Most girls will have no problem thinking of something fancy to wear but the boys may have some concerns. In the parent letter make some general suggestions: Hawaiian shirts, colorful hats, Dad's tie, brightly colored socks, etc.
Choose some lively music for your Fancy Nancy party,and maybe some of the students will show off their dancing skills! Like Nancy's family, encourage polite manners and have "everyone eat with their pinkies up and say darling!" As Fancy Nancy would say, "It will be a stupendous party! Everyone will look posh!