Preschool Lesson Mother and Baby Animals with Free Worksheet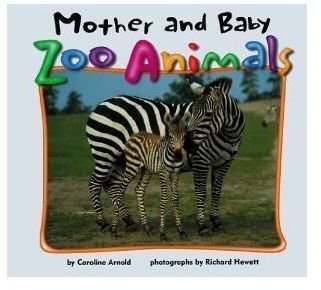 Preschool children have a natural fascination with animals - especially baby animals! Help your little ones learn the names of different animals and their offspring with these lesson ideas and coordinating preschool worksheet. Mother and baby animals are the focus, and the best introduction is to spend time reading about them.
Beginning the Lesson
Before you begin the preschool worksheet, mother and baby animals lessons or read alouds, you must first introduce the idea that animals have different names depending on whether they are male or female, and adult or offspring. This is best illustrated by using what the preschoolers are most familiar with - themselves. Explain that there are two types of people - males and females. Males are boys and females are girls. Grown-up males are called "men." Ask them if they can guess the name for grown-up females. The answer, of course, is "women." Now ask them if they can think of the name for a young male. The answer would be "child." You can take this opportunity to point out that the same name is used for young females.
It is at this point that you can help the children make the connection to animals - that animals have different names depending on whether they are male or female, and that adults and babies (or offspring) often have different names as well.
Shared Reading for Background Knowledge
**
Read aloud time presents the perfect opportunity to introduce the different names for adult animals and their offspring. Each of the stories suggested below describe various mother animals and their babies. Spend time reading together and discussing what the preschoolers have learned.
Mother and Baby Zoo Animals, by Caroline Arnold
In this story, author Caroline Arnold describes how zoo animals feed and care for their young. Young children will be fascinated by the illustrator's use of photography.
A Zoo Keeper Looks at Mother and Baby Animals, by Gary Richmond
Every mother and baby animal is special and unique.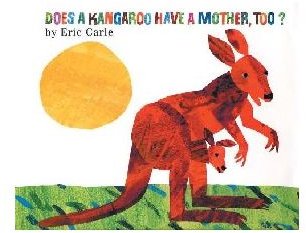 Does a Kangaroo Have a Mother Too?****, by Eric Carle
Dedicated to Fred Rogers, author Eric Carle covers baby animals from joeys to calves. All of the animals featured have one thing in common - mothers that love them!

Where's My Baby?, by H.A. Ray
The famed author of the Curious George books uses short verses to match animal mothers with their babies in this fold out book.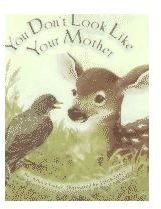 You Don't Look Like Your Mother**, by Aileen Lucia Fisher**
According to Amazon, this story "Recounts in verse a robin's introduction to a number of animal infants who don't look like their mothers, including her own."1
Continue the Lesson
In conjunction with reading stories, you can continue the lesson by having pictures of animals and their babies posted around the room. Providing name labels will help to reinforce what the children have learned. Here are some examples of pairs you may want to cover:
cow/calf
elephant/calf
dog/puppy
ape/baby
bear/cub
bird/hatchling or chick
cat/kitten
kangaroo/joey
duck/duckling
The Enchanted Learning website offers a very comprehensive list of the names of mother and baby animals. You can find the URL for the site in the Resources section below.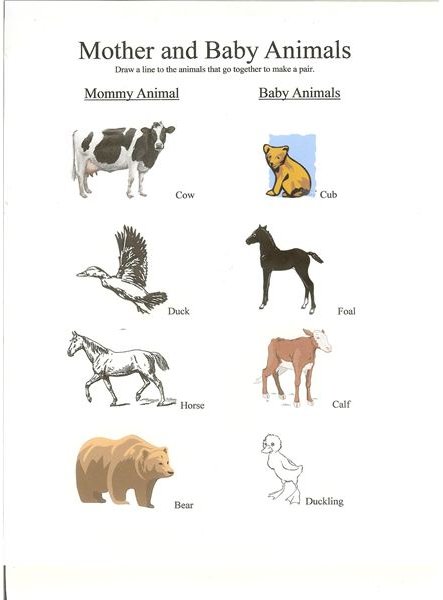 Download a mother and baby animal matching worksheet which the children can use to demonstrate mastery of the concepts introduced in the lessons. You can use this preschool worksheet as a nice compliment to your lesson plans, or simply as a stand-alone.
Resources
1Amazon.com https://www.amazon.com/Dont-Look-Like-Your-Mother/dp/158653856X/ref=sr_1_1?s=books&ie=UTF8&qid=1279941431&sr=1-1
Enchanted Learning: https://www.enchantedlearning.com/subjects/animals/Animalbabies.shtml