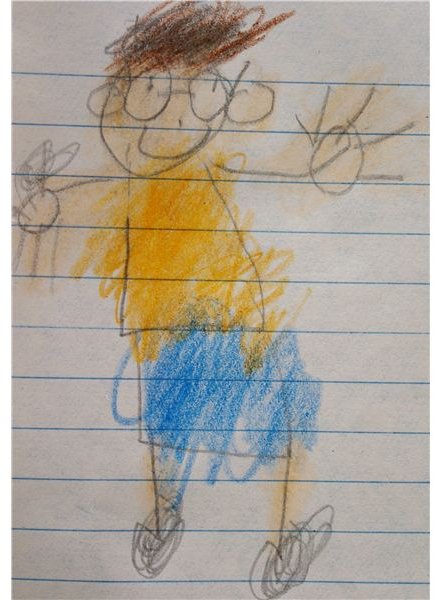 Being able to recall and reflect on events that have happened during the day is an important skill for children to learn. One of the best ways to reinforce this skill is to offer journal writing in preschool. Classroom schedules should allow a few minutes each day for children to quietly reflect on the events of the day. Perhaps students can jot down a word or draw a picture of some of the important or memorable things that may have happened over the course of the preschool day.
Giving ample time and providing the right materials for journaling is important. Writing materials should always be within reach of the students, as well as a labeled journal for each child. Schedule time each day for journaling activities, but also allow children access to their journals during other parts of the day. Allowing children to write or draw when they want to will not only help exercise their recalling and reflecting skills, but will also provide a safe place for children to collect their thoughts.
The Journal Center
An ideal classroom will have ample space for a dedicated journal center. Since this may be an impossibility for many classrooms due to space, it is possible to create a mobile journal center that will take up very little classroom space.
To create your own simple journals for children, use two sheets of 9 x 12 inch construction paper. Place several pieces of white copy paper between the sheets of construction paper and staple along the edge like a book. Label the front of the journal with the student's name. This simple journals are not meant to last forever, so be sure to inspect them on a weekly basis. If they are showing signs of wear, be sure to create a new one for the student. Place the completed journals in the students file to be used later for assessment or child care anecdotal records.
Provide all types of writing utensils in the journaling center. Some ideas are:
Pencils
Markers (broad and fine)
Colored Pencils
Pens
Highlighters
Colored gel pens
Word and letter stickers
Alphabet stamps
Crayons
Old magazines
Scissors
Glue sticks
Journaling Ideas
It is not enough to just provide space and materials for preschool journals. While many children will have no problem deciding what they would like to draw and write in their journals, some children may have difficulty choosing a topic. You should certainly allow children to write whatever they would like to in their journals, but it is equally as important to provide a question or a topic for children. Create a specific time for journaling at the end of the day and ask questions related to your weekly theme. Or ask children to reflect on a certain aspect of the day such as a special celebration, a field trip or a fun activity. For those days when your creativity is running low, try some of these journaling ideas:
What would you buy with $100?
Where would you like to go on vacation?
What if you could fly?
What is your favorite animal?
Show me the people in your family.
What was the best thing about today?
What was your least favorite thing about today?
Do you have a pet? If you don't, which animal would you like to have as a pet?
Nothing Beats Journaling!
Few activities will provide children with an opportunity to practice recalling and reflecting on their day as well as journal writing. When children are younger, teachers can discuss the pictures the children have drawn and write down the children's reflections. As children grow, allow them to write the words themselves using inventive spelling. Save the finished journals to show the progression of writing skills from the beginning of the year to the end.
References
"More Than the ABCs"; Judith A. Schikedanz; 1996
Photo Credit: duboix on Morguefile.