Preschool 100th day celebrations are not only fun but can be a wonderful learning time with a focus on number sense. When you are

planning pre-k projects, 100 days of school activities are something that you can work on well before the actual 100th day or you can wait until the week of the celebration. Here are some ideas for you and suggested books for the event.
Year-Long Projects
Circle Time
When you are doing your circle time activities, include a 100 chart. Each day of school, you or a student can mark off a day. As you

mark the number, count from one up to the number that you are marking. Ask the children what they notice about the chart. Any patterns? Do they notice that each vertical column has the same number?
Hands Up
Use a handprint pattern and colored construction paper. Use a different color for each month. Each day of school attach one handprint in a row on the wall above the bulletin boards and other things. Can your students predict how far the line of handprints will go to get to 100? Will it go all the way around the room? Looking at the colors, can you tell which month we had more days of school?
When the Time Is Near!
Read "Fancy Nancy: The 100th Day of School" by Jane O'Connor. Fancy Nancy is distressed because she can't think of what to bring on the 100th day of school.
Give your students the same assignment. Send a note home to parents to explain so that there is no confusion. Ask students to bring one hundred things. The items must either fit in a zip lock bag or glued to a piece of 9" x 12" piece of tag board or construction paper.
Projects for the 100th Day
1. Prepare jars or containers ahead of time holding small treats that are more than or less than 100. For example, you may have 80 tiny pretzels in a clear plastic container. You may have 70 jellybeans in a jar. You may have 150 M&Ms in a clear plastic bag. Other items could be popcorn, raisins, alphabet cereal, marshmallows, etc.
Then ask the students to decide if each container has more or less than 100. Take ten items out to show them how much space ten items take up. Do they want to change their answers?
2. Read "100 School Days" by Anne Rockwell
Then do the same thing that the students did in the book! Take all the items that you prepared for the #1 project and mix them in a big bowl. Give everyone a napkin or paper towel and scoop out a snack for each child from the mixture in the bowl.
3. Set the timer for 100 minutes. Guess what you will be doing when the timer rings.
4. Dump 100 buttons in the center of a circle of students. Discuss the ways that you can sort them: size, color, shape and number of holes. Then give them sorting assignments: find 5 red buttons; find six buttons with four holes, etc.
You can also use the buttons to do patterns. For example: Red button, blue button, red button, _____? Find a button in the pile that could come next in the pattern.
5. 100 Second Activities: Show the students the clock and how to watch the second hand. Do each activity for 100 seconds!
a. Sit as still as a statue
b. Run in place slowly
c. Look at a book
d. Find a hidden object in the room
e. Pass a ball around a circle
f. Sing "Row, Row, Your Boat"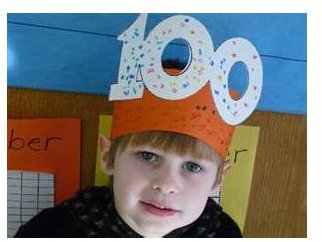 6. Make a 100 Hat Project
Measure a strip of construction paper to fit around each child's head. Color, cut and paste the number 100 on the headband.
A preschool 100th day celebration can be filled with fun and learning, too. It especially focuses on math objectives. What does 100 things look like? How long is 100 seconds? How much can I do in 100 minutes? But remember that planning pre-k projects "100 days of school" can begin on the very first day.
Resources:
Trend Enterprises, Inc publishes the 100 Chart
"Fancy Nancy: The 100th Day of School" by Jane O'Connor
"100 School Days" by Anne Rockwell