Easy Ideas for a Preschool Kitchen Center: Set Up, Activities and Purpose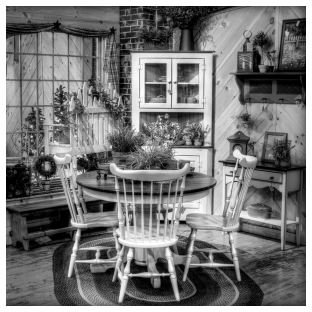 Set Up
Companies such as Little Tykes already provide plastic replicas of kitchens that can enhance any preschool kitchen center. Other companies, such as Deep Discount School Supply or Constructive Playthings have wooden versions for sale. They also provide miniature play foods and utensils to stock the kitchen. Choose quality materials that will fit into your classroom.
If you would rather create a more realistic environment for the children, use a water table with bins inside it to create a sink. If running water is not conveniently available in that area of the classroom, fill a large water cooler as a water source. Set up a mini refrigerator to store real foods. A microwave stand or other small cabinet is perfect for storing real dishes, tablecloths, silverware and other utensils.
Children will require a small table with chairs for working on their meals, as well as serving them. Provide small tablecloths, placemats and centerpieces for them to practice decorating. A small chalkboard can be used for writing or drawing a grocery list, menu plan or other notes. They also need a small broom, dustpan and other cleaning supplies to maintain their kitchen area.
Montessori Practical Life Activities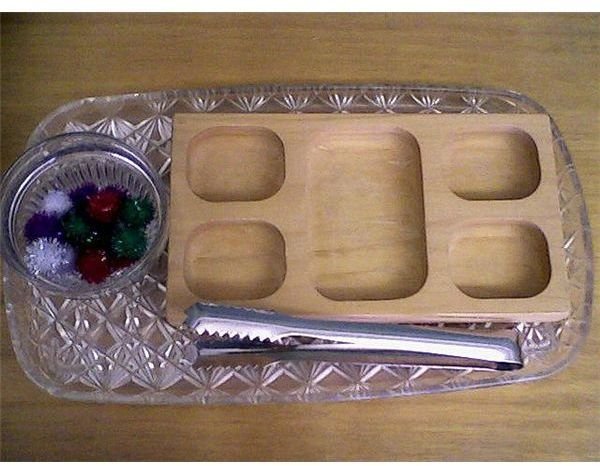 Within the Montessori environment, children use actual utensils found in their kitchens for real-life practice of their use, instead of plastic or wooden replicas. They learn how to manipulate items such as beads, pompoms and pasta as preparation for the actual serving of foods. Set up trays on nearby shelves that allow children to transfer items from one bowl to another, using fingers, spoons, tongs, tweezers and through pouring. Another advantage of using these materials in the classroom is that they can refine their fine motor skills, while developing concentration and coordination.
Further practice comes from actual food preparation for snacks. Allow children to use an apple slicer to core apples, or a small knife for cutting bananas and pickles. Use spreaders to put cream cheese on a bagel or peanut butter on a cracker. Small graters can be used to grate cheese and carrots. These items are traditionally set up on individual trays for the Montessori preschool classroom. Children could also have the opportunity to choose their desired food from the refrigerator and set up their own trays. When they are finished, they must always wash and dry their utensils and trays to make it ready for the next person.
Find child-sized materials in local stores, such as your grocery store, Big Lots, and dollar stores. Search resale shops and garage sales. Order specific items from Montessori companies, such as Montessori Services. Search for items that can rotate based on seasons, holidays and themes being taught in the classroom.
Purpose
Children learn best through doing. A kitchen dramatic play center allows them to act out what they witness in their daily lives at home. Montessori practical life activities provide them with an opportunity to recreate and master these activities as life preparation.
Photo Credits:
Kitchen Photo: Allen Mowery
Tonging Activity Photo: Andrea Coventry
Safety Disclaimer: We advise when using real-life practice kitchen activities that all children are 100 percent supervised, especially around sharp objects that could harm the child.