Get the Little Ones Involved!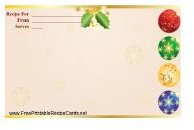 Christmas provides a wonderful opportunity to introduce little ones to the joys of cooking and baking. Not only do cooking activities foster independence, they also promote basic skills such as reading and following directions and communicating with others. With the various preschool Christmas recipes offered below, the holidays in your classroom will be filled with fun, food, and fellowship!
Image courtesy of freeprintablerecipecards.net
Magic Reindeer Food: For Reindeer and For Kids
What do Santa's reindeer like to eat? Reindeer food, of course! Help the children prepare for Christmas Eve with this recipe for magic reindeer food:
Ingredients
oatmeal
multicolored glitter
Making the magic reindeer food is not complicated: You simply add both ingredients to a large bowl, and then use a wooden spoon to mix carefully. To do so with a large group of children, however, can prove to be a little tricky. To make certain everyone has a job, you may wish to do some prep work a head of time. Pour a small amount of each ingredient into small paper cups. This way, the children can each take a turn pouring their container of oatmeal and glitter into the larger bowl. You can then allow the children to also take a turn at doing the mixing.
When you have finished mixing, divide your festive concoction into small plastic baggies. Tie each with a red satin ribbon or even a twisted pipe cleaner. Be sure to explain to the children that if they sprinkle their magic reindeer food onto the lawn on Christmas Eve, just before going to bed, Santa's reindeer will be sure to find their home in the dark. The glitter will sparkle in the light of the moon, and the scent of the oatmeal will help to guide their way!
You can continue your reindeer theme into snack time by making reindeer sandwiches for the kids to eat.
Cinnamon Dough Ornaments
Let the children make their own keepsake cinnamon dough ornaments. Using this recipe and a few holiday cookie cutters, the preschoolers will have loads of fun cutting out their "cookies." Show them how to roll and shape the dough using a rolling pin. Having a non-stick placemat available for each child will help prevent your work tables from getting messy. Add a hole at the top for a ribbon or ornament hanger by gently pushing the end of a straw through the dough.
Keep in mind that the ornaments will need several days to thoroughly dry. Afterward, you can continue the fun by giving the children the opportunity to decorate the ornaments with paint or glitter glue.
Recipes From Around the World
You can incorporate your cooking and baking activities into the larger theme of learning about how Christmas is celebrated around the world. For example, you can introduce the children to the Christmas traditions of France by showing them how to make their own Yule log, which in France is called a Buche de Noel. Or, discuss holiday festivities in Norway by baking Sandbakkels.
Sandbakkels are traditionally served at Christmas time. Making them is a lot like playing in the sand! The dough is pressed into tiny Sandbakkel tins, although miniature tart pans can be substituted.
Ingredients
1 cup butter
1 cup sugar
1 egg, beaten
2 tsp vanilla extract
1/2 teaspoon almond extract
2 cups flour
In a large bowl cream together the butter and sugar. Next, add the egg, vanilla extract and almond extract. (If you have students with nut allergies, the almond extract can be left out of the recipe.) Beat the mixture until it is creamy. Slowly add the flour while continuing to beat the mixture on a low speed. Continue doing this until all of the ingredients are thoroughly combined.
The dough will need to be chilled for approximately 1/2 hour before you can work with it. To make the cookies, give each child a small piece of the dough. Show them how to use their thumbs to press the dough into the tins or tart molds. Be sure to spread it onto the bottom and sides, evenly. The tins will be baked on a cookie sheet in an oven which has been preheated to 375 degrees. Bake for about 12 minutes. Remember, the tins will be hot when they are removed from the oven! To remove the cookies, invert the tins over a piece of parchment or waxed paper.
You may even have students in your classroom who have holiday traditions of their own which may be added to your list of preschool Christmas recipes. Invite their families in, and ask that they share their skills. Or, consider sending these recipes home with your students, so that they can work together to recreate them. The preschoolers will certainly take great pride in showing off their new "cooking" skills!