Please, No, I Won't Go
Visiting the doctor is something everyone will do from time to time. Everyone visits the doctor for different reasons. Some need needles, some have a sickness, and some just need a routine check-up. At such a young age doctors can be scary. It is our goal as teachers to try and help students see that doctors are just regular friendly people like us. To help ease students' minds I have supplied an article for a doctor theme for preschool students.
During this doctor theme for preschool period, students will have the opportunity to participate in many activities:
Practicing safe and clean hand washing to prevent bad germs and disease
Checking our measurements and weight to assure healthy growing
Read special stories together about visiting the doctors
The chance to meet a real doctor or nurse
Chance to role play with their peers.
And so much more…
Creating the Atmosphere
Doctors always work in clean environments. They have to keep their offices clean and their body even cleaner. Doctors are constantly dealing with sick patients and they have to always remember to take precaution to avoid getting sick themselves. One important task to help avoid sickness is hand washing. Doctors are constantly washing their hands to prevent germs from spreading disease and infection to anyone they come in contact with. Talk to the students about hand washing. Explain to them why it is so important to wash your hands regularly. Many important times to wash your hands are before and after every meal, when you wake up and when you go to sleep,each time you use the restroom and even after you have been playing outside.
Activity
Provide the students with soap and teach them when and how to wash their hands properly. Provide time during class for each student to wash their hands. Make hand washing fun by supplying different types of soap:
Bar Soap
Foam Soap
Gel Soap
Special Lesson: Washing our hands regularly is very important to protect against bacteria and germs.
When visiting our doctors for our yearly check-ups two important steps are to check your weight and your height. Explain to the students that doctors record your weight and height to determine if they are growing big and strong, and on schedule.
Activity
Create a height and weight chart out of poster paper. Provide the students with a growth chart and a scale. Have each student take a turn getting measured and weighed. For long term learning, secure the poster to the wall and measure and weigh the student's by-monthly.
Special Lesson: Our weight and height is an indicator of how healthy we are. Proper nutrition will help us grow big and strong.
Reading Together
The Berenstain Bears Go to the Doctor – Stan Berenstain and Jan Berenstain
This book is wonderfully written and illustrated to explain what happens at a patient's doctor visit. This book is a quick read and easy for the students to understand. The Berenstain Bears are a hit with every child! This book is great to help prepare the students for their doctor's check-up.
The Plot
Mama reminds the cubs of their checkup with Dr. Grizzly.
Sister Bear is afraid of going to the doctor.
At the doctor's office the next day the cubs notice there are many little cubs in the waiting room.
Dr. Grizzly did the checkup for Brother and Sister Bear. They both had gained weight and grown taller. She took their temperature and checked their throat, eyes, ears and nose.
Brother and Sister Bear had to have a Booster shot. It was over in no time and barely even hurt.
Special Lesson: A doctor's visit does not have to be scary. The doctor is there to help us when we are sick and keep us on the right track to grow big and strong.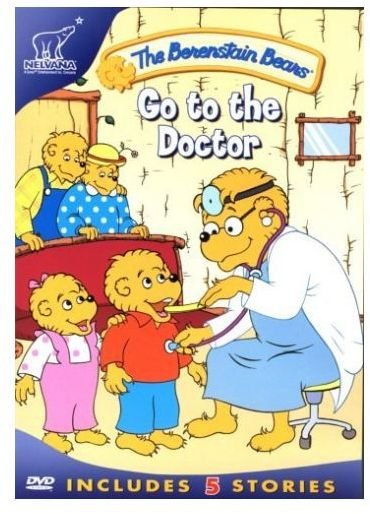 Special Guests
Pre-school children learn best by actions. Having a special guest visit the classroom would help ink the memory and lesson into their minds. Having a doctor or a nurse would be a great example. When inviting the special guest, ask them to bring along some of their tools.
Stethoscope
Measuring Tape
Cotton Swabs or Balls, and Band-Aids
Doctor Bag
Pen and Prescription Paper
Lab Coat
Rubber Gloves
Etc.
Have the special guest explain to the class who they are and what their job entails. Have the guest explain what each instrument is used for and why they need them in their office.
A special game the guest could play with the students is a form of duck duck goose. Instead of ducks and geese try using:
Doctors and Nurses – explaining to the students that both doctors and nurses work in a doctor's office.
Patient and Doctor
Special Lesson: Doctors have many instruments that they use each day. Doctors are very friendly and are our friends.
Arts and Crafts
Cotton Swab & Cotton Ball Painting
Materials Needed
Paint – in many colors
Cotton Swabs
Cotton Balls
Paper
Provide the students with the cotton swabs and cotton balls. Place colorful dabs of paint on a paper plate for the students to dip in. Have the students use their imagination to create a photo using the cotton balls or cotton swabs. You could also provide an outline drawing of a doctor and have the students paint the doctor using the medical supplies.
Special Lesson: Explain to the students how doctors and nurses use cottage balls and cotton swabs in their everyday routine. Explain to the students how we use cotton balls and swabs in our everyday life. Ask the children how painting is different with these items versus regular painting brushes.
Dramatic Play
Set up a special spot in the classroom for this dramatic play display.
Use your desired location and create a mini doctor's office for the students to use to role-play together. In your mini doctors offices consider supplying some of these items:
Bed, Chair and Table
Blankets
Lights
Paper and Pens
Cotton Balls and Cotton Swabs
Play Stethoscope, Needle, Thermometer
Rubber Gloves
Lab Coat
Gauze and Tape
Masks
Empty and properly cleaned medicine bottles
Special Lesson: Visiting the doctors is fun. Anyone can grow up to become a doctor.
Use this doctor theme for preschool to help calm fears of your little ones. They will learn something, too!
References
Berenstain Bears Book Cover: https://www.firetheimagination.ca/prod_detail.php?pid=1781