Martin Luther King, Jr: Arts and Crafts for Preschool Lesson Plans Using Four Craft Ideas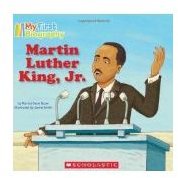 "Our Skin is Different But Our Hearts are the Same" Poster
You can start by introducing them to Martin Luther King, Jr.'s biography. Then make a poster that says on the top, "Our skin is different but our hearts are the same," and have dolls of different colored shapes with
the same red heart. Use this activity to teach children about how we are the same inside, no matter what we look like on the outside.
Materials:
Large sheet of paper to make a poster, red colored paper, colored paper of different skin shades, scissors, glue, markers.
Instructions:
Use different skin tone color papers to cut out many doll shapes of different colors.
Cut out the same number of small hearts that can be stuck inside the doll shapes. (You can ask each child in your class to cut out one doll shape and one heart.
Decorate the dolls and glue the heart in the center.
All the children glue their dolls on to a large poster.
On top of the poster write in large letters "Our skin is different but our hearts are the same"
"All Human, Many Faces" Collage
Make a poster of people from different parts of the world that says "All Human, Many Faces." Use this to teach children about how Martin Luther King dreamed that someday all people would work and live together.
Materials:
Newspapers and magazines, large sheet of paper, glue, scissors, markers.
Instructions:
Give the children newspapers and magazines.
Ask them to look for pictures of people from different places in the world, and cut them out.
Use all the children's pictures together to make a collage.
On top of the poster write the words "All Human, Many Faces."
Wear Your Heart on Your Wrist - Wrist Bands
These wrist bands made out of different colors, the shades of skin, signify that all people need to live together and love each other, no matter how they look.
Materials:
Beads of different color shades, plastic thread for making wrist bands.
Instructions.
Help the children put beads of different colored skin shades into the plastic wire.
Knot both the ends so that the beads do not come loose.
Tie the bands around the children's wrists.
Children Chain Decorations
Make a paper chain of children with different colored faces. Decorate your classroom with this theme as you teach about Martin Luther King.
Materials:
White paper, crayons and markers, scissors
Instructions:
Make a chain of children with white paper.
Decorate the faces of the children with different skin shades.
Hang them around your classroom to celebrate Martin Luther King's dream.
Inspire and Educate
Use these activities to inspire and educate your children. Decorate your classroom with Martin Luther King arts and crafts. Preschool children love to see their work put up on the walls. Also, use theme-based lesson plans around this topic. This preschool lesson plan can be used with these art and craft activities. This link will take you to additional resources to teach children about Martin Luther King Jr.