Christmas is Fun!
As an ECE teacher I spend my weekends working on my weekly lesson plans. Teaching children between the ages of three and six can be a tough job. As we all know small children have even smaller attention spans. I am a firm believer that children will learn best using their hands. If you give the children a memorable activity they will remember your point for years to come.
Christmas is always an exciting time for children and I try and incorporate that excitment into my classroom. Crafts and Art are the best ways my students tend to learn. I thoroughly enjoy coming up with new ideas for Christmas art. Even if you have a specific hour devoted to art time once a week, try using fun seasonal activities with your students for all periods.
How to Make a Hand Print Christmas Tree
Because I love Christmas art for preschool, here is one of my favorite crafts to make with my students: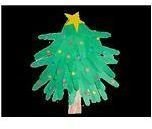 What you'll need:
Several sheets of green construction paper
Glue sticks
Glitter, beads, or any other pretty decorations
Scissors
Yellow construction paper to make a star
Brown construction paper for the stem
How to make it:
1) Have your students trace their hand a total of 10 times. With your help or a parent's help cut out their hand prints.
2) Begin to glue three hand prints in a row to each other. Continue to add glued hand prints together to form the shape of a Christmas tree.
3) Cut out a brown stump, and glue it to the bottom of your tree.
4) When complete add a yellow star to the top of your tree.
5) Decorate the tree with pretty decorations!
Cotton Ball Santa!
What you'll need:
Paper plates
Markers or coloring crayons

Red craft foam
Loads of cotton balls
2 Googly eyes
Scissors
Craft glue
One pink pom-pom
How to make Santa:
1) Color the back of the paper plate a pail color to act as Santa's skin.
2) Cut out a red hat for Santa to wear.
3) Surround the outer rim of the paper plate with cotton balls (glue them in place)
4) Place an extra rim of cotton balls on the bottom half of the plate (adding layers to Santa's beard)
5) Place a cotton ball on the top of Santa's hat.
6) Glue the red "hat" to the back of the hat.
7) Stretch two cotton balls to create eyebrows
8) Glue on Santa's eyes, pink pom-pom nose.
9) Draw on a Santa mouth, adding cotton balls on top to create a mustache.
Additional Ideas
Every year when Christmas time begins to roll around I try my best to make every period seasonally educational! Language Studies are fun by using work sheets that incorporate letters of the alphabet as well as an item representing Christmas.
Also in Language Studies, our spelling words are often winter related! Alowing the children to write letters to Santa Claus can help them create sentences while they work on spelling while exploring a topic they are guaranteed to be passionate about!
Math class is another fun period. Ask the children to bring in ten items that are Christmas related. Use the items the children bring in to play an addition and subtraction game. Many worksheets can be found online (or handmade) to display shapes. Asking the children to color each shape a different color is another fun math activity my children enjoy. Check out these great Christmas counting activities for preschoolers.
Christmas reading sheets are a great way to add fun to the children's reading time. By replacing a common word with a drawing, children will enjoy reading with a sense of accomplishment when they recognize the picture. By giving each child a reading sheet this acitvity can be read together as a class, over and over again. Allow a few children each day to read the story to the class, asking the class to shout out the pictured "word."
References:
Hand Chritsmas tree craft and photo: https://kidsfunreviewed.com/easy-hand-print-christmas-tree/
Santa Face craft and photo: https://www.allkidsnetwork.com/crafts/christmas/cotton-ball-santa.asp