Penguin Art: Preschool Projects for Teachers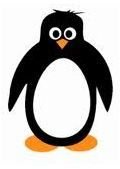 Penguins are cute and intelligent birds that live in colder climates. There are variety of creative penguin art projects which involve using simple art and craft supplies such as papers, pen, and glue. You can easily show your students how to make use of these things to make creative penguins, and here's how!
Making Penguins
Supplies: Penguin Pattern, salt and glue.
Directions: With the help of a penguin pattern, cut out penguin shapes using a black paper. Show children how to glue these parts and use salt for showing white parts on penguin. Then ask children to do themselves. Instead of salt, you can use white cotton also.
Cardboard Roll Penguin
Supplies: A Cardboard Roll, Craft Paper (White and Black), a few small pieces of orange pipe cleaner, two googly eyes.
Directions: Use black construction paper to cover the cardboard roll tube. However, cut this tube to make it to the size of the body of the penguin you want. For the middle of the body, use oval shaped white paper. Make the beak using the orange colored pipe cleaner pieces. Add wings using black construction paper. In the end, stick googly eyes on and your penguin is ready.
Creating a Penguin Puppet
Supplies: Black and white construction paper, glue
Directions: Take a piece of black construction paper and fold it into a long roll. Cut two black wings from the black construction paper and stick them on the back of the black roll. Cut a long oval shape from white construction paper and stick it on the front of the roll to make its tummy. Make two paper bags from orange paper to make its two small feet. Again, from the orange paper, make a rectangular beak with triangle ends on each side. To glue the beak on the face, fold it twice to make a ½ inch space. Preschoolers can easily make this penguin puppet once you show them how to do it.
Paper Plate Penguins
Supplies: Paper Plate, black construction, paper glue and a marker
Directions: A paper plate is white in color, so cut its middle section out to make the tummy of the penguin. Stick it onto a large black paper circle. Take three triangles; two medium sized triangles, and one small triangle to make the legs and beak. In addition, cut out a medium circle from the black construction paper; this is for head of the penguin. All the children should have their own craft supplies separately. Ask the children to glue the pieces at the right points on the large black circle. Make two eyes using marker and can decorate it also using crayons.
Coloring the Penguin Print-outs
Supplies: Penguin Print-outs, crayons, and craft sticks
Directions: Provide children with penguin coloring sheets and crayons. Ask them to color penguins using black and white shades. Once coloring is over, help children to cut it out and stick onto a craft stick to make a simple penguin puppet.
These creative penguin art ideas are very easy-to-do and interesting enough to invoke curiosity among the preschoolers about this adorable bird.