Teachers can plan preschool dot art and crafts that allow students to make spotted designs and patterns with bingo dotters. These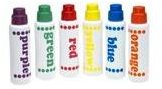 dotters are great for no-mess art projects, and young children can have fun using them while also having the opportunity to strengthen their fine motor and hand-eye coordination skills. The following art activities all feature dots and are geared toward the 3- to 4-year age group.
A great set to have in the classroom is from Do-A-Dot. They also have books to purchase. See photo (courtesy of Amazon).
Spotted Animal Crafts
Teachers can show preschoolers how to make spotted leopards and ladybugs with bingo dotters.
Materials needed:
Construction paper printed with leopard outline OR a leopard-shaped paper cutout (1 per child)
Construction paper printed with ladybug outlines OR ladybug-shaped paper cutouts (1 paper per child OR 2-3 cutouts per child)
Bingo dotters (1 per child)
Crayons
Directions:
1) Hand each child a leopard design-printed paper or a leopard cutout.
2) Show the students pictures of real leopards so that they can see the animal's spots. Ask the preschoolers to make spots on their leopards using the bingo dotters.
3) Instruct the children to color their leopards with crayons and draw eyes, a nose, and a mouth.
4) Repeat the process using ladybug design-printed paper or ladybug cutouts.
Resources:
SuperColoring.com has a leopard page to print.
Ladybug Life Cycle has a lady bug page to print or to use as a template.
Polka Dot Paper Doll Clothes
Paper dolls will look "stylish" in polka dot clothes that preschool children can decorate using bingo dotters.
Materials needed:
Paper doll cutouts (1 boy doll and 1 girl doll per child)
Clothing cutouts with paper tab fasteners (pants, shirts, dresses, hats, shoes, etc.)–1 of each type per child
Bingo dotters (1 per child)
Crayons
Directions:
1) Hand each student a boy and girl paper doll. Give an assortment of paper clothing to each preschooler.
2) Ask the students to make polka dots on the paper clothing with their bingo dotters. Show them how to press down firmly for dark-colored dots and to press down gently for light-colored dots.
3) Allow the students to color the white spaces on the paper clothing with crayons, as well as draw faces and hair on their paper dolls. The children can then have fun "dressing" their dolls.
Resources:
For a literacy connection, read books on the Berenstain Bears and find paper dolls of Papa, Mama, Sister or Brother for the students to decorate with dots.
Connect the Dot Pictures
Preschool teachers can guide students into making dot outlines of their favorite designs and connecting the dots to complete the pictures.
Materials needed:
pieces of construction paper (several per child)
pencils (1 per child)
bingo dotters (1 per child)
crayons
Directions:
1) Ask each student, one at a time, which design he or she would like to draw (shapes, cars, animals, etc.). Make a dotted outline of the design using pencil. Or, have the students follow dotted lines, curved lines and zig-zag lines.
2) Hand each student a bingo dotter and instruct the children to make a colored dot on top of the pencil dots.
3) Show each student how to use a crayon to connect the dots and form his or her design. Allow the students to color their designs with crayons.
Dot My Name
Ahead of time, print each student's name very large on bulletin board paper. Use all caps or the first letter capitalized and the rest lower case depending on the time of year it is. Have the student choose a color and dot his or her name. Proper letter formation should be used as they dot. So, use the rules, such as down-stroke first. Once completed, have the students make a self-portrait of themselves on paper plates. This makes a great wall display.
Just for Fun
Just for fun with dots, to celebrate a classroom birthday or any special occasion make birthday hats. FirstPalette.com has a great pattern of a birthday hat to use. For best results, print them on cardstock. Have the students decorate the hat with any color of dotter they choose, then cut them out and celebrate!
Bingo dotters are ideal to use when making preschool dot art and crafts because they form perfect dot shapes and are easy for young children to manipulate. Preschool teachers may wish to keep bingo dotters stored in an art area closet so that students can practice making dot projects throughout the school year.
References
Article was adapted by Laurie Patsalides' based on a wealth of classroom experience.