A Learning Project For Preschool: Tiger Mask Craft, Books, and Activities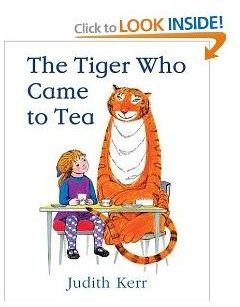 Tigers, with their striped markings, distinctive coloring and fierce demeanor, are likely to fascinate children. The craft for making a preschool tiger mask is great for introducing preschoolers to tigers and, in the process, engaging them in interesting tiger-related literature, science and art activities .
Materials
Paper and newspaper scraps
White glue
Large dish
Scissors
Ribbon or elastic
Colors – water colors, acrylic, markers
Photographs of tigers
Picture books of tigers
Note to Teacher
Make sure that all the materials used are non-toxic and that the children do not put anything in their mouths.
Craft
Making the Paper Pulp
To make the paper pulp for the papier mache mask, cut or tear the paper scraps into small pieces and soak them overnight in hot water. The following day, squeeze out the water and process the sodden mass in a processor. Set the resulting pulp aside and use as required, mixing it with a little water and white glue.
Making a Tiger Mask
Overturn a large dish and cover it with a newspaper square. Now start applying paper pulp in layers on top of the newspaper. Make the mask about a half inch or one inch thick. While it's wet make holes for the eyes, nose and mouth, or at least deep grooves that can later be poked open. Also make two holes at each side for threading a ribbon or elastic through to hold the mask in place later. Let dry and carefully peel away from dish. Use more paper pulp to fashion distinctive facial features. Let dry and then paint with watercolors.
Science
Here are some facts about tigers that you can use to teach preschoolers:
Asia is the natural habitat of tigers. Show the preschoolers where Asia is on a map and point out the regions where tigers live.

Tigers are endangered animals. They are threatened due to rapid loss of habitat and hunting.

There are eight sub-species of tigers, three of which are now extinct. Show the preschoolers photos of these tiger sub-species -
The five surviving tiger sub-species are - Bengal Tiger, Sumatran Tiger, Siberian Tiger, Indo-Chinese Tiger, and South China Tiger. The three extinct tiger sub-species are – Bali Tiger, Javan Tiger and Caspian Tiger. The Siberian tiger is the largest of the existing tiger species.
A tiger is red-orange or yellow-orange, and white in color, with black stripes; although there are some white tigers. A tiger may have more than 100 stripes, and each tiger has unique stripes. Their striped coats make for great camouflage in the light and shadow of a forest.

Tigers are usually solitary animals. You don't often see them in groups, but, if you do, that group is called a streak.

Tigers are territorial creatures and are quite ferocious. So if you trespass, you are likely to get attacked.

Tigers can swim very well and they are also capable of jumping to great heights.

Tigers are carnivorous. They hunt and eat deer, nilgai, gaur, sambar, barasingha, chital, peafowl, porcupines and so on. Bengal tigers are also known to fish.

A tiger has a loud voice–you can hear it roar a mile away.
Literature
Read picture books about tigers. Here are some recommended ones:
1. The Tiger Who Came to Tea
Judith Kerr, Author, Illustrator
Publisher: Candlewick
ISBN-10: 076364563X
2. Tasmanian Tiger
Janet Riehecky
Publisher: Capstone Press
ISBN: 9781429601184
Little Tiger is Loud: A Book About Using Your Inside Voice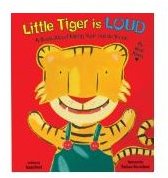 Susan Hood (Author), Barbara Nascimbeni (Illustrator)
Publisher: Reader's Digest
ISBN-10: 0794416357
4. Why Do Tigers Have Stripes?
Pamela Jain Dell
Publisher: Capstone Press
ISBN: 9780736863810
See this analysis of William Blake's poem 'Tiger' - and watch the YouTube video.
Activities
Have the preschoolers talk about what they have learned about tigers. Make sure each child gets a chance to have his or her say.
Talk about the preschool tiger mask. The children can pretend to be tigers and put on a play about how a tiger might behave in its environment.
See these sites for information about saving tigers -
See the movie 'Two Brothers', directed by Jean-Jacques Annaud. It is about two tiger cubs that are captured and eventually manage to return to the wild.