Pre-K Classroom Year-End Party Ideas for Teachers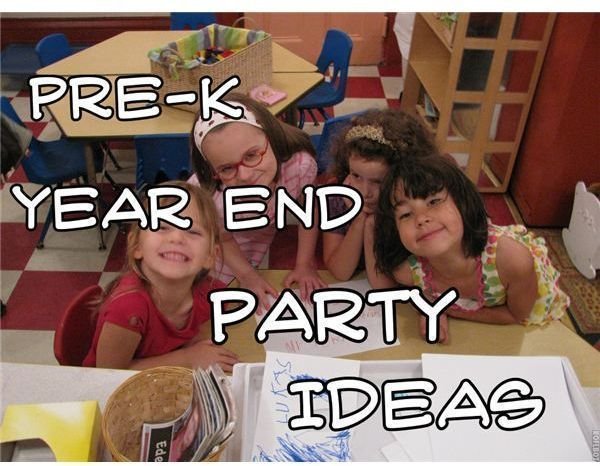 Having an end of the year party is a great way to celebrate all that the child has learned throughout the year. It is also a great time to acknowledge parents that have been involved in the program. Celebrate with your students with these ten ideas.
Photo Collage
Create a photo collage of the children from the beginning of the pre-k year until the end of the year. Display the photo collage during the party.
Thank You Banners
Thank the parents for being involved by helping the children decorate a banner with markers crayons, stickers and streamer. Title the banner, "Thank You parents for being involved in our preschool year."
Good Bye Posters
Make a poster for each child that will be entering kindergarten. Ahead of time, write with paint in large letters, "We will miss you (child's name)." Have each child to dip their hands in paint and add their handprint to the poster board. Next, help students write their names next to the handprints. Give the posters to the kids leaving the program at the end of the year.
Award Certificates
Create an End of the Year Certificate for each child in your class using Microsoft Publisher or a similar application. The certificate might read, "Johnny Jones has successfully completed the 2015/2016 Pre-K year at Jones Preschool academy." Add clip art to the certificate if desired and issue to each child at the Pre-k end of the year party.
End of the Year Songs and Poems
Sing year-end songs at the party and encourage the children to recite a poem:
A B C D E
School is where we love to be
F G H I J
We learn and read and draw and play
K L M N O
We know our teacher loves us so
P Q R S T
The trees have grown and so have we
U V W X Y
Now it's time to say goodbye
Z Z Z Z Z
Come fall, back in school we will be!
Include Homemade Treats
Invite parents to attend the party and ask for donations of treats for the party in the form of a parent sign-up sheet or a note sent home with each child. Be sure to specify what you need for the party.
Gifts
Give each child a special gift for going off to kindergarten such as a book signed by you, a gift bag with a laminated poster of shapes, numbers and alphabet , a special laminated note from you or a picture of you and the child with treats in a bag.
At the Party
The day of the party, hang streamers, decorate the tables and add decorative plates and cups for treats. Don't forget the music! A piñata is also a great way to end the year with a bang.