Preschool Pizza Theme: A Day of Pizza in the Classroom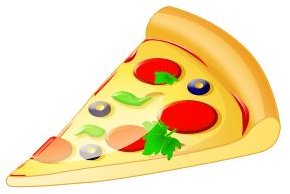 Variations of Pizza
When using pizza in your preschool theme you need to remember that there are different pizza types and different shapes that pizza can be made into. The pizza can be made healthy or unhealthy, you can help the preschoolers determine which is which. This will give you a lot of options to the pizza theme.
Pizza Art
Give white paper plates and have the children decorate them with markers, crayons, or paint as if the plate was a pizza. They can add circles for pepperoni or black olives, and squares for pieces of ham. When finished they could even cut them into pieces like a pizza and then explain how the pizza went from being a circle into triangle pieces. See if they are able to put their pieces back together to make a circle. This is a good way to add a spatial and mathematical exercise into your pizza theme.
Pizzeria Dramatic Play
All children love pretending. Add a pizzeria to your preschool pizza theme to encourage your preschoolers interpersonal and intrapersonal intelligence. Provide the children with empty pizza boxes, menus, oven mitts, and aprons. Encourage the children to act out a pizzeria. Explain the different roles that are involved like customers, pizza makers, servers, and delivery people.
The Science of Pizza
Explain to the children that there is healthy food and junk food. Tell them that pizza can be made either way. Give them examples such as dessert pizza, veggie pizza, meat pizza, and Hawaiian pizza. Provide magazines, paper, scissors, and glue. Challenge the children to find pictures of junk food and healthy food, cut the food out and glue them to their paper. One half of the paper a healthy side and the other half being a junk food side. Another way to demonstrate this in the preschool pizza theme would be to provide play food and have the children sort the food into healthy food or junk food, or they could set aside all the food that could go on a pizza. Sorting is great for logical and mathematical skill building.
Pizza Toss Game
This will help build a preschooler's gross motor skills. Make pizzas from cardboard. Have the children try to toss the pizzas into a large basket. Games are always fun to add to your preschool pizza theme, they can build all sorts of skills needed.
Pizza Snack
Let the children make their own mini pizzas. Give them each an English muffin and several slices of pepperoni. Let them spoon on their own sauce and give them each a small handful of cheese. You can also provide them with veggies and other pizza toppings. This will give the preschoolers the opportunity to choose the way they would like to make their snack.
Music in the Preschool Pizza Theme
Change the lyrics to the song " Who Stole the Cookie From the Cookie Jar", to who stole the pepperoni from the pizza. This gives preschoolers an opportunity to be word smart and to interact with one another.
Story Time
Whether you put your story time or circle time in the beginning, middle, or end of your day, these books will surely get the preschoolers thinking about pizza: Little Nino's Pizzeria

by Karen Barbour and Curious George and the Pizza Party by H.A. Rey. When closing the preschool pizza theme you can ask the children what they learned about pizza today. You will be surprised how the responses vary to shapes, varieties, or maybe even the taste.