Two Ideas for Personalized Handmade Preschool Christmas Cards for Parents And Families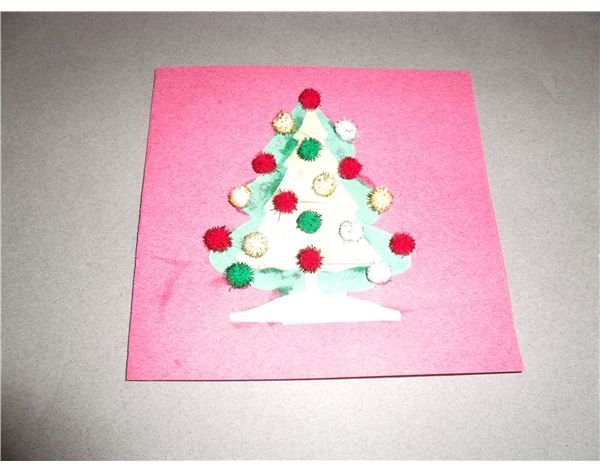 Preschoolers often look forward to making Christmas crafts and art projects during the holiday season. Making cards for parents, grandparents or other family members spreads holiday cheer to everyone! Preschool teachers can give their students the opportunity to present their loved ones with a handmade Christmas card. The following card suggestions are fairly easy for young children to make and involve the use of several different craft materials.
Decorated Christmas Tree Card
Materials needed:
Red construction paper (1 piece per child)

Green construction paper (pre-cut into Christmas tree shapes, sized to fit front of card, 1 or 2 per child)

Pom pons (assorted colors)

Glue

Crayons
Directions:
Give each child a piece of red construction paper folded lengthwise to make a card.

Hand each student a green paper Christmas tree, and ask the children to glue their trees onto the front of their cards. You can overlap trees for a special effect. Also, older students may wish to make their own tree cutouts. Tracing around cookie cutters makes the task fairly simple.

Pass out a handful of colored pompoms to each preschooler, and show the class how to glue the pompoms onto the Christmas tree branches to make ornaments. The children can glue any extra ones onto the inner section of their trees.
After the glue has dried, preschoolers can use crayon to write a brief Christmas message inside their cards.
Christmas Designs Card
Materials needed:
Construction paper (1 piece per child)

Small paper cutouts of Christmas designs (candy canes, gingerbread people, stockings, ornaments, snowflakes, bells, holly)

Crayons

Glue
Directions:
Give every preschooler a piece of construction paper folded lengthwise (let the children choose the background color since the cutouts will be Christmas shapes).

Give each child three or four different paper Christmas cutouts to glue onto their cards. Ask the students to add designs and/or features to the cutouts with crayon (the children can add red stripes to candy canes, draw faces on the gingerbread people, or make multi-colored ornaments). Using a variety of different papers also makes the cards look special.
Instruct each student to open their card so that they can write a Christmas message for their families.
Personalizing Christmas Cards for Preschool Families
One way that preschool children can add a personal touch to their Christmas cards is to glue a small photograph to the inside of the card. Teachers can request that their students bring a school picture or candid photograph from home to place in their cards.
Preschoolers can also personalize Christmas cards for parents and family members by writing a holiday message inside. For the very young children, the teacher can write a dictation. Older children may try to copy simple messages where teachers present a sample on a chalkboard or white board.
Suggestions for Christmas messages:
"Merry Christmas, From Me to You. Love, (child's name)"
"Happy Holidays. Love, (child's name)"
"Merry, Merry Christmas. I love you, (child's name)"
"Happy Holidays (insert year)! Love, (child's name)"
The finished products of any of these cards are keepsakes that can be saved and treasured. The children should include the current year on their Christmas cards so that parents and loved ones can look back on the date as preschoolers grow.
References
Photos by Tania Cowling, all rights reserved
The information offered in this article is based on the author's personal experience as an early childhood teacher