Three Preschool Christmas Program Ideas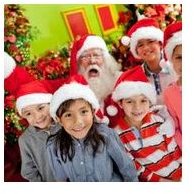 In Need of Christmas Program Ideas?
Although it would be simpler for everyone involved to not bother with a big production, preschool Christmas programs during the holiday season serve a triple purpose. [caption id="attachment_130858" align="aligncenter" width="640"]
Preschool Christmas programs don't have to be super elaborate[/caption]
Children experience – perhaps for the first time – the intricacies of participating in a production from the point of view of the actors. They learn how to memorize lines, how to deal with stage fright, how to cooperate with others to put on a joint performance, and they also get to enjoy special attention from family members after their performance.
Parents get more involved with the school. Even those, who might thus far have been absent for a variety of reasons, cannot resist showing up to see their children perform. Moreover, volunteer opportunities may be icebreakers for some parents, who have thus far been hesitant to help out simply because no ready-made tasks could be found.
Christmas programs highlight the preschool's commitment to providing a number of learning experiences to students. Failing to have a holiday program may make your preschool look less than dedicated.
Internet Resources
Resist the temptation of recycling the same two or three programs for the sake of convenience. Parents will soon recognize them and enthusiasm wanes. The same holds true for students. While you may not have the time, resources or imagination to write a complete play yourself, there are plenty of online sources. Just a Little Christmas by Sunday-School-Center.com On the website home page, scroll all the way down to Christmas Skits for Youth and Children. Just A Little Christmas offers parts for about a dozen students, although you can always add more as shepherds and angels. If your children are too young to do the narration, one or more teachers can handle that while the children move around as directed. The site offers many additional suggestions as well. The Birth of Jesus by Kids Sunday School Place Although the program suggests that nine to 14 children can participate, there are ways to involve more children by bolstering the roles of angels and shepherds. It is a basic retelling of the search for a room, bedding down in the stable, and the subsequent visits to the newborn baby by shepherds and the magi. Augment the action on stage with songs, and you can stretch the 20 minutes suggested for this place to almost an hour. The Littlest Christmas Tree by DLTK This is a Christmas program that relies less on the acting abilities of the participants and more on their joy of song and personalities. The teacher narrates, and each child comes forward as his character is mentioned. All the children sing songs together. This website has plenty of other ideas, as well. Each child is assigned a sentence or more to memorize – depending on the number of preschoolers in your class – and will learn whom they follow on the big day. You could have children dress up as angels or shepherds, if you like, but it is not necessary. Best of all, you might be able to pull this one off without one single practice session!
That Was Easy!
As the variety of available online preschool Christmas programs showcases, it is not always necessary to do a big costumed production or play. Instead, there are plenty of avenues to showcase your preschoolers' talents, have every child participate in the performance, and create plenty of picture perfect moments for the families – even without adding stress to your curriculum or schedule. Best of all, you can "dress up" any part with special costumes, gear and also instrumentation, such as musical hand bells. Do you have other Christmas program ideas? Leave a comment below! Image by Myriam Zilles from Pixabay