A Preschool Plan for a Halloween-Themed Day: Songs, Books and Craft Activities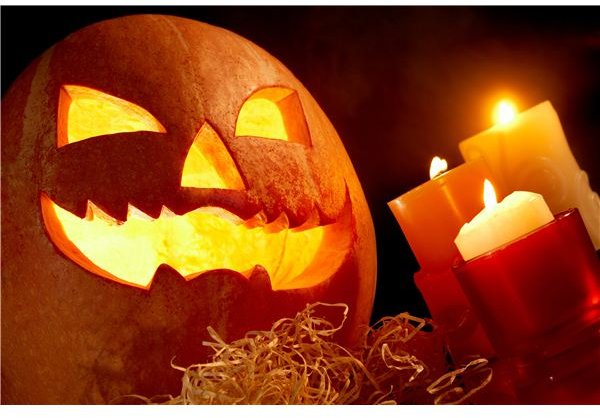 Plan refreshments for the end of this fun-filled 'party day'. Make sure to send out a parent newsletter in ample time before the big day to notify the parents of ideas for all refreshments. Let them know if there is a sign-up sheet for food, supplies, and/or volunteer time for the upcoming party.
Instead of having sugar-overloaded children in the classroom, put most of the candy or sugary foods in the treat bags. At the party, serve fruit and veggie trays instead with a variety of dips for the children to choose from. This also be a great way to introduce all the great food that is available during the fall harvest season.
Start off the day with Circle Time. Discuss the day's schedule with the class. This will be an exciting day for your class.
Music and Movement:
1. Jack-O'-Lantern -
Sung to: "Mary Had a Little Lamb"
Jack-o-lantern smiling bright, smiling bright, smiling bright,
Witches flying in the night. It is Halloween!
Ghosts and Goblins, cats and bats, cats and bats, cats and bats.
Witches with their funny hats. It is Halloween!
2. The Ghost Fingerplay -
I saw a ghost (fingers circle eyes)
He saw me too (point to yourself)
I waved at him (wave your hand)
But he said, "BOO!" (try to scare person next to you)
3. Haunted House -
Sung to: "Pop Goes the Weasel"
All around the haunted house, the bat chased the goblin.
The ghost floated overhead. SCAT! Went the black cat!
4. Five Little Pumpkins -
Five little Pumpkins (One hand up) sitting on a gate.
The first one said (Point to thumb) "My, it's getting late."
The second one said, (Pointer finger) "There are witches in the air"
The third one said, (Middle finger) "But we don't care"
The fourth one said, (Ring finger) "We'll run and run and run"
The fifth one said, (Little finger) "It's just Halloween fun."
"Whooooo" went the wind, and out went the light (Clap hands)
And the five little pumpkins rolled out of site. (Roll arms)
Note - Original authors of these lyrics and finger movements are unknown.
Story Time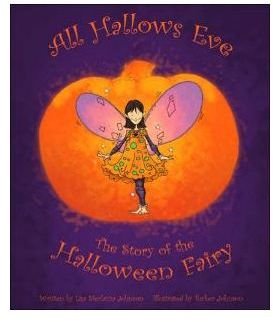 Choose from this selection of age-appropriate books, reading as many or as few as your classroom schedule allows.
All Hallow's Eve: The Story of the Halloween Fairy by Lisa Sferlazza Johnson
Ages 3 - 5. This story about a fairy who can only make toys, not candy even though she tries with all her might. This is a magical tale of friendship, cooperation and self-acceptance that your class is sure to love.
Five Little Pumpkins by Iris Van Rynbach
Ages 2 - 6. The finger-rhyme from above is told in this book in a humorous and delightful way that is playful and inviting.
Halloween Night by Arden Druce
Ages 4 - 8. Riddles and watercolor illustrations introduce your students to Halloween characters.
It's Halloween! by Jack Prelutsky
Ages 4 - 8. A classic. Poems that are fun to read aloud and great illustrations.
Crafts and Activities Party Tables
Table One:
Try to get the parents to provide a pumpkin per student. Or, collect them ahead of time with a planned outing to the pumpkin farm. If you do not have enough, divide the class up into groups based on the number of pumpkins available.
Rotate the groups throughout all the tables. This is where it really helps to have some parent volunteers on hand.
Smashing Pumpkins
Use wooden pegs and little wooden hammers to hammer pegs into pumpkins to make eyes, noses, smiles or other fun designs. Let the kids get creative!
Decorating Pumpkins
Using washable markers, color and decorate the pumpkins, and then wash the pumpkins off with a wet cloth to start all over again!
Table Two:
A Homemade Pumpkin Patch
Using paper lunch bags, paint them orange and stuff them with newspaper. Once they are dry, tie them off with green yarn. Cut out leaf shapes for name tags to put on the yarn tie. Then pile them up together like a pumpkin patch.
Decorate Party Treat Bags
Have the children color and decorate their lunch bags/treat bags for their party treats to go into. Ghosts can be made by using white Kleenex wrapped around a lollipop then tied with a ribbon. Use a marker to create the eyes and mouth. They look cute taped to the front of the bags.
Table Three:
Toilet Paper Bats
Paint toilet paper rolls black. Cut out bat wings from black construction paper. Once dry, glue the wings onto the rolls and you have bats!
Egg Carton Spiders
Cut two sections off an egg carton and then paint black. Poke holes into the carton for the legs. Black pipe cleaners need to be cut for the legs. Use small craft wiggle eyes for the spiders.
It's Party Time
Utilize your parent volunteers to help you set out the trays of foods and beverages. While the kids are enjoying their healthy treats, fill the treat bags with goodies for them to take home, along with the crafts they made.
Related Articles