Three Preschool Activities for the Kissing Hand Book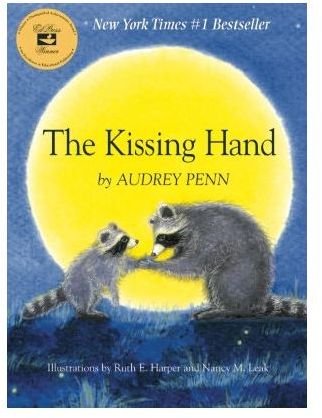 Leaving
Children who go off to school for the very first time no doubt feel anxious or even just slightly nervous. These feelings are normal, and helping preschoolers deal with them early on in a proactive way will deter or minimize those feelings somewhat.
When children go away from those they love it is understandable to think about what may or may not happen. It is easy for them to get too involved with these thoughts and that is why the very thoughtful writer of The Kissing Hand wrote the book.
The Kissing Hand
The book The Kissing Hand (available online at Amazon) is about a little raccoon and his mother who wanted to still feel close even though he was leaving for his first day of school. This book tells the tale of how his mother opened his hand, spread his fingers, placed a kiss right in the middle, and then closed it up. She told him that he could place that kiss to his cheek anytime he felt he needed to feel close to her love.
This enabled him to make it through his first day and gave him the strength to continue to enjoy himself at school instead of concentrating on his nervous feelings. He felt that his mother never left his side with that kissing hand. He felt very safe as long as he could place the kiss next to his cheek.
This book has many great reviews concerning the story, and most, of course, felt that the theme overall presented an awesome feat. Although it is impossible to give excerpts of them all, one review stuck out when a customer said:
"A heart-warming story, but be warned – it might make you tear up the first time you read it." [1]
You and your class will enjoy this beautiful tale of the little raccoon and the kiss he carried from his mother. You class will love the activities that will engage them as they too find that they can carry the love of their mother with them each day.
Activities
Book Discussion
After you have read the book, have your class talk about the story. You can ask the children if they have ever felt nervous when they left home. Ask the children what they do to make themselves feel better. Ask the children what they think about the main character. Ask what they do when they miss their loved ones.
Kissing Hands
Materials: You will need construction paper, scissors, glue, stickers, markers, and colored pencils.
Instructions: You will need one piece of construction paper for the background. Help the children trace their hands and cut them out. Trace your hand and cut out one for each child. Draw hearts on red construction paper and give each child two. Cut out four one-half-inch borders for each child's picture. Glue your hand and the child's hand on the background paper. Glue one heart in the middle of each hand. Glue the borders and allow the children to decorate the borders with more drawings, stickers, or both.
Explain that this is a picture of a kissing hands: one for them and one for their loved one. Explain that, if their loved one misses them, they can remember the picture their preschooler drew for them. The child will give the same comfort to their loved ones while being comforted themselves.
Kissing Hand Mat
Materials: You will need this coloring page, crayons, heart stickers, construction paper, scissors, glue, and access to a laminating machine.
Instructions: Print the coloring pages and allow the preschoolers to color them. Trace and cut out the shape of their hands. Glue their hand on the drawing and place a heart sticker in the middle of the hand. Put the child's name on the drawing. Allow the children to decorate it any way they wish with their favorite stickers, and finally laminate their artwork.
Note: It is best to print the drawing in the landscape layout or make sure it is wide enough for their individuality.
These activities should be both fun and educational. They should give the children a great way of realizing that everyone has anxious feelings when leaving home, but adults get through them and so will they.
References
Cited Source:

(1) Customer Reviews: "The Kissing Hand" Amazon.com, September 22, 2009.