Three Sea Life Activities Using the Book Splishy, Splashy, Sparkly Sea Life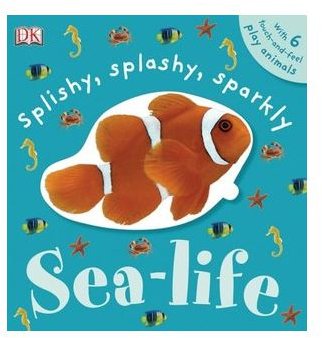 Splishy, Splashy, Sparkly Sea Life
The book Splishy, Splashy, Sparkly Sea Life is one that is very colorful with beautiful depictions of the underwater sea world. It can be a great introduction to sea life where you can create fun activities for the classroom. This book is unique, in that there are parts of it the children can actually feel as they are read to. This book is considered a touchable board book from by DK Publishing.
This book is great for ages one through five, and is packed with exciting words that will peak their interest. The book will also introduce them to a world that many aren't privy to; one that is full of animals that live in an underwater paradise. It is a pop-out book they will thoroughly enjoy. It has twelve pages of learning fun for them to explore.
Create an Underwater World
Go to any craft or party stores and gather:
Marine colored streamers, a set of four in at least two colors (shiny tinsel optional)
Construction paper, color markers, scissors, tape, kite string, staples
Mesh toy hammock from Toys-R-Us or any toy or sporting goods store
Stretch the hammock and hang the streamers to create the feel of water

Cut out fish, starfish, and sea-horses; about four or five each, here's a template for a sea-horse and one for a starfish.

Hang them throughout your sea world
Hang up your walk through and under your sea world
In order for this project to work, you will need to secure the hammock above the children's heads, but not so high that they can't walk through it. The streamers can be secured by lining up at least two or three streamers, all the same length, and folding them in half at the length you desire them to hang. For example, if you want them all to hang at least two feet from the mesh, make sure you cut two pieces at four feet and staple them to the toy mesh. Take the sea animal cut outs and staple them to the kite string, one on each end of the string. Staple the string to the mesh and let them hang. Now you have an undersea world, right in your classroom.
Become a Sea Creature
In this project, each child will be able to be one of the featured creatures: a fish, starfish, sea-horse, or dolphin. Gather the materials and use one of the drawings on two glued, ridge-type paper plates colored on both sides. Have each child take the double up plates that have been colored and glue a wooden Popsicle stick to the bottom for a handle.
Collect: glue, ridge-type paper plates, coloring pencils or crayons, wooden Popsicle sticks and an underwater sound CD
Have the children color the animals
Help them glue the plates together with ridges turned opposite of each other, framing their artwork
Before completely gluing the plates together, place a Popsicle wooden stick in the middle and let dry
Allow the children to practice making fishy faces and even dolphins sounds while they hold onto their animals and walk around, listening to the underwater music from the CD. It will be extra fun for them when they walk under and through the undersea world.
Circle Time
After reading the book, this is a great time to have a discussion about sea life. This is the time to explain to them that we live opposite lives from sea creatures. We breathe air, they breathe water; we eat at a table, they eat while they swim; we go to sleep in beds, they go to sleep right in the water, sometimes floating.
All in all, these sea life crafts and activities should be an awesome experience for all involved in getting acquainted with our under water neighbors.