Preschool Arts And Crafts: Learn How to Make a Butterfly Mobile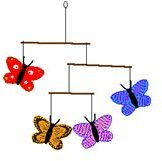 Mobiles and Children
A hanging mobile is very stimulating to most young children, especially to those that are infants. Hanging a mobile in your child's room will bring a nice decorative effect and it is visually pleasing to them. These days, the commercial mobiles have come a long way, they have lights and even music.
An infant will often seem mesmerized as they lie on their backs, looking at a mobile going round and round over their crib. These mobiles may often calm a fussy baby or help them ease into a nap. Infants are not the only age group that can enjoy a mobile, the older children, including toddlers and preschoolers will also love the enjoyment of having a mobile hanging in their room.
Your 3 or 4 year old will love creating a great mobile to hang in their room. You can follow these simple directions for this preschool arts and crafts idea to create a very personalized hanging mobile for him or her.
Making the Mobile
Materials:
Construction paper
Colored pencils or crayons
Glue
Ample amount of kite string
Scissors
Pipe cleaners
3, 6" and 1, 12" wooden dowels
Paint (optional to cover the wood on dowels)
Hot glue from glue gun
Hole punch
Instructions:
Fold one piece of construction paper in half, cut the fold down the middle and fold these two smaller pieces in half.
Draw a wing pattern, trace the wing pattern onto the folded squares of paper. Have your child cut out the wing pattern, making sure they DO NOT cut the fold. (Note: They should end up being one whole cutout that looks as if the butterfly flying with his wings spread open. You should get two open-winged butterflies per sheet of construction paper).
Have your preschooler color and decorate one side of each of the construction paper cutouts.
Take two pieces of pipe cleaner and twist them together making the body for the butterfly.
Use two pieces of pipe cleaner rolled in a circle on one end, to make their antennae.
Take two pieces of open-winged butterfly cutouts and glue them together in the middle joint that is folded, and on the edges.
Hot glue (done by the adult) the antennae and the pipe cleaner body to a set of wings. (Make sure to glue these pieces on top of the wings).
Do steps 6 and 7 for all the sets of wings to complete all butterflies and let them dry.
Have your child paint the dowels in whatever color they want, one that will blend well with the color scheme of the project, and let them dry. (optional)
Hot glue one string on each end of the 12" dowel (one inch away from each end).
Hot glue the center of your 6" dowels to the strings that are hanging on the end of the 12" dowel. (Note: They must be hung 6" away from the 12" dowel).
Your third tier will be created when you hot glue a string coming from another 6" dowel and going down the very middle of the 12" dowel (Note: it has to hang 12" away from the top dowel).
Take the 12" dowel and tie a string in a 'V' from its center.(Note: This string is used to hang the mobile)
Punch a hole in the middle of each of the butterflies and have the preschooler thread the strings through them. The adult will then tie the strings to the ends of the 6" dowels.
Hot glue each string coming from all remaining butterflies to the middle and ends of all 6" rods.(one inch away from the end of all dowels, for balance. Allow their lengths to vary)
Hang your beautiful butterfly mobile!
Extensions:
For the wings: Once your child has cut the wings, they can outline them in crayon and outline them again making the second one smaller and closer to the middle. They can create any patterns they would like and make them very colorful. Have the child fill in the patterns and be creative as you like. You should be able to create marvelous butterflies with your preschooler! If you have a boy or a child that dislikes butterflies for their mobile, you can substitute them for; trucks, stars and moons, or anything that you like. This preschool arts and crafts project can be customized to become one that will bring joy to any child's face for a long time.