Preschool Ice Cream Recipe: The Science of Making Ice Cream!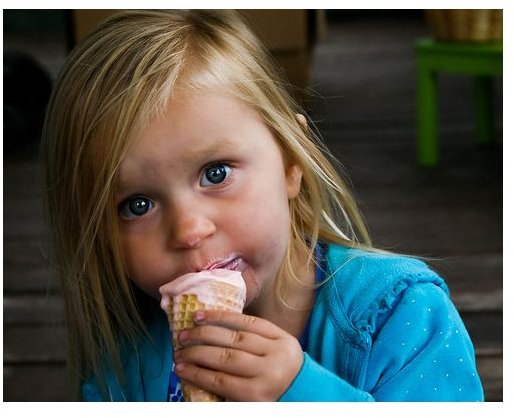 Ice Cream Science
A range of science concepts may be learned through cooking, but the logistics can make it difficult to cook in a classroom. Making ice cream with preschoolers teaches about how properties of matter can change without having to deal with the potential dangers of cooking with a group of children. While an ice cream maker can be used effectively, it is a lot of fun to make individual portions by making ice cream in a bag.
The Lesson:
Circle time is an excellent time to introduce the concept and prepare children for the ice cream lesson plan. A great book that talks about the process of making ice cream is From Cow to Ice Cream by Bertram Knight. Review the recipe and hang it on the wall. Have your preschoolers gather around the table and pass out Ziploc bags. Direct them to follow your example, giving assistance as needed. Once the small bag is securely inside the large bag it is a good idea to let them stand away from the table to shake it. Taking the finished product outside to eat makes for a really enjoyable snack time.
Create a Pictorial Recipe:
To prepare for the lesson, use laminated cards to create a pictorial recipe for your students to follow. You will have two sets of cards. The first set will show all of the ingredients:
Ingredients:
1 TBSP. sugar
1/2 cup milk or half & half
1/4 tsp. vanilla
6 TBSP. rock salt
1 pint-size Ziploc bag
1 gallon-size Ziploc bag
ice cubes
The second set will depict the steps for making the ice cream:
Steps:
Fill the large bag half full of ice and add rock salt.
Seal the bag and set aside.
Put milk, vanilla, and sugar into the small bag.
Seal bag and place in the large bag.
Seal the large bag again carefully.
Shake until mixture is ice cream. This should take about five minutes.
Wipe off the top of the small bag and open it carefully.
Extend the Lesson:
To include writing, art, and socialization into the lesson, you could host an ice cream social. Have your preschoolers create invitations for another preschool class or neighborhood children if you are doing this at home.
Math may be incorporated into the lesson by creating a graph of favorite ice cream flavors.
Some fun books to reinforce this activity are Ice Cream Cones for Sale by Elaine Greenstein and Curious George Goes to an Ice Cream Shop by H. A. Rey.
Through all of these activities, your preschoolers are sure to enjoy learning about the science of making ice cream!
References