Simply Delightful Green Eggs and Ham Games for Preschool Children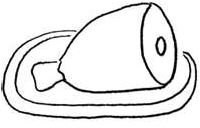 Why Green Eggs and Ham ?
Dr. Seuss' books have been entertaining and educating children for several decades. Green Eggs and Ham is one of his most famous books. The story may not exist if it wasn't for a bet between Theodor Seuss Geisel and his publisher. Dr. Seuss bet his publisher that he could write a book using only fifty words and in 1960 he succeeded by publishing this popular rhyme in time. In the book, Sam I am is a very persistent character who insists the children try green eggs and ham, and he won't stop until they give in. Your preschool students will have the opportunity to embrace the silliness of Dr. Seuss by participating in these word and math games based on this classic favorite.
Chopped
Little chefs will provide their customers with speedy service as they race to cook up delicious plates of green eggs and ham. If the chef prepares the wrong order they will be "chopped". The first chef to deliver five correct orders of green eggs and ham to their customer wins the game.
Materials:
Several printouts of green ham with phrases and rhyming picture attached

Several green egg cutouts with rhyming picture attached

Paper plates
How to Play:
The teacher will print out several green hams that say a rhyme for example "I would eat them in a chair, I would eat them with a _________." The teacher would use a picture card for chair instead of the word. Print and cut out several green eggs with the matching rhyming picture. In this case, the matching green egg would have a bear picture card glued on it. Six children will play the game at a time. Three will play the role of the chef and three will be customers. Each customer receives 5 ham rhymes. They pick one, read it, and hand it to the chef. The chef must find the matching egg out of his five eggs and place both the ham and rhyming egg cutout on a paper plate and serve it to the customer. The customer checks to make sure the order is right. The first chef to finish all five orders is the winner. If an order is wrong, the chef is chopped and must return to his or her seat. Play continues until all students have had a chance to be the chef.
Charades - Dr. Seuss Style
Children will love guessing and acting out rhyming words after reading the Green Eggs and Ham book. Divide students into two groups. The teacher will make up a rhyme to go along with the book. "Would you eat them on a mat? Would you eat them with a _________(CAT)?" A desinated child will see the word cat or the teacher will whisper it to him or her. The child will pretend to be a cat. The two groups of children will get together and try to guess the charade. The first group to guess wins a point. The team with the most points at the end of the game wins.
Tic Tac Toe
Cook up a new version of Tic, Tac, Toe using a green eggs and ham theme.
Materials:
Black marker
Several printable green ham plates and picture cards (same as used above)
Tic Tac Toe Board (can be drawn on a sheet of white paper)
Egg cutouts (found above)
Green crayon
What to do:
The teacher will color the ham and egg cutouts green with the crayon and attach picture cards to the ham cutouts. Give each child several green eggs with x and o written on them with black marker. Two children will play together. Each child will pick a ham picture card, say the name and think of a word that rhymes. If the child can make a rhyme he or she will place thier egg on a space on the board. Continue until someone gets a tic, tac, toe.
Green Egg Toss
Children will love throwing green eggs while practicing counting skills.
Materials:
2 Waste baskets
2 Green ham cutouts
Green plastic eggs
A pair of dice
How to Play the Game:
The teacher will tape a green ham printable on the waste basket. Provide students with several green plastic eggs. The teacher will have two students roll a dice. They must throw the correct number of eggs in the basket. Each egg they get in the green ham basket is worth 5 points. The student with the most points at the end of the game is the winner.
Interactive Games
If your kids love Dr. Seuss books and playing games, the Internet has an extensive variety; including green eggs and ham games for preschool children. Check out Seussville, where children can play games associated with green eggs and ham, color pictures and more. Game Quarium also has many interactive games from Dr. Seuss' popular books. Bring Dr. Seuss into your home with fun, interactive board games for the entire family. One popular game is the green eggs and ham speedy diner board game, which can be purchased online along with several others.
Dr. Seuss and his games, movies and books will continue to entertain and educate children for years to come. So help keep Dr. Seuss alive by incorporating these games along with other Dr. Seuss activities into your class curriculum this year and watch your children jump for joy.
References