Awesome Acorn Activities for Preschool Kids to Help Their Science Skills Grow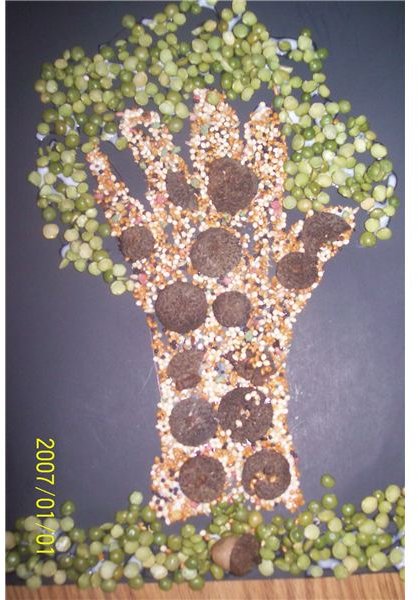 Acorns are Special
Preschool students will enhance their math and language skills while having some acorn fun. Introduce these activities by showing the students several acorns. Explain that although an acorn is a fruit, unlike other fruits, it is also known as a nut. Acorns grow from old oak trees. The oak tree has to be at least 20 years old before acorns appear. Although a mature oak tree has hundreds of acorns, only one out of every ten thousand will be lucky enough to become a mighty oak tree. The acorn is very important because it provides food for squirrels and other wild animals.
Objectives:
Students will learn the life cycle of an oak tree
Number word recognition with 75% accuracy
Recognize the importance of acorns and name two things they do.
Identify color words with 75% accuracy
From an Acorn to an Oak Tree Mosaic Picture
Read the book, The Oak inside the Acorn by Max Lucado. The book is about a little acorn that fails to realize how lucky he is to have grown into a strong oak tree. He doesn't think he is as important as other trees because he cannot produce fruit or flowers like his friends. He soon discovers that he has a very special purpose. Ask children what they want to be when they grow up. After reading the book, discuss the life cycle of an oak tree. Tell children they are going to make an oak tree mosaic picture.
Materials
Black poster board
Birdseed
Glue
Pencil
Green split peas
An acorn
Acorn cap pieces
Directions
The students will trace their arm and hand (oak tree) with the pencil on the black poster board. Next, they will glue the acorn on the bottom of the tree trunk. Spread glue directly under the tree trunk and sprinkle green split peas (grass). Continue spreading the glue inside the tree trunk and branches, sprinkle with pieces of acorn caps and birdseed. Place glue around the hand and sprinkle the green split peas to represent the leaves of the tree. Set aside to dry. This makes a beautiful mosaic picture that can be framed.
Feed the Squirrel Game
Squirrels bury the acorns in the ground in the fall and dig them up in the winter. Children will learn number recognition and counting skills while playing the Feed the Squirrel game. Give each child a laminated squirrel cut-out and several acorns. Chant the poem "Squirrel, squirrel in the tree, how many acorns do you need?" The teacher will write a number word on the board. The children will place the correct number of acorns on their squirrel.
Acorn Song
Young children love singing and rhyming. Reinforce the life cycle of an oak tree with this acorn poem/song that is sure to make your kids smile.
I'm a Little Acorn (sung to the tune of I'm a Little Teapot)
I'm a little acorn short and brown,
This is my body and this is my crown,
When the wind starts blowing, down I go
Into an oak tree I will grow!
By Lisa King
Acorn Cap Match
Preschool students will correctly identify color words while participating in the acorn cap match game. Cut-out and laminate several acorns without the caps from tan construction paper. Write a different color word on each acorn. Cut-out and laminate caps from different colored construction paper. The students will match the cap to the correct color word on the acorn.
Silly Acorn People
Let student creativity and individuality come alive while creating silly acorn people.
Materials
Acorns with caps (loose caps can be glued)
Fine-tip markers
Glue
Old-fashioned, wooden clothespins with springs that work
Felt pieces for clothing
Directions
Give each child the materials listed above. Let them draw faces on their acorn with the markers below the caps. Remind them to be creative, they may add glasses, mustaches, etc. The teacher will glue the acorn to the clothespins. The children will glue on clothes cut-out of felt or color their clothespins with markers. The clothespins are the acorn people's legs. When their clothespin people are finished, they will stand up. When they are dry, children can put on a play starring their silly acorn people.
Your preschoolers will go "nutty" making these silly acorn projects and singing silly songs. After these activities and projects are completed, take your preschool class on a nature hunt to look at some big oak trees and maybe find a few real acorns along the way.
References
Song, games, projects, and activities courtesy of Lisa King, all rights reserved.
Lucado, Max. The Oak Inside the Acorn. Thomas Nelson. October 31, 2006.
O'Donnell, Nancy.The Acorn is a Big Part of Nature's Plan.Retrieved fromhttps://www.projo.com/garden/content/lh_acorns_01-27-08_PO7ULDA_v4.1c79307.html