Starfish Sand Paperweight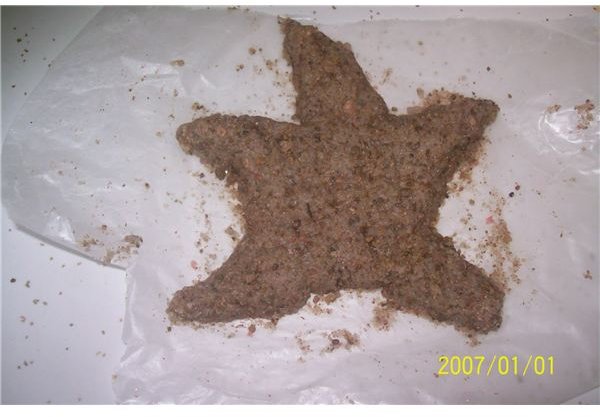 Starfish are interesting creatures children are fascinated with. Teach the students that a starfish lives in the ocean and why it is not really a fish at all. Show several pictures of starfish before creating this starfish sand paperweight.
Materials:
Sand
Starfish cookie cutter or mold (optional)
Glue
Waxed Paper
Procedure:
The teacher will mix glue and sand together until it forms a consistency that allows children to mold it. Hand out pieces of waxed paper and some of the sand dough. Children will make a starfish out of the dough. Younger children may need to use a cookie cutter to press their sand dough mixture. Remove the cookie cutter. Allow the starfish to dry for a few days before removing them from the waxed paper.
Hand and Foot Print Sand Candle Gifts
This is one of my favorite sand crafts to do with children. Using sand, candle wax, and the impression of the child's hand or foot, children will create a beautiful sand candle. These candles would make a great gift for Mother's or Father's Day.
Materials:
Sand
Deep plastic containers
Cooking pot
Votive candles (any color)
Candle wicks
Water
Procedure:
Pass out containers filled with wet sand; colored or regular sand can also be used. The students will place their hand or foot (their choice) into the sand making sure that the impressions are deep. The teacher will melt several votive candles and pour the hot wax into the child's impression in the sand. The teacher then takes the wicks from the votive and places them in the sand. Let the projects dry for several hours, until the wax is hard. When the molds are removed they are a functional, beautiful gift for the students to give to their family.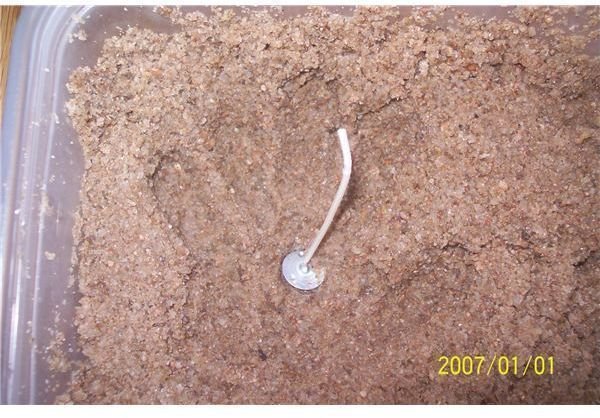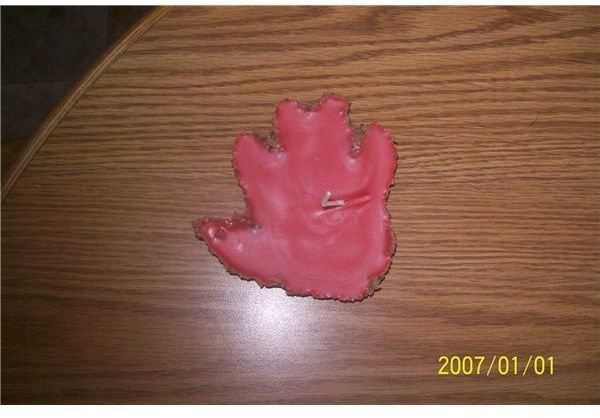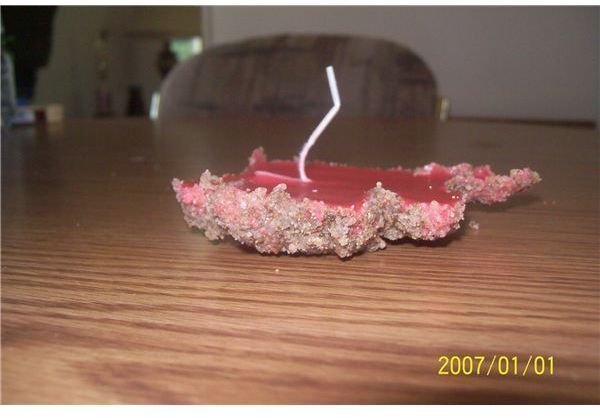 Ocean Magnets
Children can create ocean sand magnets with ease using waxed paper and glue.
Materials:
Sand (regular or colored)
Waxed paper
Glue
Pencil
Procedure:
The teacher will draw a starfish, crab, or any other ocean creature on the waxed paper. The teacher will place glue on the ocean shape. The children will sprinkle sand on the glue. Let dry for several hours, peel from waxed paper, and place a magnet on the back.
Plant and Candle Sand Jars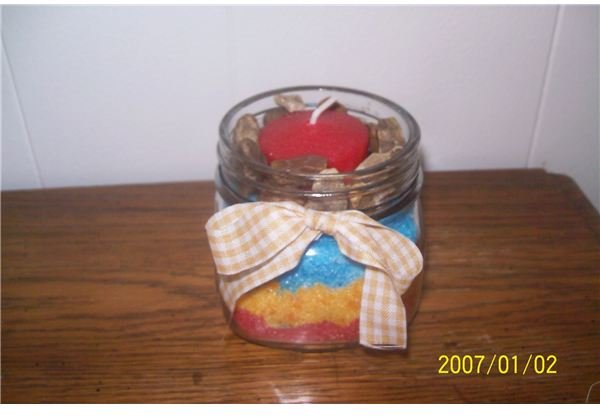 Children can improve their fine motor skills while creating a plant or candle sand jar. Spring is the perfect time for children to make a plant sand craft that continues to bloom in the summer.
Materials:
Small or large glass jar
Colored sand
Rocks or shells
Ribbon
Spoon
Votive candle (for candle jar)
Plant (if making plant jar)
Large soup can (for plant jar)
Dirt (for plant jar)
Procedure:
Students will place layers of colored sand into their jars with a spoon. Once finished, they will push a votive candle down into the middle of the jar, if they are creating a candle jar. Tie a ribbon around the top of the jar. If the students are making a plant jar they will have to have a larger jar. A big pickle jar is perfect. The children will layer the jar with colored sand with their spoons. Then they will fill a can (vegetable can) with dirt and place a plant in the dirt. The teacher will help the students push the can with the plant in it inside the colored sand jar. Both jars can be decorated with shells and rocks being placed around the candle or plant. These also make cute gifts.
Edible "Sand" Dough
Kids love playing with their food and they will enjoy eating their "sand" dough creations.
Ingredients:
Crushed pretzels
Peanut butter
Honey (very small amount)
Procedure:
Crush the pretzels with a rolling pin, leaving some pieces bigger than others like the consistency of sand. Mix peanut butter and honey together. Stir the crushed pretzels into the peanut butter mixture slowly until a consistency of dough is achieved. Encourage children to create shapes with the dough. Roll in more crushed pretzels.
When making edible projects, make sure that your students are not allergic to the ingredients.
Sand Art Crafts
There are so many sand art crafts and projects that a child can do. Whichever preschool craft with sand you decide to do with your students, they are sure to love it. Using sand to create crafts is not only fun and educational for preschool children, but children of all ages.
References
Photos by Lisa King, all rights reserved
Craft projects, authors own experience