Introduce Your Preschoolers to Strawberries
Students will love learning about berries with a strawberry pattern preschool lesson plan. Explain to students that strawberries are a fruit shaped like a heart. Not only are they shaped like a heart but they contain nutrients that are good for our heart. A strawberry is the only fruit that has seeds on the outside. The average strawberry has 200 seeds on it. Ask students to name other fruits? Have they ever tasted a strawberry? Is it sweet? What other foods do we eat that are made from strawberries? Tell children strawberries are the first fruit to ripen in the spring. They grow on a bushy plant that has vines that the strawberry grows from. They have a white blossom with a yellow center. Read the books The Little Mouse, The Red Ripe Strawberry and The Big Hungry Bear by Audrey Wood and Jamberry by Bruce Degan.
Counting Strawberry Seeds File Folder Game
The teacher will create a file folder game with a strawberry pattern for preschool. Cut 10 strawberries out of the pattern. The teacher may use red construction paper or color the berries red. The stems will be cut out of green construction paper. The teacher will place dots with a black marker pen on each strawberry. Each berry will have a different dot or seed from 1-10; the stems will have the numbers 1-10 written on them. Teacher can laminate them. The students will correctly match the number on the stem to the number of seeds on the strawberry.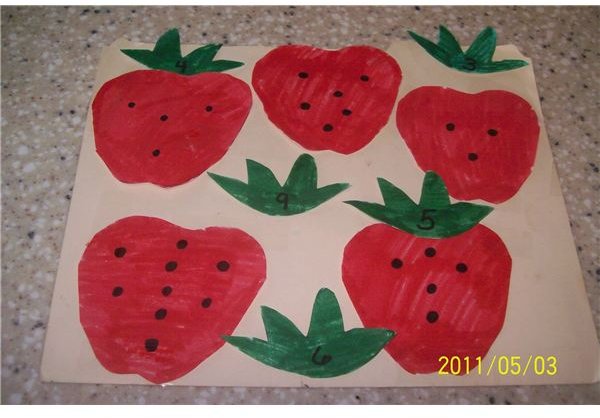 The Little Mouse, The Red Ripe Strawberry and The Big Hungry Bear Activity
The teacher will cut out individual bears from brown cardstock paper. Cut out the bear's mouth. Cut out berries from a strawberry pattern for this preschool activity. Label the strawberries with lower case letters a-z. Label bear cutouts with uppercase letters A-Z. Have the students feed the bears the matching letter.
Stuffed Sweet Smelling Strawberry Craft
Kids will love making this sweet smelling strawberry craft.
Materials:
2 Large strawberry pattern for preschool children
Strawberry shampoo or Kool-Aid packets or strawberry oil extract
Red paint
Green paint
Black Paint
Newspaper
Stapler
Directions:
Mix the shampoo, Kool-Aid or strawberry oil with the red paint to create strawberry scented paint. Have students paint their strawberry red and the stem green. Let the strawberry dry. Have them use their fingers dipped in black paint for the seeds. They should each have 2 painted strawberries. Staple the strawberries together leaving an opening. Stuff with newspaper and staple shut.
Make Strawberry Fruit Chews for a Fun Snack
You'll need
2 quarts fresh strawberries
1/4 C sugar
Waxed Paper
How to Make
Place berries in a pan with the sugar. Cook over low heat till soft. Pour off extra juice. Let cool, press the mixture through a sieve or colander. Next lay a large piece of waxed paper down. Pour the berry mixture onto the paper. Let dry for a few days. It should easily peel away from the waxed paper. Cut into strips and enjoy.
Strawberry Pattern for Preschool Kids and Poem
Below is a strawberry pattern to use with your preschool children.
I like strawberries ripe and red,
Strawberry jam on top of bread,
Sliced on ice cream, or made into jelly.
Strawberries, strawberries in my belly!
Piled in a bowl or on a plate,
Strawberries, strawberries taste just great!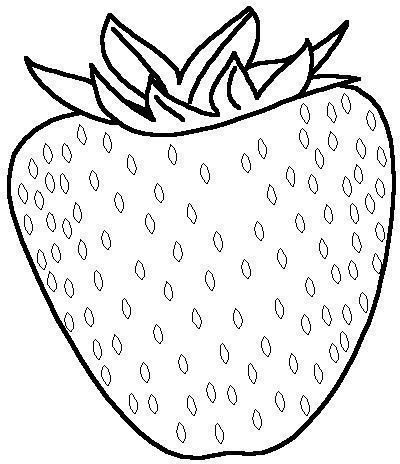 References
Preschool Summer Themes, The Mailbox Book 2010 Edition
Photos courtesy of Lisa King