Keeping it Fresh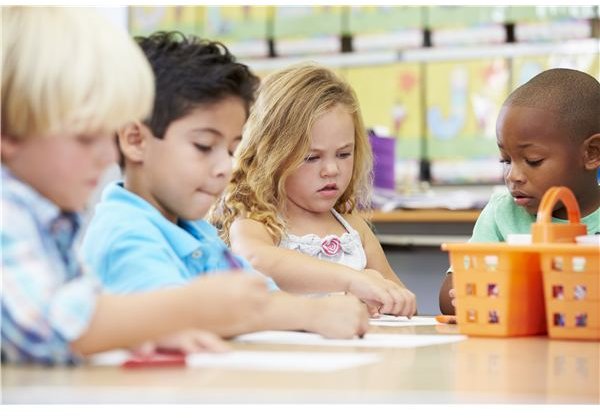 Keeping a classroom full of busy preschoolers happily engaged in learning activities every day can be a daunting task. To help keep your classroom lesson plans fresh, it's a good idea to have a few fun hands-on preschool activities for kids ready to go. Use this hands-on activity list for preschool classrooms as a guide to help you plan a few go-to activities when the mid-day doldrums strike your class. Most of these activities do not require any special materials or a lot of advanced planning.
Sensory Activities
Sensory play is something that should be offered in the preschool lesson plan every day. When the sandbox and water table become stale and the children are ready for a change, try some of these simple upgrades to your sensory center.
Dry Beans and Rice: Add dry rice and beans to your sensory table at the same time. Give children measuring cups, funnels, and simple balance scales to use with the rice and beans. If you add several different kinds of dry beans, ask children to sort the different colors of beans or to collect ten of each color. This is not only a sensory activity, but can also be an important part of your math curriculum. Hide several small toy dinosaurs in the beans and rice and tell children that they will be paleontologists and dig for dinosaurs.
Cornmeal Writing: This activity is done best as an individual activity. Give each child a shallow tray, cafeteria trays work very well, and sprinkle a layer of cornmeal on the tray. Encourage children to use their fingers to create letters and pictures in the cornmeal. Ask them to practice writing their name or numbers. You can also use small cars and trucks and make tracks in the cornmeal, making patterns. If a child is tactile-sensitive, allow her to wear rubber gloves or give her a plastic drinking straw to draw in the cornmeal.
Ice and Water: In the warmer months, move your water table outdoors and add ice to the water. Or, just put shaved or cubed ice in the table and allow it to melt in the sunshine. If you just use ice cubes, add a few pinches of salt, and ask children to observe what happens.
Rough and Smooth: Create two separate buckets, label one "Rough" and one "Smooth". Place several classroom or household items in the sensory table and ask children to sort them into the buckets by touch. A few items you can use are sandpaper, an apple, a banana, an orange peel, a wooden block, fabric scraps, a dry sponge, a wet sponge and a few large marbles. To make this activity a bit more challenging, ask the children if they would like to wear a blindfold while exploring the objects.
Art Activities
It's easy to get caught in a rut of coloring and simple cutting when planning activities for the art center. Try some of these ideas to spice up your art lesson plans.
Ice Cube Watercolors: Add a few drops of food coloring to the ice cube tray the next time you make ice cubes. Give children finger paint paper and allow them to use the colored ice cubes to paint. The colors may not appear very bright while they are painting, but when the paper dries, there is a very pleasing muted watercolor effect.
Brush and Fingerpaints: Give children different sized paintbrushes and fingerpaints to work with on an easel. Ask them to experiment with both the brushes and their fingers. Discuss which they prefer and why. Have them draw something specific or write letters or numbers on the easel. Is it easier to use a brush to make letters, or their fingers?
Collage: Gather up all of the scrap paper in your classroom that you are saving but don't know what to do with yet! Give it to your class to rip into small shreds using their hands. If you like, you can ask your class to sort the paper shreds into different colors, providing a different container for each color. When the shredding and sorting is finished, allow the children to create a ripped paper collage, Eric Carle style. 
Science Activities
Preschool science lessons do not have to include advanced physics or even long, involved experiments. Try some of these easy activities to give your science plans a boost.
Bubble Blowers: This activity is best to do outdoors. Fill your water table with bubble solution. An easy recipe is one cup of Joy or Dawn dish detergent, ten cups of water and four tablespoons of glycerin. This mixture works best if it can sit for a while before being used as a bubble solution. Give the children many different sizes of bubble blowers to experiment with. You can also allow them to create their own using drinking straws and masking or duct tape. Ask the children to experiment with the bubble blowers to determine if large blowers create larger bubbles.
Nature Hunt: Go on a schoolyard nature hunt. Give each child a paper lunch bag to collect leaves, rocks, dirt or any other natural materials on the hunt. Bring a camera to record any other natural elements you see that cannot easily be stored in the bag. When you get back to your classroom, create a class book of all of the things you saw while on your schoolyard nature hunt.
Leaf Rubbings: Pick a few different shaped leaves from the trees and bring them indoors. Allow the children to make leaf rubbings using the side of a crayon. Encourage the children to use many different colors and display the results in your classroom as artwork. When the children are finished making the rubbings, place the used leaves on the sticky side of a piece of clear contact paper and hang them in a window near your science center.
Other Creative Solutions
If you just need an easy activity to ward off the complaints of "I'm bored!" one afternoon, try a few of these fun hands-on preschool activities for kids.
Gallon Jug Toss: Cut off the bottom of a gallon milk jug, leaving the handle intact. Use a yarn ball or wiffle ball for an impromptu game of ball toss. You may want to cover the sharp edges of the cut end of the milk jug with masking or colored tape to prevent scrapes and other injuries.
Finger Leg Puppets: Create a few simple people-shaped hand puppets without legs. Cut two holes where the legs would begin and have children insert their fingers in the holes to provide the puppet with legs. Create a cast of puppets for a simple play or act out your preschooler's favorite songs.
Recycle Town: Bring out your recycled material buckets, a few rolls of duct tape and some scissors. Allow children to create buildings, landscapes and other structures to use in the block area or with dollhouse sized people figurines.
You don't need a lot of time or special materials to create fun hands-on preschool activities for kids. Use these ideas as a guide to create your own hands-on activity list for your preschool classroom.
References
Reference: "Creative Activities for Young Children"; Mary Mayesky; 1995