Friendship
Many schools and students are dealing with bullies and the fallout from students who hold a deep disdain for other students. Learning friendship and ways to be kind to each other begins early and should be practiced often. Preschool crafts concerning friendship will solidify a group camaraderie and demonstrate how to be kind and appreciative of others.
Handprint Wreaths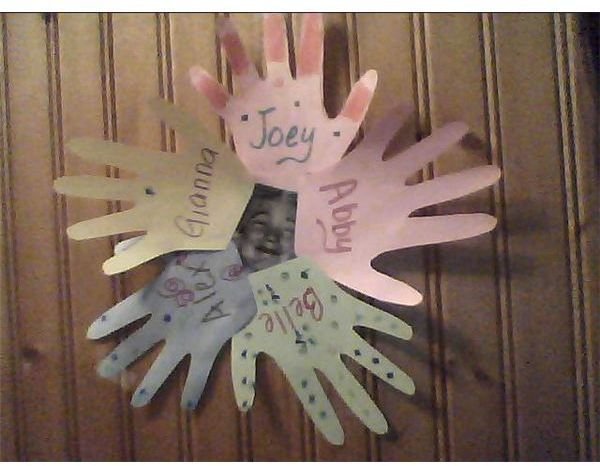 Many preschool teachers have made handprint wreaths. Take this idea one step further by making those wreaths a symbol of friendship. Ask each child to trace their hands on a piece of construction paper and label the hand. In preparation for the next day, cut out each child's hand to distribute to every child in the classroom and take pictures of each child's face. If there are twenty children in the class, the handprint will need to be cut out twenty times. Neatly draw or write each child's name on the front of their handprints. Gather the children together to complete this craft. Distribute the pictures to the children so each child has their own photo, then distribute the hands. Each child will receive one hand from each of their classmates. Do not give the child his own hand. Decorate the hands and glue them to the photo to create a wreath of friends.
Hand Train
The symbolic hand train demonstrates every child in the classroom getting along as a classroom of friends. Make a train after reading popular train books. Cut large butcher paper into rectangles and add large black circles for wheels. Allow children to trace hands, make handprints with paint, or attach hand shaped stickers to the train. Encourage students to add names and work together on the project. The train will be large, so the rectangles can be taped to a table while children work together. The train will be a project highlighting teamwork, getting along with each other and creating a piece of artwork representing the value of friendship.
Friendship Chain
Friendship chains are an age-tested project in friendship and getting along with each other. Cut two strips of paper for each child in the classroom. During circle time, allow one child to choose one classmate helper to make a loop with a strip of paper. The helper will hold the tape or stapler while the chosen child creates a loop with the paper strip. The first loop will be attached to the wall, and following loops will be attached to previous loops to create a chain moving across the wall. The class will observe while two of their classmates work together to create the next link to the chain. After every child has had two turns at the friendship chain, the children will have a full chain representing hard work and partnership. The chain will be a visual representation of friendship and the group effort required to create an appealing classroom decoration.
Building concepts such as teamwork and friendship are imperative in preschool years. Allowing children to work together as well as independently to consider others and build teamwork skills teaches children how to be kind to all individuals. While working on a preschool craft friendship, encourage conversation regarding why students need to get along and how to get along with all individuals, despite differences.