When engaging in music, either singing or listening, the use of props can aid in making children less inhibited. The opportunity to hold something in their hands often gives children a sense of movement and lends variety to the musical piece. Using props such as scarves, fans, ribbon wands, puppets, and paper costumes enhances songs and develops movement and creative play. Below are a few projects to make together.
Streamers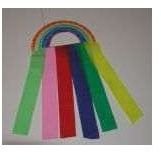 Streamers are fun props that help children move creatively to the music. You can even use streamers to teach spatial directions as children act out movements to their favorite song. Ask them to raise the streamers up high, down low, in front of them, beside, and behind their body. Here are a few variations of streamers to make.
Plain Streamers – Cut 2-foot lengths of crepe paper, ribbon, newspaper strips, plastic construction marking rolls, and even strips cut from brown grocery bags. Put ten of the strips together and staple them at one end to make a streamer. Cover the stapled edge with tape to prevent pinched fingers. Let the children hold the streamers and move, watching the streamers blow in the wind beside them.
Tube Streamers – Attach streamers (items above) to the ends of paper towel or toilet tissue cardboard tubes with a stapler. The children can hold the tubes as handles and wave the streamers around. These make great marching batons too!
Ring Streamers – Collect wooden or plastic rings. Plastic rings can even be made by cutting the centers from plastic lids (like coffee can lids). Tape the 2-foot crepe paper or ribbon streamers to the ring, spacing them about an inch apart. Invite the children to hold the ring as they move and dance.
Capes and Costumes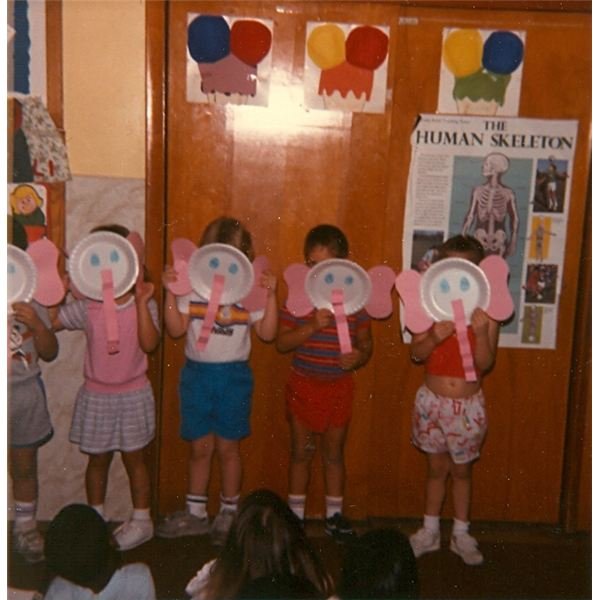 Children love the feeling of floating free and dancing to music. By using flowing props, this feeling can be acquired. Scarves and fabric can be used as impromptu costumes. Collect an assortment of scarves in your music area. Donations from parents, garage sales, and thrift stores are good sources for scarves. Scarves can also be tucked into a waistband or belt to become a beautiful dancing skirt. Tied around the shoulders, scarves become capes. Think about tying a large scarf around the arms to become wings.
Headbands make good props for songs. If you are singing a song about animals, make little props so the children feel like the character. Make ears and noses to wear. Plastic headbands (sold in craft or department stores) are great for attaching paper ears or antennae to. Make a cute paper nose and attach it with a small piece of tape to the child's nose.
Hats have always made great props for music and movement. Take a paper plate and make one cut from the rim to the center of the plate. Overlap the two cut edges and tape or staple them together. Attach yarn to the sides of this cone hat to use for tying under the child's chin. Invite the children to decorate their hats as desired or to match a song's theme.
Don't forget about masks. Paper plate masks make great props for songs. Just cut out eye holes (a large rectangle shape for both eyes allows more vision) to match the child's eyes. Let them decorate the mask to fit the song and attach a tongue depressor at the bottom for the handle so to hold the mask in front of the child as they sing and act out their song. A forehead mask is also fun and easy to make and use. This mask will not interfere with a child's sight as they sing or dance. Cut out the desired shape to match the song and decorate as desired. Attach this to a paper headband that fits around the child's forehead. The shape should be above the child's eyes.
Preschoolers love to act when they sing. The use of props can help them engage into the song and provide means for dramatic play. Incorporate music and dance into your lessons as much as possible. The children will be happy you did!
Sources
Music: A Way of Life for the Young Child by Kathleen M. Bayless & Marjorie E. Ramsey [Macmillan Publishing Company, 1991]
1001 Teaching Props compiled by the Totline Staff [Warren Publishing House, 1992]
Photo Credits
Streamers – https://www.create-kids-crafts.com/spring-crafts-for-kids.html
Masks – courtesy of Tania Cowling, all rights reserved