Have Fun with This Camping Theme for Kindergarten Students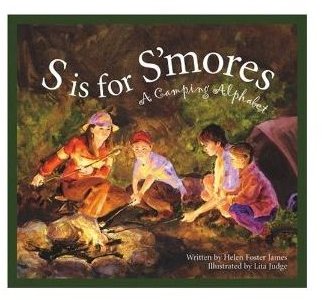 Have your students ever gone camping? Whether they have or have not, the children are sure to enjoy the activities related to this camping theme!
Setting the Scene
Put your students in the mood for camping fun by setting the scene in your classroom. Here are some ideas you can use to create a camping theme for Kindergarten students indoors:
Have a small canoe and paddles available for dramatic playtime. Or, better yet, let the children make their own paddles using gallon milk jugs cut in half and taped to the end of a rolling paper tube.
Set up a tent in the classroom.
Create a "campfire" using paper mache logs and orange tissue paper. Encircle the fire with rocks.
Set up a camping-themed center. Include things like camping dishes and plates, binoculars, backpacks, lanterns, flashlights, canteens, a plastic hatchet, fishing poles, sleeping bags and a compass.
Read Aloud Time
Telling stories around the campfire is a favorite camp-time activity. Spend some time providing background knowledge about camping by sharing these related stories during Read Aloud time as your students gather around the pretend campfire you have created in the classroom:
Curious George Goes Camping, by Margaret Ray
Amelia Bedelia Goes Camping, by Peggy Parish
S is for S'mores: A Camping Alphabet, by Helen Foster James
When We Go Camping, by Andrew Kiss
Reading and Spelling Skills
Using chart paper or large pieces of construction paper draw a paper-version of your classroom tent. Ask students to rely on what they already know about camping (prior knowledge) as they help to brainstorm words related to camping. Record their responses on the paper tent. Encourage the children to use the theme words as they write stories or label pictures they have drawn.
A Science-Related Lunch
Campers need to be creative when it comes to cooking food. While cooking over the campfire is typically the first choice, they need to be prepared in case wood is not available. One option is using a solar cooker. As a class, you can try cooking hotdogs on your own for snack time. Spend time discussing how the cooker uses solar energy from the sun in the form to heat to help the food cook. Remember, hot dog pieces can be a choking hazard for small children. For safety reasons, it is advisable to cut the hot dogs in half the long-way before serving.
Teaching Fire Safety
Smokey the Bear's image is familiar to campers all around the country because understanding fire safety rules is another important part of camping. As part of your camping theme for Kindergarten students, teach the children about fire safety and what to do in case they encounter a fire.
Sweet Treat
Let the children enjoy our classroom-friendly version of the the quintessential camping treat - S'mores. Using a large bowl, simply mix together graham cracker sticks, chocolate chips and mini marshmallows. Spoon the mix into paper cups for the children to munch on while you read stories around the campfire. When they are finished, the Kindergarten students can make paper craft versions of the same treat.
S'mores Craft
Everyone loves S'mores! You can re-create these tasty treats as a craft by using just a few simple materials:
White construction paper (one piece per child).
Black Sharpie permanent marker.
White cotton balls (approximately 15 per child).
Crushed graham crackers.
Chocolate pudding.
Elmers Glue or a glue stick.
Directions:
Using the black Sharpie marker, draw 5 "layers" onto the white construction paper. Make the middle layer thicker than the other four. Have students drizzle glue on the top and bottom layers. Then, have the Kindergarten students add the crushed graham crackers over the glue. Be sure to shake off any excess. The children should then drizzle glue over the entire middle layer. Here, they will add the cotton balls - meant to resemble marshmallows. On the final two layers (one above the marshmallow and one below) students will use pudding to re-create the chocolate layer of a S'more. Simply have the students dip their fingers in the pudding and "paint" it onto the layers.
Now you have a sweet craft that looks tasty enough to eat!
Dramatic Play
There are bears in the woods! Not really… but your little campers will have fun pretending they are going on a bear hunt with you during your camping theme. For Kindergarten students, singing around the campfire is also an adventure. Try using this fun bear song. This tune is sung as an echo – you sing a verse and then the children sing it back to you.
Math Skills
If they are available, use teddy bear counters to solve basic story problems. If teddy bear counters are not available, you can substitute mini marshmallows.
Here are several problems to get you started:
We saw 7 bears playing in the woods. 2 more bears joined them. Now how many bears are playing in the woods?
On our camping trip, we decided to go fishing. First we caught 3 fish. Then we caught 3 more fish. How many fish did we catch all together?
We made 8 S'mores by the campfire. Then we ate 2 of them. How many S'mores do we have left?
There were 5 mosquitoes buzzing around our tent. One mosquito flew away. How many mosquitoes are left?
The possibilities for fun and learning are endless! If you have ideas to add to a camping theme for Kindergarten students, be sure to leave them in the comments section below.
References