Materials
Here is a cute and easy butterfly art project for your younger art classes. They will discover how to make butterflies out of simple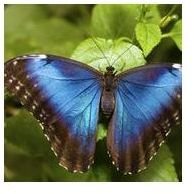 plastic baggies and basic art and craft materials of their choice.
Sealable plastic baggies – The size depends on the age of child. Larger baggies (like gallon size) work great for younger children (especially those of preschool age) who may lack fine motor skills.
Pipe cleaners or clothespins
Variety of items to put inside the baggies – May include: beads, scraps of fabric, buttons, foam objects, wrapping paper, crepe paper, ribbon, pompoms, tissue paper, feathers, cotton balls, leaves (you may add or eliminate items according to age or idea/theme)
It would be a good idea to show children images and examples of butterflies so they can view the different shapes, colors, designs and patterns. Here are some useful sites:
Butterfly Pictures, including clipart, coloring pages, and more
Life as a Butterfly by Andrea Campbell
Instructions
Give each child a plastic baggie.
Allow children to select items to put into their baggies and start filling them.
Even though they could fill the bag in a matter of seconds (another reason to use bigger bags with little ones), stretch it out by having them talk about what they are doing, and what they are putting into their baggies.
When the child has finished putting objects in the bag, seal the bag, leaving a small opening at one end.
Blow into the opening to slightly inflate the bag and then finish sealing.
Gather the bag in the center and hold while your child wraps pipe cleaner or fastens a clothespin around the middle.
Ideas
Crafts for the butterfly life-cycle can be used to teach children a variety of concepts or themes. Here are some basic ideas:
Color:

Have children fill their bags with only one color. For older children, have them select items based on a complimentary color theme or have them choose primary colors only.
Sensory:

Use items with a variety of textures. Have children describe what the items feel like and use a lot of adjectives & action words. (hard, soft, fuzzy, bright, cutting, twisting, pushing, fluffy, etc.)
Nature:

Have children fill their bags with items from the outdoors like rocks, leaves, twigs, flowers.
Other ideas:
Before children fill their baggies with items, have them turn their baggies inside out and color with magic markers. Older children could be given fine point markers to draw intricate patterns and designs around the edge of the bag. Turn right side out & fill.
Glue magnets to the back where the butterfly is gathered to hang on the refrigerator.
Slip a straw through the pipe cleaner in the back of the butterfly so children can make their butterflies "fly". These can also be stuck in plant pots or vases. You could even string fishing wire through so butterflies can be hung from plants, light fixtures, or ceiling hooks.
Literature Related to Butterflies
Here is a list of children's books which are related to butterflies:
Where Butterflies Grow
My, Oh My–A Butterfly!: All About Butterflies
Hurry and the Monarch
The Caterpillar and the Polliwog