Making Christmas Ornaments With a Phonics Rubric for Kindergarten Students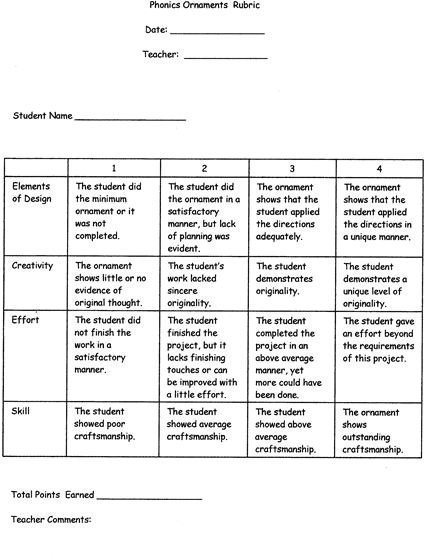 Phonics Ornament Project
If you are fortunate enough to have permission to have a Christmas tree in your classroom, then this is a great Christmas Craft for Pre-Kindergarten or Kindergarten students that will reinforce letter-sound relationships. It can even be done as a Christmas craft at home for kids.
Some public schools will not allow Christmas celebrations, others will. Many schools will allow trees but they must be referred to as holiday trees. Private schools and Christian schools will allow you to do this lesson, which is a great way to make a connection between home and school, while helping students to connect alphabet letters with sounds.
Included at the end of this page is a rubric for the project, which can be copied into a Word document and printed for your classroom use.
Prior Knowledge
By late December students have a solid knowledge of letter-sound relationships. Review alphabet letter sounds with the students.
Model
Create an ornament from the first letter of your first or last name. Tell the students that the ornament you made begins with the same letter and sound of your name.
Prepare
Purchase a small four-foot Christmas tree. It will cost about an average of $8.00 and you can use it year after year. Purchasing lights for the tree is optional. I like to buy them because I think that the tree is beautiful when lit.
Communicate to Parents
Write a letter to parents stating that to celebrate the holiday season and the students' understanding of letter-sound relationships, we are going to make a classroom Christmas tree and decorate it with handmade ornaments by the students.
Assign students a letter to make their ornament. Try to give their assigned letter the first letter of their name or first letter of their last name. For example, Anne would get letter A. She would hand-make an ornament that starts with the letter A (angel, apple, airplane…). It is OK to have duplicate letters and ornaments. One year I also had a class of very active students and parents who wanted to make an ornament for the letter of their first and last name, so of course that was great!
Give parents the expectation for the project. All ornaments must be handmade by the student. There can be absolutely no store bought ornaments. Parents can help by brainstorming ideas, collecting materials, and even decorating, but only help.
Provide the deadline. Ornaments must be completed by… the date will vary, but I would say no later than the last week of November.
Materials can be any classroom or household material, but must be lightweight enough to hang on the tree.
Grading Policy
Student ornaments will be graded on uniqueness, creativity, effort and skill. Provide the sample rubric below. Be sure to reinforce that it is the student's work that is being graded. The ornament should look like it was made by a Prekindergarten or Kindergarten student. This rubric example could be used for any craft activity. It was self-made by author, Laurie Patsalides.
Offer assistance when necessary. Let all families know that if they need assistance with materials then they can get them from you. The last thing you want to happen is for a child to be embarrassed in front of his/her peers because he/she did not have the appropriate materials to complete the assignment. Gather some materials, like construction paper, pon-pons, buttons… and have them ready to send home for those who ask.
Display
Put up the tree as December begins. As students bring their ornaments in, they can show them to the class and hang them on the tree. Be sure to return the ornaments with the rubric. Parents will want to save them as a memento.
Modify
This lesson plan can be modified by making a very large paper tree and assigning students to use only construction paper to make their ornaments. It would still make a beautiful wall or bulletin board display.
Sample Rubric for Classroom Use
References
Source: Information and rubric created by the author.