Saint Patrick's Day Activities for Kindergarten that Teach Symbolism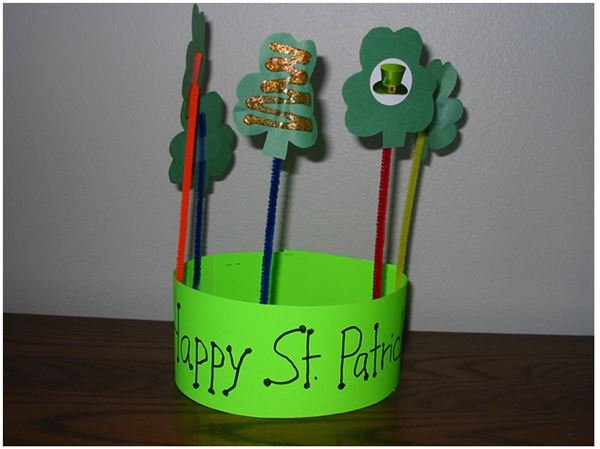 A Shamrock Headpiece
Kids love hats and this simple shamrock headband will make everyone feel appropriately dressed for St. Patrick's Day. Legend tells us that St. Patrick first planted the shamrock, national flower of Ireland, hundreds of years ago and used it as an illustration in his teachings. A small clover is usually considered a true shamrock.
You will need:
Green poster board
Large pipe cleaners
Green construction paper
Holiday stickers
Glitter Glue
Safety scissors
Stapler
Tape
Directions:
Measure and cut a strip of green poster board about 3-inches wide and long enough to fit around the child's head.
Invite the student to decorate this band with drawings and/or stickers and copy the phrase, "Happy St. Patrick's Day." Don't forget to print the child's name and date. Set this aside.
With a shamrock template, challenge the students to trace and cut out at least five shamrocks from green construction paper. Enhance these clovers with glitter glue, faux gems and/or holiday stickers.
Tape one shamrock to a long pipe cleaner (also called chenille stems).
Then, attach the chenille stems around the top edge of the hat with tape.
Last, staple the headband to fit around the child's head. You may want to place a piece of tape over the staples to avoid scratching the skin and pulling of hair. 
A "Heart-y Shamrock"
Did you know you could make easy shamrocks from heart shapes?
You will need:
Green construction paper
Heart template
Scraps of colorful construction paper
School glue
Safety scissors
Hole punch
Pencil
Directions:
With a pencil, trace around a heart template three times on green construction paper. Have the children carefully cut out each heart.
Form a shamrock by gluing the points of the hearts together.
Make a stem from extra green paper and glue it to the bottom of the shamrock.
Decorate the shamrock with paper confetti that the children have made by punching holes in colorful paper. Using a hole punch helps young children attain finger and hand dexterity.
Leprechaun's Pot of Gold
As Leprechaun stories are abounding during this holiday, have your students make these magical pots of gold. Legend says to look under the rainbow for this treasure.
You will need:
White paper plate (pure paper, not plastic)
Safety scissors
Black paint
Paintbrush
Markers
Gold foil
Glue or tape
Directions:
Cut away a half-circle from the bottom of a thin, white paper plate. This leaves a basket type shape.
Paint the bottom bucket of the paper plate with black paint.
When dry, take colored markers and make a rainbow around the top rim. The colors go in the order of a rainbow; red, orange, yellow, green, blue, and violet.
Give the children a small sheet of gold foil and ask them to cut out circles. These represent the gold coins – the fortune of the Leprechauns. Glue or tape these on the inside edge of the black pot.
Use these make-and-take crafts to decorate your classroom and then send home for holiday fun with the family.
For more St. Patrick's Day activities from Bright Hub Education, check out these links.
[Four Preschool Crafts for Celebrating St. Patrick's Day](/tools/Four Preschool Crafts for Celebrating St. Patrick's Day)
A Wee Bit of Fun for St. Patrick's Day
Celebrating St. Patrick's Day with Your Class
References
Crafts for All Seasons! A Hands-on Celebration of Seasonal Craft Activities by Tania Kourempis-Cowling, Fearon Teacher Aids, 1997