Preschool Penguin Theme Lesson Plan and Activities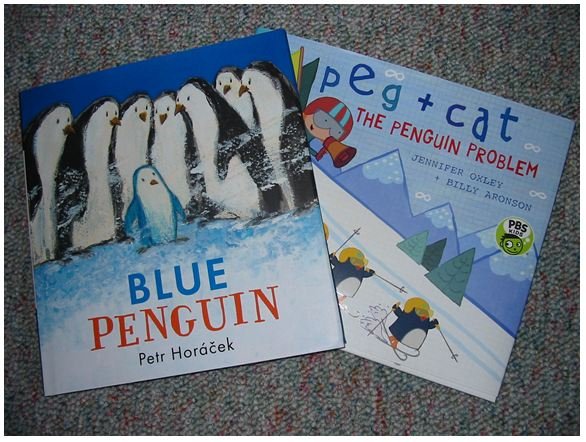 Circle Time (Literature)
Use books as learning tools. Non-fiction books can provide a wealth of facts and information, but there is something about fictional storybooks that lure children into a world of fantasy and cute characters.
There are two new books about penguins that are sure to enlighten young children. Try reading these at your next story time session.
Blue Penguin by Petr Horacek (Candlewick Press, 2015) is about a little penguin that was born blue in color and the other penguins knew he wasn't like the rest of them. They abandoned him and this little blue penguin felt lost and alone. He began to sing to pass his time and alas, the other penguins wanted to learn his song – they all became friends.
Peg + Cat: The Penguin Problem by Jennifer Oxley and Billy Aronson (Candlewick Press, 2016) is part of the PBS Kids animated TV series. In each episode, Peg and her cat use math skills to solve problems. This book takes Peg and Cat to the South Pole to watch the Animal Winter Games and realize that the ski-racing Penguins are having a problem crashing into things. Teaching them counting skills and spatial directions using "over, under, and in-between" seems to solve the obstacles.
Quick Facts about Penguins (Science)
Penguins are intriguing creatures with fascinating human-like qualities. Here are a few quick facts to teach your students.
Penguins do not live at the North Pole; you can find them at the South Pole (Antarctica) and coastal regions of South America, South Africa, New Zealand and southern Australia.
Penguins are flightless birds. They use their wings like paddles for swimming. They can swim about 15 miles per hour.
There are 18 species of penguins. There are many penguins in the world, but they are endangered by oil spills, water pollution, and overharvesting of ocean fish.
Penguins have layers of tightly packed feathers that keep them warm along with blubber fat. Their diet consists of fish, squid and shrimplike krill.
A Penguin Action Skit (Creative Drama, Movement, Music)
Have the children sing this song and do the motions. This skit is perfect for a live performance to show parents and other teachers about your winter theme. Sing this song to the tune of "The Twelve Days of Christmas."
I went to the South Pole and what did I see? A little penguin baby.
I went to the South Pole and what did I see? Two penguin friends, and a little penguin baby.
I went to the South Pole and what did I see? Three penguin girls, two penguin friends, and a little penguin baby.
Continue with these verses or make up your own:
Four penguin boys
Five penguin kings!
Six penguins flapping
Seven penguins swimming
Eight penguins hopping
Nine penguins turning
Ten penguins smiling
Eleven penguins fishing
Twelve penguins dancing
(Author unknown)
Paper Plate Penguin (Art)
You will need to draw and cut out pieces for the head, two flippers, two feet and beak. In addition, a bow tie piece would be nice. You can use black as the main part of the penguin and construction paper in other colors. Experiment with a variety of art mediums as well, such as felt, foam sheets and poster board. Eyes can be made from paper, adhesive reinforcement circles and/or googly eyes.
When finished with all the pieces, glue these onto a white paper plate to create a penguin. Enhance the sides of the paper plate with black marker, crayon and/or glitter. Add the bow tie for a finished suit.
Penguin Snack
Penguins like to forage in the water for all kinds of fish and shellfish. They dive underwater to grab their food with their long, pointy bills. Here is a mock penguin snack that you can make for your class.
In a large bowl, combine the following:
Goldfish crackers
Goldfish pretzels
Kix cereal
Cheerios cereal
Raisins
Mix all ingredients together and place into zippered plastic sandwich bag or paper cups. Serve with an icy, cold drink and you have a snack fit for an emperor – penguin, that is!
Penguin Counting Bags (Math)
Use this penguin theme for some counting practice. On white paper, draw a penguin. Make copies and hand these out to the children to color. Cut these figures out and glue one to a lunch-size bag. Follow with the other pictures until each picture is glued to a bag. Place these on a table in the math-learning center. Write a large number on the belly of each penguin. Now place a bowl of white Styrofoam packing pieces on the table to represent small icebergs. Allow the children to put the amount of icebergs into the bag with the corresponding number.
References