Halloween Craft Ideas for Pre-K or Kindergarten: Three Friendly Ghosts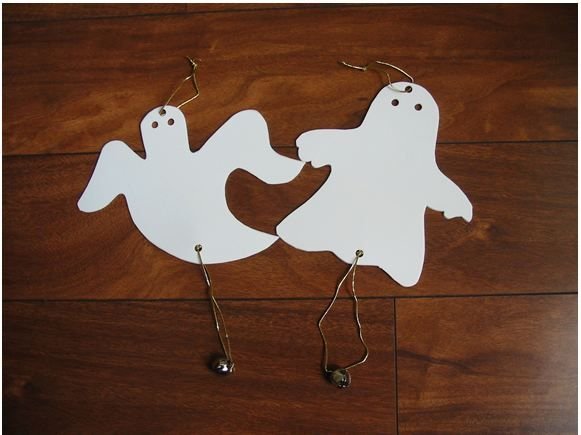 Decorate your room or use these ideas for make and take projects. The materials are probably in your art closet or easy to find. So let's get started on these "boo-tiful" crafts.
Hanging Jingle Bell Ghost
You will need:
White foam craft sheets
Cardboard ghost templates
Marker
Safety scissors
Hole punch
Fishing line or gold cording
Jingle bells
What to do:
Draw ghost shapes on cardboard and cut these out to use as templates.
Invite the children to trace around a ghost shape onto a sheet of white craft foam. As a variation, you can use side panels from a white plastic gallon jug of milk.
Carefully cut out the ghost shapes. You may need to help the younger children with this task.
Use the hole punch to make eyes and then a hole at the top for threading the hanger.
Take a length of fishing line or gold cording and thread it through the hole. Knot it to make a loop for hanging.
Make another hole with the punch at the bottom of the ghost shape. Again, thread a piece of cording or fishing line and attach a jingle bell to this loop knotting it together.
Hang several ghosts on strings to decorate your room for Halloween. It's best to hang them where there is a wind flow – near a window or fan. The wind will flutter the ghosts and the bells will jingle.
Spider Print Ghost Picture
What you need:
Heavy-duty black construction paper or cardstock
Several plastic spider rings
Red, yellow and orange paints
Paper plate to hold the paint
White felt or foam sheet
Safety scissors
Cardboard ghost templates (you can use the same ones as above)
Black marker
What to do:
This project will be done in two steps. First, make the background picture.
Place a dollop of each paint color on a paper plate. You will need three colors – red, orange and yellow.
Invite the kids to dip the plastic spider ring into a color and randomly print this image on the black paper. Do this with each color and many times to cover the page. Set this aside to dry.
Next, challenge the children to trace around the ghost templates onto white felt or foam sheet. Cut out these ghosts.
Glue these ghosts onto the dried printed background picture.
Use a black marker to draw on eyes and a mouth.
Popsicle Stick Ghost Magnet
What you need:
10 Popsicle wood sticks
White paint
Paintbrush
Heavy-duty glue or low-temperature glue gun
Black felt, craft foam, or construction paper
Safety scissors
Cotton
Adhesive magnetic tape
What to do:
Spread a sheet of waxed or parchment paper on the table. Invite the kids to paint all the Popsicle sticks on one side with white paint. Let these dry.
When completely dry, turn 8 sticks white side down on a clean piece of paper. This will become the ghost face.
Take the other two sticks and place one an inch from the top and one an inch from the bottom of the wood pallet. Glue each of these sticks across the other with the white side facing out to match the white face.
To decorate the ghost face, cut out two round eyes and one oval mouth from a black material of your choice. Glue these in place.
Add two puffs of cotton to the top of the ghost face.
The children can add a dot of white paint to accentuate the eyes. This is easily down with a Q-tip dipped in white paint.
Place a strip of adhesive magnetic tape to the back of the wood pallet so the ghost can adhere to any metal surface.
Whether you are decorating a classroom or making these crafts during a home schooling session, these projects will thrill your kiddos and bring excitement for Halloween.
References