Help Preschoolers Identify and Express Emotions Using The Rhino Who Swallowed a Storm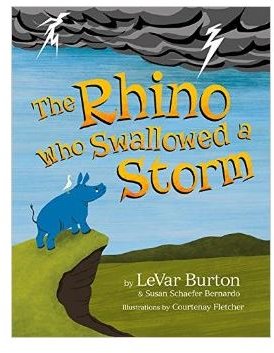 Story Time from Space
The Rhino Who Swallowed a Storm by LeVar Burton and co-author Susan Schaefer Bernardo is a special story that actually also went on an exciting mission. This is one of seven picture books selected to visit the International Space Station from Cape Canaveral Air Force Base in December 2015 as part of the STEM educational program. Astronauts aboard the ISS will read these books during the Story Time from Space project and enhance these stories with activities to enlighten children in school and homeschool programs. https://storytimefromspace.com
Reading the Book
The story begins when Mica Mouse is terrified by a thunderstorm outside her home. Her papa calmly picks up this storybook to read to her how a young rhinoceros is also overwhelmed by a storm that took away all things he loved. He swallowed the storm hoping to feel better, but only felt worse and embarked on a journey to healing. Along the way, he met many animal friends who uplifted him and helped to make things good again.
Papa Mouse taught Mica how all kinds of people are willing to help during bad times. This story poses as a resource where children learn how to express their feelings and heal with the help of thoughtful community helpers.
Read this book and take the message across the curriculum with teachable moments.
Circle Time Discussion
Children need to learn how to open up for healing from strong emotions in life. How do children handle bad feelings such as fear, loneliness and pain?
Begin by talking about feelings (sad, happy, lonely, frightened, love, etc.)
Have the children make faces that express these feelings. For examples, make a big smile for happiness, pouting for sadness, or shaking for fear, etc.
Talk about what things and actions would make them feel better.
Go back into the story and discuss how the rhinoceros felt before the story and afterwards. The metaphor "swallowing the storm" means how he held emotions inside his body. Who made him feel better and how? (The spider, kangaroo, tortoise and the whale)
Music
The whale said to "sing your own song to feel better and happy."
Ask the children what they would sing to feel happy. If You're Happy and You Know It and The More We Get Together are some suggestions. Find the lyrics and other songs here:
Arts and Crafts
A Special Rhinoceros
Materials:
Construction paper (two colors)
Safety scissors
Glue stick
Black marker
Googly eyes (optional)
Directions:
Draw several heart sizes on blue construction paper. Blue is the color of the rhino in the story. Templates for the rhino heart sizes can be found here: Heart Rhino Paper Craft
After all the pieces have been cut from construction paper, use a glue stick to paste all the pieces together.
Take a black marker to create a mouth on the rhino's face and either glue on googly eyes or use the marker to make a set.
People Who Help Picture
Have the children draw a picture using crayons and/or markers of a bad storm at their house (or any kind of disaster). Who will help them? Add these people to the picture. You can talk about community helpers such as police, firefighters, neighbors, friends, doctors, nurses and clergy.
References