The Milk Makers Book Lesson Plan for Pre-K or Kindergarten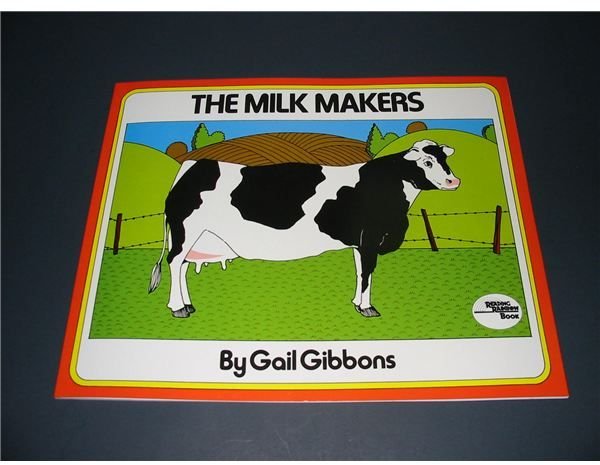 Do your students know where the milk you pour at snack time comes from? You may want to read the book The Milk Makers by Gail Gibbons during your next circle time.
This author brings informative text along with attractive illustrations to explain the process of how milk is made from the cow to the carton you bring to the table. She presents a brief discussion of other milk-producing animals and breeds of cows. There is a simple anatomy lesson that explains the process of digestion from the grass cows eat to how it enters the udders to be excreted out the cow's teats. The text is written in a way that children as early as age 4 can get an understanding of where their cup of milk comes from.
The last page of this book has a chart showing other dairy products made from milk.
Questions to Ask After Reading This Book
Make sure the children retain an understanding about this non-fiction book by asking these questions and use them to begin discussions.
Where does milk come from?
What do cows eat and drink? Do people eat and drink the same things?
Do we drink milk straight from the cow, or does it have to go through other steps before we can drink it?
What else can be made from milk?
Dairy Day Theme
June is Dairy Month, so choose any day of this month to say "thank you" to the cows for all the wonderful dairy products we enjoy. As part of your theme, you may wish to display pictures of cows and relate back to this book. Engage the children in looking through old magazines at home and bringing in pictures of dairy products to add to your Dairy Month bulletin board. Talk about all the yummy foods you display and choose favorites among your students. Continue the dairy theme with activities that span the curriculum. Following are a few to try.
Grazing Cows (Art, Science)
Draw a cow shape onto cardboard to use as a template. Invite the children to trace around this template on brown paper. After cutting the shape with safety scissors, the students can glue this onto a sheet of blue construction paper as the background. During recess, collect blades of grass from a nearby field. Each child can glue grass onto their pictures showing how cows graze (eat) grass during the day.
Counting Swiss Cheese (Math)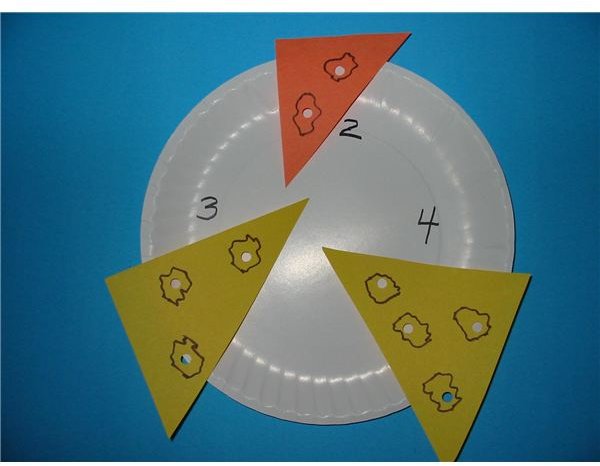 Cut out several triangles from yellow and orange construction paper to represent cheese slices. Punch holes with a hole punch, making one hole in the first triangle, two in the next and so on until you reach the counting level of your students. Invite the children to take each triangle and count the cheese holes to practice counting skills. They can also arrange them on the table in numerical order from the lowest number to the highest. For an additional part of this activity, place the numeric number on paper plates and arrange these on the table. The children can match the cheese triangles to the correct plate.
Ice Cream Cones (Art)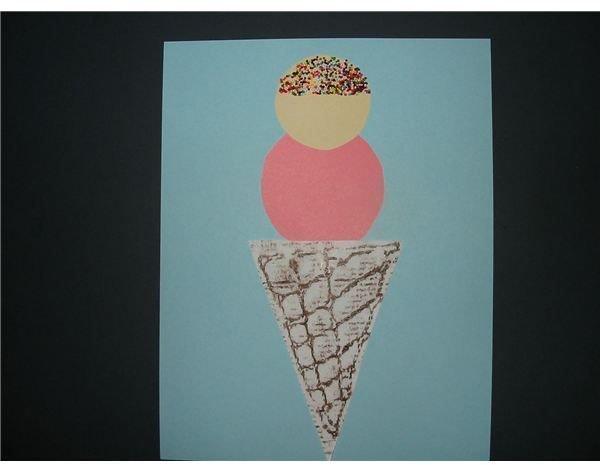 What child doesn't like ice cream? Ice cream is made from milk. Make an ice cream cone art project with your students. Prior to this activity, cut a cone shape from cardboard. Run lines of white school glue in a crisscross design. Let this dry thoroughly.
When the kids are ready to make the cones, give each a sheet of white copy paper and a brown crayon (paper removed). Have them place the paper over the cardboard cone template and rub the crayon over the bumps leaving a printed impression of a waffle cone. Cut out this cone and glue it to a background sheet of construction paper. Next, cut out three circles from construction paper in ice cream flavors. Ivory for vanilla, brown for chocolate, pink for strawberry, pale green for pistachio, and so on. Glue on two or three scoops of ice cream on top of the cone on this page.
Why not enhance these ice cream scoops with colored glitter or glue on real candy sprinkles on top? Talk about or take a survey of the children's favorite ice cream flavor.
Milking a Cow (Dramatic Play)
This is a fun outdoor activity that replicates milking a real cow. String a clothesline between two trees at the child's level. Take some plastic gloves and pierce a tiny hole in each fingertip. Hang the gloves from the clothesline with some clothespins. Fill the glove with water and place a bucket underneath. With the child sitting on a stool, invite each student to experience squeezing this pretend utter to milk the cow. Show them how to squeeze the fingertips (teats) to make the water squirt into the pail.
While milking the pretend cow, sing this song to the tune of "Row, Row, Row Your Boat."
Milk, milk, milk the cow while sitting on a stool.
Pulling, squirting, pulling, squirting,
Till the bucket's full.
(Song author unknown)
References
Gibbons, Gail, The Milk Makers, Aladdin
Gail Gibbons' Official Website http://www.gailgibbons.com/
Craft photos by Tania Cowling
Warren, Jean, Theme-A-Saurus II, Totline