12 Kindergarten Snack Ideas Your Kids Will Love: Fun, Easy and Cheap to Make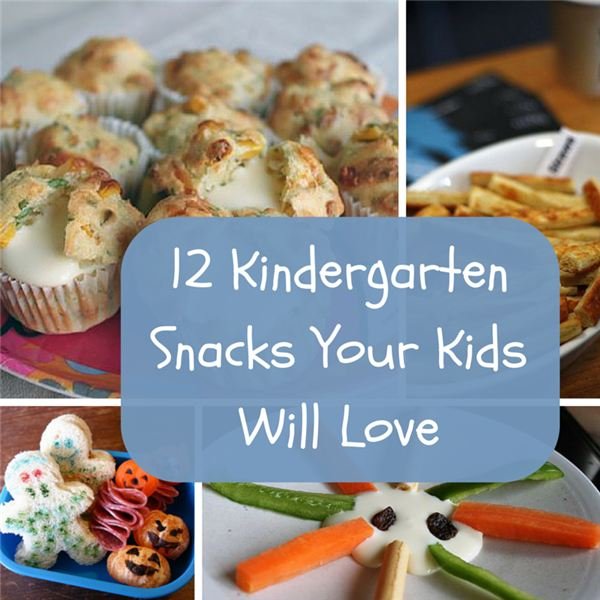 What's for Snack Time?
Kindergarten snack time is about more than just filling those little tummies. It should encourage an interest in food, allow your students to recognize and make healthy food decisions, and keep their brains fed as much as their stomachs. What you feed your pupils at certain times of the day can actually improve their concentration too.
Depending on your schedule, it is ideal to feed them a more filling savory snack in the morning to get them through until lunch, and a smaller sweet snack in the afternoon.
Of course we aren't talking about dishing out mounds of cookies every day, but often by the afternoon, kindergarten kids are lagging, and frankly need a boost to keep them awake. A small amount of fruit, either fresh or dried, is a great way to do this.
Snack Schedules
Of course, we all have our own way of doing things, and you may already have a great method for creating a snack schedule. But remember that Kindergarten is not only challenging for the children to begin with, it's also pretty daunting for the parents, too.
Not only does this create a financial strain for some families, it's a time gobbler, as well as just being pretty darn overwhelming! Consider splitting your schedule in single week blocks, or by allocating a certain day of the week for the next month to be one family's turn, and so on. So, every Monday in May will be A's turn, and every Tuesday in May will be B's turn.
This way it seems much more manageable for parents, both financially and otherwise, as well as giving them the opportunity to shine with an amazing snack once a week for a brief period. Give them a solid two-week block and you'll likely be faced with bags of goldfish and raisins – great snacks, but boring if everyone does the same, just through pure fear.
Make sure to give your families plenty of notice, and then the next month, another five families get their turn.
Theme Time: Animals & Bugs
Most learning themes in the classroom can be linked to animals and the world around us, which luckily is a favorite topic of kindergarten children, as well as offering some great snack ideas. Stringing together grapes to look like the hungry caterpillar is as simple as you can get, or try some of these more adventurous, but easy to make treats.
Satisfying Spiders
This is a simple one to make, and lets kids make their own choices. It is also great to teach sharing.
For the legs you can use either one, or a mixture of the following:
Carrot sticks

Cucumber sticks

Bread sticks

Slices of bread roll

Slices of bell pepper
For the spider's body you can either use a large dollop of one of the following just in the middle of the plate, or else put it into a small bowl:
Bean pate (recipe on next page)
Salsa
Cream cheese
Hummus (beware of sesame seed allergies)
Tuna mashed up with some mayo or salad dressing
Any commercially available dip
The eyes are optional, but always raise a smile - just a couple of raisins. Or be anatomically correct and add eight of them.
Butterfly Corn Muffins / Muffin Monsters
Muffins are easy to make and this recipe contains no sugar at all - watch these butterfly muffins just fly off the table. Pass out the recipe for parents to make at home, or else incorporate it into a lesson and get the children to make their own snack. It's a great way of teaching math as well as the basic principles about where food comes from. Kids love eating snacks they have made themselves.
1 Large egg beaten

4 1/2 fl oz milk

1 3/4 oz melted butter

1 3/4 oz cheddar

pinch mild chili powder

1 tbsp chopped parsley

tin of corn (3 3/4 oz)

5 1/2 oz plain flour

1/2 tsp baking powder
Sift your flour and baking powder in one bowl. Mix together your other ingredients in a separate bowl.
Combine your dry ingredients with your wet ones until just combined - the mix should be lumpy.
Spoon the mix into mini muffin tins and back at 400 F for 15 minutes – they should look golden.
They are yummy eaten warm as they are, or try serving them with a twist. Cut off the tops of the muffins and then slice that down the middle, so you are left with two semi circle shapes. Spoon, or squeeze some spreadable cheese onto the top of the muffin, and arrange the muffin halves to look like wings. Alternatively, go for monster mouths, leaving the top in one piece and placing it an angle to look like an angry mouth - add pieces of corn for monster teeth if you wish.
There Was a Frog On a Log
For a great snack idea for the kindergarten class you can create either frogs, or bugs on a log, depending on what you have to hand, or what your theme is:
Logs can be created from:
Celery sticks
Cheese strings
Bread sticks
Any of the 'legs' from the spider recipe on page 1
Your frogs are simply halved grapes, or just use raisins as bugs.
To make them stick to their logs use cream cheese, hummus, or a bean pate if you wish.
Take It Cheesy - Porcupine Theme Snack
This one could serve as a simple pick-me-up afternoon snack, or combined with other parent-provided snacks like crackers or toasted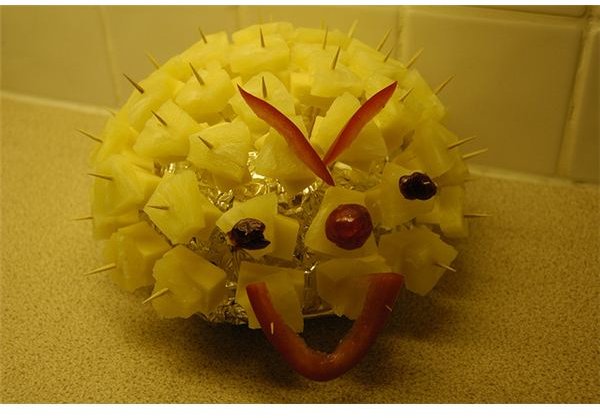 bread fingers, for a morning treat.
Large potato
Skewers/ toothpicks/ cocktail sticks
Pineapple chunks (tinned is fine)
Chunks of cheese
Aluminum foil
Wrap a large potato in aluminum foil. Alternate spearing pineapple chunks with chunks of cheese onto the skewers. Stick them into the potato to arrange like porcupine needles. Or make conventional fruit kabobs with whatever is in season - strawberry and banana make a good combination. You don't have to make a funny face on the porcupine like the one pictured, but if you have any leftover grapes or raisins; it does make for a fun image.
Seasonal Snacks
Obviously fresh items like fruit will be cheaper when they are in season, and learning about the seasons and the foods that are abundant at any one time is a great lesson for Kindergarteners to learn. Emphasize their learning about good nutrition, seasons and holidays with some of these snack ideas.
Stars & Stripes
This one is an easy make for your kindergarten children, and can be made in either sweet or savory versions. I've made this a patriotic theme but you could just as easily use letter or number cookie cutters to spell out words or do math with these cheese straws or cookies.
Cheese straws are pretty easy to make, or you can just use ready-made pastry and sprinkle shredded cheese on top. Before baking, cut some into the regular straws, and others into star shapes using cookie cutters. Arrange on the table in a rough stars and stripes configuration, and speak to your students about the flag and American patriotism before they are allowed to munch their treats. This goes great with a bean pate too.
Cheese Straws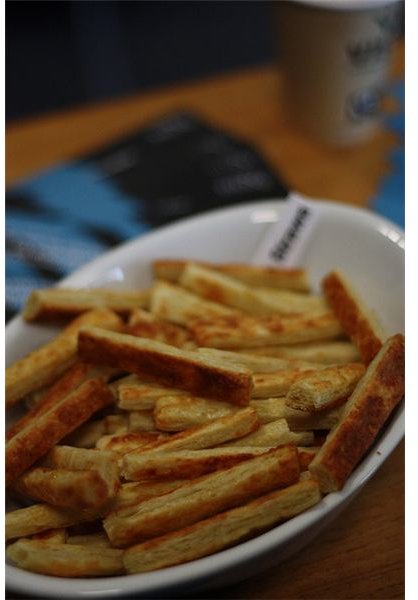 4 1/4 oz butter
16 oz cheese
8 3/4 oz flour
1 tsp salt
Combine the butter and cheese until creamy.
Stir in flour and salt and mix well.
Roll out to 1/2 inch thick and cut out your shapes.
Bake in a 400 F oven for 12 minutes or until golden.
Bean Pate
Tin of beans (kidney, cannellini and butter bean work well)
Clove of peeled garlic
4 tsps olive oil
1/2 bunch fresh green herbs (cilantro is great)
OR
2 tsp ground coriander/pinch of chili flakes
Combine it all in a blender and whizz until smooth. Add a little water to thin it down.
Halloween Tangerine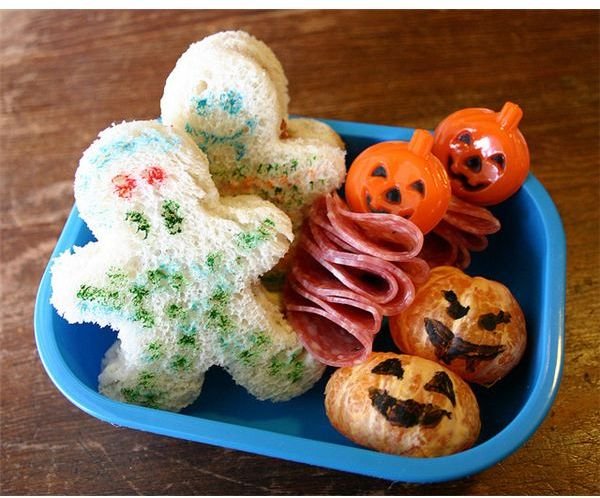 Edible food coloring pens only cost a few dollars and last for ages – even if you only buy a black one, you will find it can transform many snacks.
Peel a tangerine and get your students to draw on a spooky face, to transform their little orange into a jack-o-lantern.
Or cut out sandwiches or toast using cookie cutter shapes and again get your kindergarteners to draw on it. A gingerbread cutter is a great place to start, or else create your own bat shape from card and cut around the bread with scissors or a plastic knife – great for testing those fine motor skills. This is not only good for Halloween, but also works if you are doing a project on nocturnal animals like the bat.
Bready Set Snow
Gather your kindergarten class into groups and give them a pack or two of breadsticks. They should work together, using cream cheese as cement and snow, to build a winter house from breadsticks.
Not only is this a fun winter project, you could also use it in conjunction with reading about the three little pigs. Split your groups into three (or six), and give each group a different edible material to build with. Cheese strings for straw, breadsticks for sticks, and square pieces of thick bread for bricks. When construction is complete (or collapsed) the groups are free to munch on each other's houses. You can add some ponds to the garden of dishes of dip.
It is a great one for emphasizing working in a team, and basic math principles, too.
Last Note on Snacks
Snacks don't have to be elaborate every day, but if you can get the kids involved in making their own they will learn vital skills, appreciate the work that goes into preparing food, and will take some work away from you too.
One last tip: For sharing out raisins and popcorn, why not utilize coffee filters – they are cheap, recyclable, and the kids love having their own snack cones.
References
Wendy Finn is a self-confessed foodie and has been a vegetarian for 20 years. All these snack ideas are the writer's own and have been tested on her very own kindergartener.
Some images from Ed Yourdon, Wendy Copley, Paul Stainthorp, and the University of Exeter, posted on Flickr.
Images of spider snack and corn muffins property of the author.