No Boredom Allowed!
Are you tired of hearing, "I'm bored" when your child is out of school for the holidays? Avoid the boredom by introducing your kids to fun and exciting activities they can do on their own or together as a family.
Get Crafty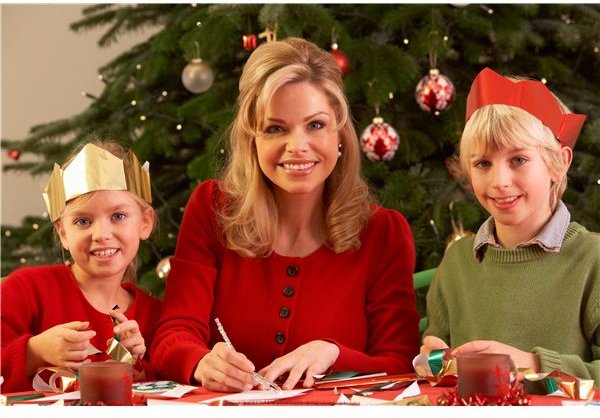 When their holiday break begins, get your kids in the Christmas spirit by helping you decorate with Christmas crafts made together. Purchase plain stockings and craft supplies such as glitter, embellishments and markers. Allow each of your children to design their own unique stocking for Santa to fill with goodies on Christmas Eve. You can also have your child help you decorate the Christmas tree with ornaments, bulbs and tinsel.
Cook with Kids
Recruit the help of your children in baking delicious Christmas treats. Build a gingerbread house together or bake gingerbread men and decorate with icing and candy. Do not allow younger children to use the oven or stove and be cautious when cooking or baking. Younger children can help with hand mixing, decorating and, of course, eating!
Have Some Kids Over
Bring some playmates into the picture for your kids and start a temporary daycare at the same time. If you have the time off during Christmas break you can earn a few extra bucks and entertain your children. Send out fliers to your neighbors offering your babysitting services while school is out for the holidays. Make the price reasonable and be sure to include contact information on the flier. Your children can make new friends and not be bored.
Play Outside
Get out and enjoy the weather. Take your child tobogganing at a local hill. Be certain they dress warmly for the cold weather complete with mittens, hats, snow pants and boots. Not enough snow to tobogganing? Try ice skating at a local rink or skiing at a nearby mountain resort. Visit a local café or restaurant afterward and warm up with a cup of hot cocoa, or make it at home.
Learning Can Be Fun
Just because school is out for a couple weeks doesn't mean the learning has to stop. Keep your kids learning with educational tools and activities during Christmas break. Access an abundance of educational databases online at such websites as Billybear4kids.com and even right here at Bright Hub Education. Have your child complete math problems, word searches and other worksheets.
Indoor Creativity
Too chilly to go outside? Let them build a fort in the bedroom or the living room. Collect all the sheets and blankets you can find and plot your fort with the kids. Attach the sheets to each other with clothespin and knots and drape them over chairs and other furniture. Spend the night in the fort as a family telling stories and playing games.
Play Games
Host a family game night with your children. Serve the baked goods you made earlier and some hot apple cider or hot cocoa. Enjoy the company of your family and make lasting memories. Play games like charades, Pictionary and Monopoly. Place wagers on the games such as the winner gets breakfast in bed or the loser has to clean the dishes.
What are some favorite activities or games your family enjoys during the holidays?