Create a Toddler Garden: Garden Activities for Toddlers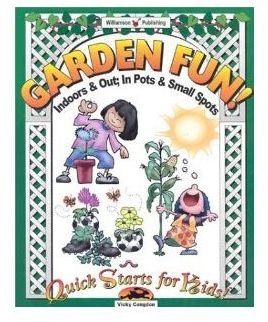 **
Rationale and Benefits
Introducing your toddler to the joys of gardening can prove beneficial in several ways. It can:
Be a healthy, outdoor activity
Instill a feeling of creative accomplishment and pride
Create a life-long love of gardening
Serve as an introduction to the changing facets of nature
Teach environmental awareness and respect for nature
Be an incentive to eat healthy vegetables
Materials
Setup Suggestions
Toddlers have short attention spans and limited amounts of energy, so:
Select fast-growing, low-maintenance plants.
Select plants that produce colorful flowers and/or vegetables. Toddlers are more likely to be fascinated by bright colors and interesting shapes.
Select vegetables that your toddler likes to eat or ought to eat. Your toddler may be more inclined to eat vegetables that he or she has personally cultivated.
Select seedlings rather than seeds.
Select large-sized seeds that a toddler can easily handle.
Select a small plot that will not overwhelm your toddler. Make sure the plot has sufficient sunlight and there is an easy access to water supply. If you don't have a yard or sufficient space outside, you can create a garden in containers and pots.
Avoid all potentially harmful chemicals.
Make sure there are no potential hazards in the garden.
Always keep an eye on your toddler so there are no chances of accidents.
Teaching Concepts
Talk to your toddler about gardening basics.
The names of the flowers and vegetables you are going to plant
Why seeds need to be sown
How plants develop from seeds
How flowers develop from buds
How sunlight affects plant growth
Why plants must be watered
How to know when a vegetable is ripe for picking
Why butterflies are attracted to flowers
How earthworms are good for the garden
How the weather affects plants
Garden Activities
Involve your toddler in the gardening process from the start.
Encourage your toddler to select seeds and plants for the garden.
Take them shopping for the garden tools.
If possible, let them select their garden plot in your yard. If the garden is going to be in containers and pots, let them select the ones they want. You can help them decorate the pots and containers.
Help your toddler dig the plot to prepare the garden bed. Let the toddler get muddy and dirty. This is the fun part of gardening!
Help your toddler plant seeds or seedlings.
Show them how to water the garden.
Help them to clear weeds. Weeds can be avoided by placing strips of newspapers in the areas surrounding the plants.
When the flowers and vegetables develop, help your toddler pick them.
You can enjoy the vegetables with your toddlers or make little gift baskets for friends and let them know what a clever, resourceful child you have.
Assess
Ask your toddler what they like about gardening - digging, planting, watering or picking the final produce
Ask them what their favorite flowers and vegetables are from their toddler garden
Ask them to draw pictures of their toddler garden
Extension
Take your toddler to visit garden centers and botanical gardens.
Visit nature websites online.
Here's a list of some easy-to-grow vegetables, fruit and flowers you can plant in the toddler garden:
Radish
Beet
Cucumber
Corn
Lettuce
Lady's Finger
Potato
Brinjal
Broccoli
Tomato
Strawberry
Sunflower
Marigold
Zinnia
Geranium
Petunia