Learning High Frequency Words From Mrs. Wishy Washy Is a Great Idea and Great Fun!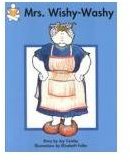 High frequency words are those words that appear repeatedly in printed material. Sometimes the words can be sounded out. That is, blend the sounds of each letter together and you can read the word. Other times the beginning reader just needs to learn to recognize the words. That takes practice. So how can we make practice fun for our beginning readers?
Find a Fun Book
One way to make it fun to learn high frequency words is to choose a good book. Mrs. Wishy-Washy is a perfect choice. This book has humor, animals, repetition and predictability. It also has a fun-to-say word: wishy-washy! Children will love to read this book over and over. All the while the child will be practicing high-frequency words.
High Frequency Words in Mrs. Wishy-Washy
There are several available lists of high frequency words. Some entries vary from list to list. Here is a list that I chose of the high frequency words in this book.
said
the
and
she
in
it
he
you
at
went
into
came
go
that
they
look
Fun Follow-Up Activities
Preparation:
Use 32 index cards in all one color to write one word on each card. Make two sets of cards.
1. Play Memory Game
Use only 4 pairs of cards at a time. Place them face down on the table or floor. The child must turn over two cards and try to find a match. If they don't match the cards are once again turned face down. When a match is found the child must be able to say the word.
2. Hide the Cards Around the House (or Classroom)
Use one set of cards and hide them around the house. Instruct the child to find the words and bring each one to you. If the child can say the word the child keeps the card. Can the child collect and say all 16 words?
3. Use as Flash Cards
Hold each word up individually and see if the child can say the word.
4. Bingo!
Use a ruler to make 2 bingo cards with four squares across and four squares down or download a copy of a blank BINGO template for free.
Write one word in each square in random order. Make the cards different from each other.
Then use one set of file cards. Place them face down in a pile. Draw a card from the top of the pile and say the word. Use markers to mark that word on the card. You can play and your child can play!
More Fun
1. Count How Many
Choose a word from the list above. You and your child can each guess how many times you think the word appears in the book. Then count! Who had the best guess?
2. Find the Words
Use a newspaper, magazine or another children's book. Ask your child to find some of the high frequency words in these other places.
3. Seize the Moment
You may be out driving or shopping with your child. Can you find some of the high frequency words when you are out and about? Make it a game.
4. Write On!
For some learners writing new words helps them to make the connection and remember more effectively. So provide time for your child to copy the words. But it doesn't have to be a paper and pencil activity. Use markers, crayons, chalk or even fingerpaint to write the words. Paint them with water and brush on the sidewalk or patio. Use magnetic letters and place words on the refrigerator or forma the words with play dough.
Using Mrs. Wishy-Washy to learn high frequency words can make learning fun for beginning readers and it also shows your child that you care about learning.
More Mrs. Wishy-Washy
Now that your child is having fun learning with Mrs.Wishy-Washy you can continue with the series. Author Joy Crowley's main character continues with her wishy-washy ways in several books that also include her friends the duck, cow and pig. She goes to the farm, celebrates Christmas and introduces Mr. Wishy-Washy in his own book. With each book, add more high frequency words to your child's learning list.
In this book, rhyming helps the child learn new words. The cow, duck and pig decide to run away from the farm and go to the big city. They realize that there's no place like home even if they have to take a bath!
Here is an example of a list of words from Mrs. Wishy-Washy's Farm:
here
this
by
big
got
my
down
there
old
house
Useful Resources
Children's book author, Jan Brett's high frequency word lists.
Word Bank of 1200 High-Frequency Writing Words
References
Cowley, Joy. Mrs. Wishy-Washy. Philomel Books, 1999.

Cowley, Joy. Mrs. Wishy-Washy's Farm. Philomel Books, 2003.

Cowley, Joy. Mrs. Wishy-Washy's Christmas. Philomel Books, 2005.