Hallmark Recording Books
Imagine how it could comfort your child to hear your voice reading them a bedtime story even if you were hundreds or thousands of miles away. With the use of the voice-capture technology in Hallmark recording books, many individuals are making bedtime easier for their children.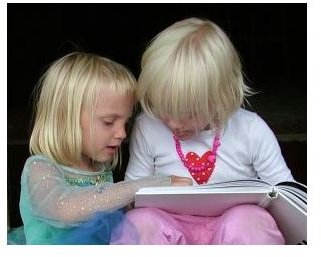 However, these clever books are not just used for bedtime stories or youngsters, and an adult does not have to be the one making the recording. An older sibling could make a recording for a younger one, which would create a most unusual family keepsake.
Families are using them as a way to stay connected over the miles for holidays, birthdays, anniversaries and other special occasions. Even if you take the batteries out of the books, the recording is captured forever, once you use the lock feature after recording.
How Recordable Books for Children Work
This is pretty simple, user-friendly technology. You just push record, wait for the sound prompt, and read the page. Next, push the stop button and listen to the instant playback to make sure you like it. Proceed to the next page.
As someone who sometimes feels overwhelmed by new technology, I loved the simplicity of this concept. By the way, be sure to use the child's name several times while you are reading the story to make it more personal and intimate.
Playback is a snap as well. As the child reads through one page after another, they hear your familiar voice reading them the story. What's not to like about this?
The books are available in a well-rounded range of classics, holiday stories, and Hallmark original titles. Some of the books feature musical accompaniment in addition to being recordable, but the majority of the books are strictly voice-capture technology.
Where to Buy and How to Save
Look for Hallmark recording books wherever Hallmark products are sold. You can shop for them online or at your local brick and mortar store; just use their store locator to find the closest retailer.
Like most new, high-tech gadgets, these books are not inexpensive. At an average of $30 each, they could be considered a pretty pricey bedtime tale.
However, if you consider that you are creating a memory that could actually turn out to be a family legacy (the books could be passed down through countless generations), the return on such a small investment is priceless.
As with most products, however, if you are a savvy shopper, you can save some money on your purchase. For example, while researching these kid's audio books, I took a quick trip to our local Hallmark store and I was glad I did. They were running a special on the Grandpa and Grandma recordable books. (Sometimes it does pay to be a granny!)
On sale, the copy of My Grandpa and Me that I purchased was just $19.95. However, I could have opted to buy one book at the regular price ($29.95) and take advantage of the extra discount on the Grandpa book ($9.95 versus $19.95). Trouble was, I had my grandson with me and we just couldn't make a decision because all the books looked so interesting.
Never pay retail if you can help it! Ask for any discounts or loyalty programs that the store may offer. Talk to the manager to see if they will discount a floor sample because of some wear and tear. If all else fails, at least pay for the purchase with a credit card that offers points or some other incentive program to recoup a little of your hard-earned money.
You can also try searching for them online. For instance, at the time this article was written, there were several of these books being advertised on Amazon (both new and used versions) at price points averaging from $13 to $18.
As a final tip, I recommend investing in the books that include music. This way, you get a highly interactive book that combines music with personalized voice over from a loved one for the same price you would pay for any one of the books. Consider it a triple play: book, music and audio.
Making the Most of Your Recordable Book
The staff at my local Hallmark store explained that while they get very few returns on the books, occasionally someone does return one. Typically, it turns out that the problem was operator error rather than a defect in the product (these books are the usual high quality that one expects from a Hallmark product). Here are their suggestions for avoiding any problems and getting the best results with your Hallmark recording book:
Make your recording in a room with bright light.
Lay the book flat on a hard, level surface such as a table.
Be sure to read slowly and pronounce the words distinctly.
Press stop at the end of each page and wait to hear the playback.
If you like what you hear, continue to the next page. If you don't, just re-record the page.
Be sure to save the recording by using the "lock" feature when you are satisfied with the sound and you have finished the entire book.
We had no trouble recording, playing back or saving our recording when we followed these suggestions. The audio quality is amazingly clear, with none of the "tinny sound" that you sometimes experience with other voice technology products.
Our only concern was that this book was very basic and probably more appropriate for a much younger child than ours. It consists of thirteen pages with illustrations and simple text like "G is for games."
On the plus side, it is age appropriate for a toddler or preschool because the illustrations are large and colorful and the text is simple and concise. You could turn it into a subliminal teaching experience by asking questions like "What else starts with G?" before continuing to the next page or "Grandpa starts with G and this grandpa thinks you are great!"
Hallmark offers different books appropriate for preschool through gradeschool in their selection of titles.
Other nice features were the dedication page where you can personalize a message for the recipient and the last page, which features a large, blank picture frame where you can attach a picture of the child and his or her grandfather. Overall, we were pleased and would recommend this product to friends and family.
Ways to Use Them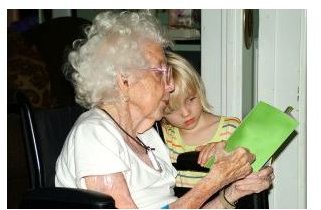 These books are so much more than just a bedtime story for lonely kids who miss their parents or caregivers. Here's some creative ways to make the most of this unique technology.
Elderly relatives and friends can record a story for members of the younger generation. Because of the type of voice-capture technology that is used in these books, their voices are preserved forever, even when the batteries are removed from the book.
Your child can give a truly unique gift to a best friend or relative by reading and recording a story for their birthday or Christmas present. Imagine what a unique childhood memory such a book would be! This would be a great mother's day gift as well!
Deployed service members can stay connected to their loved ones and share in family times like bedtime or holidays with these books. For instance, a deployed member of the military could read a Christmas story like Frosty the Snowman or The Night Before Christmas so it could be read to friends and family during the holiday celebrations.
While divorce may split up families, it doesn't have to divide them, and recordable books are a high-tech way for either parent to keep the familial connection with children in a positive way.
Holiday Favorites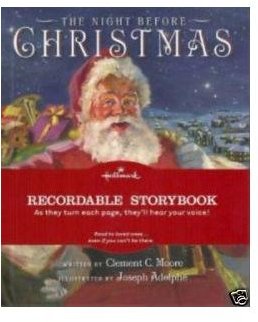 Start a family tradition by recording one of these family favorites and sending it to a friend or loved one who is far away physically but close in heart and spirit. What many families choose to do is take turns reading and recording the story so everyone's voice is represented in the final version. The current holiday titles in the recordable Hallmark books are:
The Night Before Christmas by Clement Moore
Frosty the Snowman by Steve Nelson and Jack Rollins
The Very First Christmas
A Charlie Brown Christmas (includes music)
Literary Classics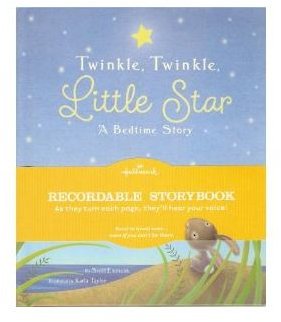 There are some children's books that just seem to span time and generations. These familiar favorites can be read and enjoyed over and over again:
Guess How Much I Love You by Sam McBratney
Goodnight Moon by Margaret Wise Brown
Curious You On Your Way! Illustrated by H. A. Rey
Counting Kisses by Karen Katz
On the Night You Were Born by Nancy Tillman
Twinkle, Twinkle Little Star by Scott Edmonds
Hey Diddle, Diddle
A nice benefit of kid's audio books like these is it helps children connect the printed word with the spoken word. This encourages emergent readers and lays a solid foundation for future literacy skills as well as fosters a love of reading.
Hallmark Originals
These are some of the current titles available; however, new titles may be released throughout the year.
All the Ways I Love You by Theresa Trinder
My Little Princess by Tom Shay-Zaplen
Bright & Beautiful
Thank You, God for Everything! by Lee Franklin
I Love You, Grandma by Rie Egawa Zbryk
My Grandpa and Me by Scott Emmons
We're Not Scared of Anything! by Scott Emmons and Daniel Myares
Lightning McQueen and His Winning Team (includes music)
What Makes a Princess
Winnie the Pooh's Plan Bee
Whether you purchase a Hallmark recording book for a special child, a family member or friend, you are gifting someone with a lasting memory.
Image Credits
All book images are from Amazon
SXC: Stock photo:at the campus 1 (Image ID:1074635) under royalty free license
SXC: Stock photo: Girls read book (Image ID:899943) under royalty free license
SXC: Stock photo: reading with grandmother in wheelchair (Image ID:801960) under royalty free license
References
My Grandpa and Me by Scott Emmons, Hallmark Recordable Storybook, Hallmark Books (2010)
Author's experience recording and using a Hallmark recordable book
Hallmark, Products: Recordable Storybooks, http://corporate.hallmark.com/Product/Recordable-Storybooks