Appropriate Expectations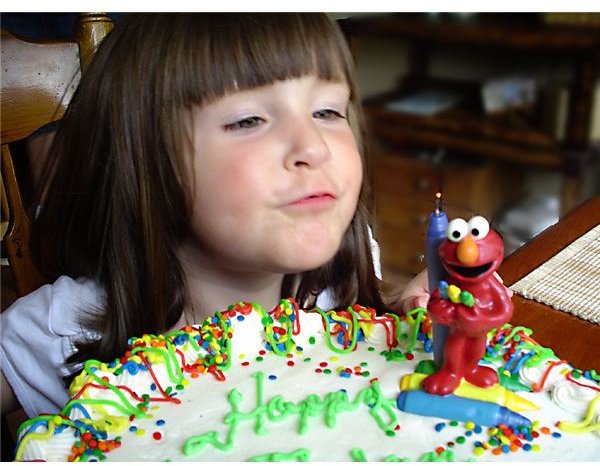 One of the easiest ways to be disappointed in your party is to plan without appropriate expectations! Since you have a preschooler living under your roof, you have an up close view of the basic temperament, attention span and preferences of these tiny creatures. Take all of that into consideration when planning for your preschooler's birthday party. Chances are, his same-age friends will have similar temperaments, attention spans, likes and dislikes.
When planning party activities for small children, it is always better to over-plan than to run out of things to do. Plan with the understanding that you will probably not be able to complete all of these activities. At the same time, you can rest easy in the fact that if an activity is not going as planned, you can abandon it and begin something else without running out of things to do.
Another good practice is to keep it small and low-key. If you have a host of relatives that will be attending the party, only invite a few classmates or friends in order to cut down on the noise and chaos. If you are hosting an indoor party, keep in mind how much space you have available and plan accordingly. Ask for help from other parents and patient relatives when planning and executing games and activities; don't expect that you will be able to do it all yourself!
Indoor Parties
If your child's birthday takes place in the middle of winter, or the climate you live in is not conducive to an outdoor party, you will have a few limitations. These limitations are not a hinderance when you take time to plan appropriately, though! Indoor birthday parties for preschoolers can be just as successful as outdoor parties. Here are a few simple activity ideas to get you started:
Party Hat Decorating: Consider purchasing solid colored party hats for your child's birthday party. Provide washable markers, glue sticks, pom pons, googly eyes, felt scraps and any other craft materials you can think of. As each guest arrives for the party, invite her to the craft table to decorate her party hat. Keep in mind that not all children will be interested in this craft project and may choose to leave their hat undecorated. Never force a child to participate in any activity. Some children, however, will love this activity and ask to decorate more than one hat. Keep a few extras on hand for your more crafty party guests.
Dress Up: Most preschoolers adore dramatic play and dress up activities. Break out the funny hats and scarves and let the children dress up for the party! If your own dress up trunk is low on supplies, visit the local thrift store for economical dress up clothes and accessories. Even long fabric scraps can be fashioned into fancy party attire, togas and creative wrap dresses. Provide a few stretchy elastic belts with the fabric scraps to help children create their party fashions.
Backwards Hot Potato: This game is appropriate for preschoolers but may require a bit of adult help for younger children. Have children sit in a circle and use a soft ball for this game. Turn on your child's favorite song and have children pass the "hot potato" from one guest to the next while the music plays. Pause the song during the game. Whoever is left holding the hot potato when the song is over is the winner! Give that child a small prize, and continue to play the game until each child has won a small prize. Children do not have to leave the game after they win if they don't want to, just make sure all children have the chance to be the winner at least once.
Outdoor Parties
An outdoor venue allows you the flexibility to host a larger party for your child's friends and classmates as well as relatives and family friends. Before the party begins, be sure you check your outdoor space for hazards. Anything that may be dangerous for preschoolers should be moved from the party area.
Bubbles: Purchase several shallow tubs and place a thin layer of bubble solution in each tub. Provide several different types of wands and allow the children to explore these bubble tubs at their leisure. After the cake, allow the children to run off some of their energy by chasing some bubbles created by the adults! As a party favor, allow each child to take home one of the bubble wands.
Sand Dough Table: Create a few batches of homemade play dough and add a few cupfuls of playground sand to each batch. The result is a gritty, sensory dough that will harden into a textured sculpture. Place the dough at an outdoor table and invite each party guest to create a sculpture that they can take home when the party is over. As an extension activity, provide washable paints and allow each guest to paint their sculptures at the end of the party if they have had sufficient time to dry.
Paint With Water: Try this clean painting activity with your very youngest party guests! Provide several buckets of water as well as a few different sizes of paintbrushes on your driveway or sidewalk. Large handled paintbrushes work best, but you can also use the tiniest watercolor brushes for variety. Have the party guests "paint" the sidewalk with water. Small children will enjoy watching the shapes they create disappear as the sun dries the pavement. This activity requires barely any set up and no clean up!
Freeze Dance: Party guests have some expendable energy? Try freeze dancing with scarves! Provide each party guest with a brightly colored scarf or scrap of fabric. Turn on your child's favorite tunes and start to boogie! Pause the music periodically and have the children freeze. Give prizes to the party goers with the best dance moves or the best freeze positions. Encourage the children to freeze when the music stops, but do not ask children to leave the game if they do not freeze. Play the game until all children have received a prize.
Planning party activities for children does not have to be a stressful undertaking! Give yourself plenty of time to plan, and remember that it is okay to abandon any activity that does not seem to be working. Give yourself a pat on the back and enjoy your child's birthday party!
References